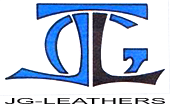 ******************************
- NON-JG-L ART: PAGE SIXTEEN -
- MARO, MASSEY, MAX & MC -
******************************
This section of the site is devoted to the work of Artists who've dealt with all sorts of areas of restraint of the female and I'm sure you'll enjoy the images below. If you like the other content of this site, then I'm sure you'll be happy with the images below. Many of the images below that deal with the Horse Woman and Pony Girl area, have been drawn from the SIRJEFF'S Pony Girl site and I recommend it most highly if this area of the scene is of interest.
A note to MaRo, Massey, Max and MC: The images below were all downloaded from assorted web sites, and are freely available to anyone who wants them. All I've done is to consolidate some of your work in hope that it will bring you greater recognition. If you have other art and would like to display it here, I'll be happy to accept it and promote your efforts.
The above being said, if you do NOT wish to have your art appear on this web site, please contact me immediately and it will be removed as quickly as it can be managed.
******************************
- MARO -
I saw one of MaRo's drawings about twelve years ago and REALLY wanted to see more of this Artist's work, and eventually, when the Internet came along (Yeah, yeah yeah ... I know, I'm an old fart :-)!), I found more, as well as some really wonderful photo-sequences of his Horse Woman being trained and taken advantage of while in harness.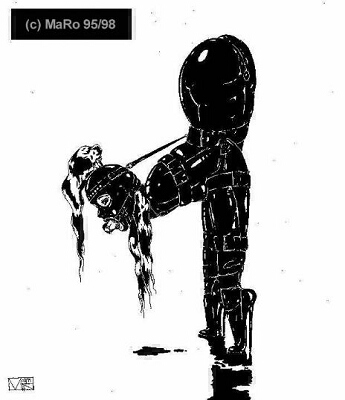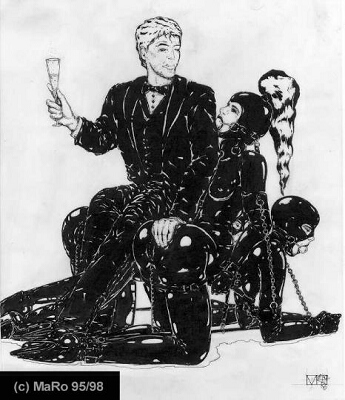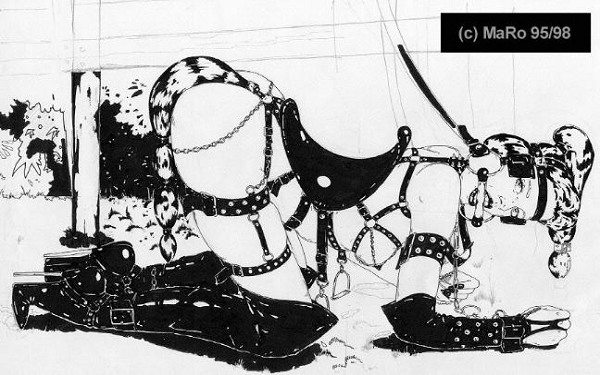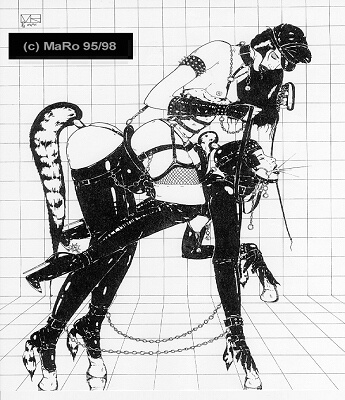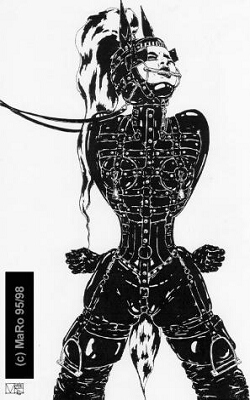 First we have a little 'studio work' as can be seen in the three images below, then the lady becomes more truly a Horse Woman when dressed 'properly' and taken to the barn.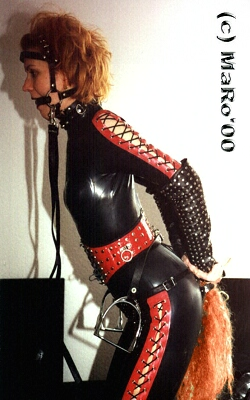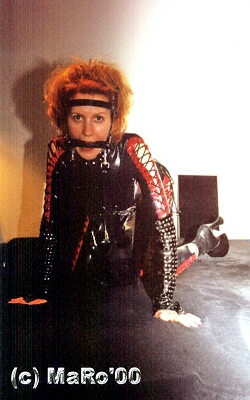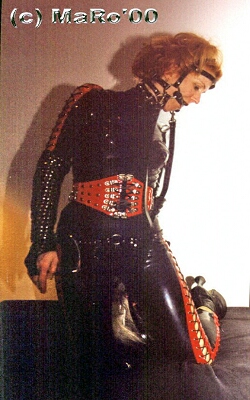 Of course, a bit and bridle are absolute necessities for command and control, and she wears them well, if not happily at first.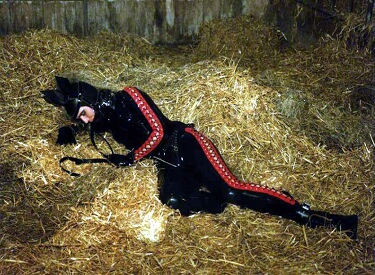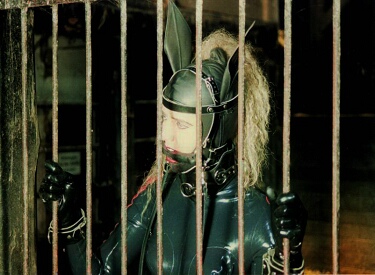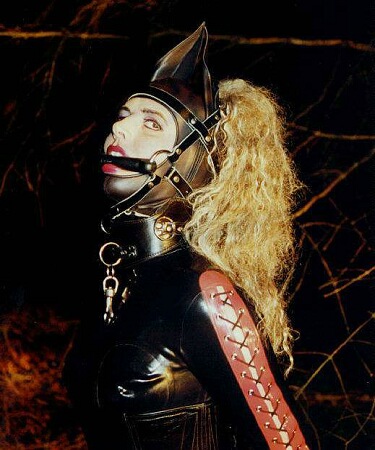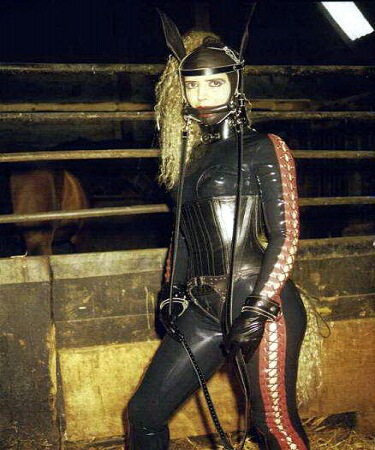 Staying in her stall and relaxing is not the way a Horse Woman lives and soon enough, her Governess appears and prepares her for the day. With reins left attached to her bit, she has no choice but to obey the stern commands.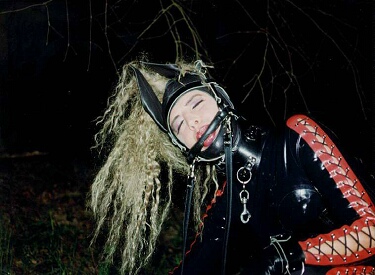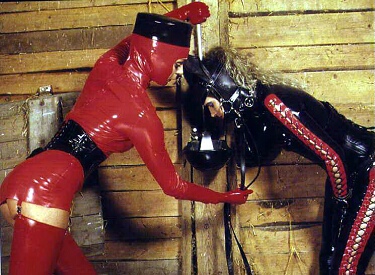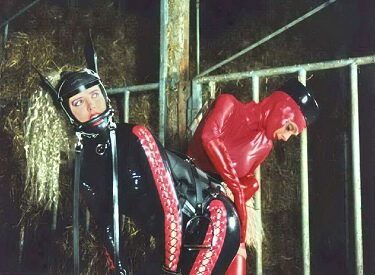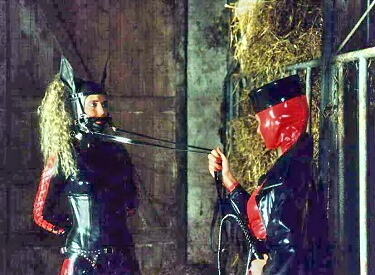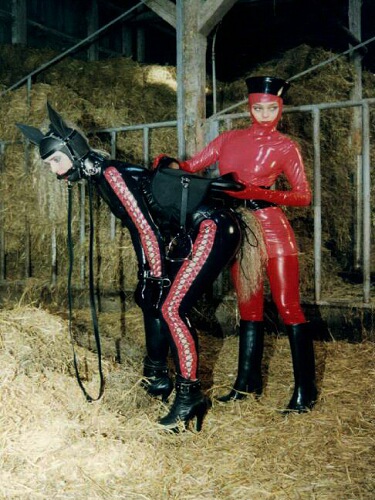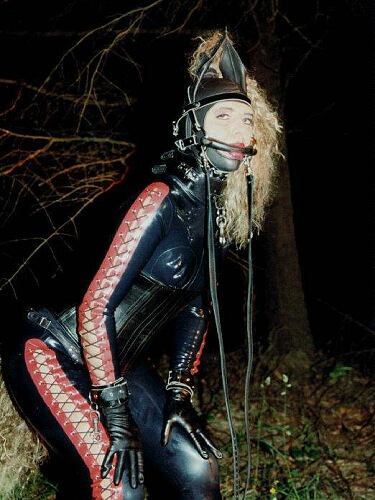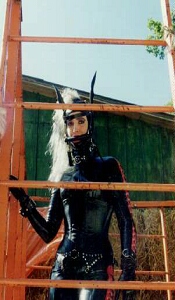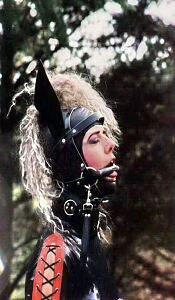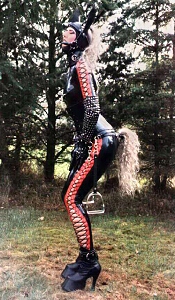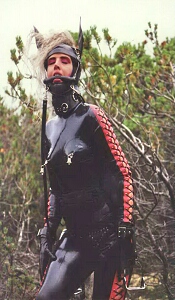 Once outside, her control is transferred to her Rein Master and her training and work begin in earnest. He accepts no reluctance or misbehaviour from the young woman. She MUST obey.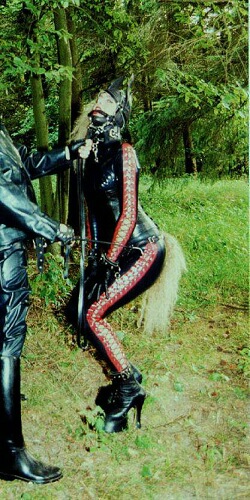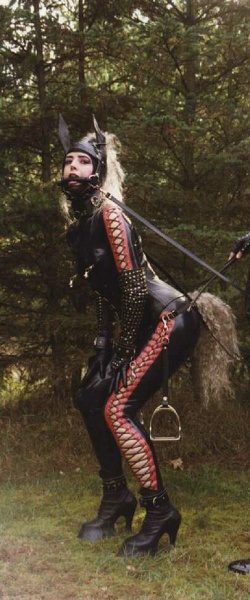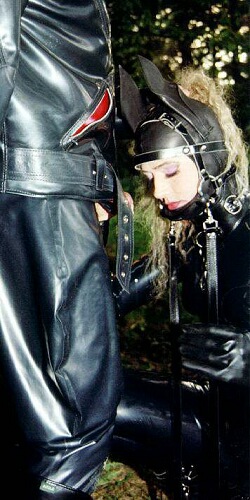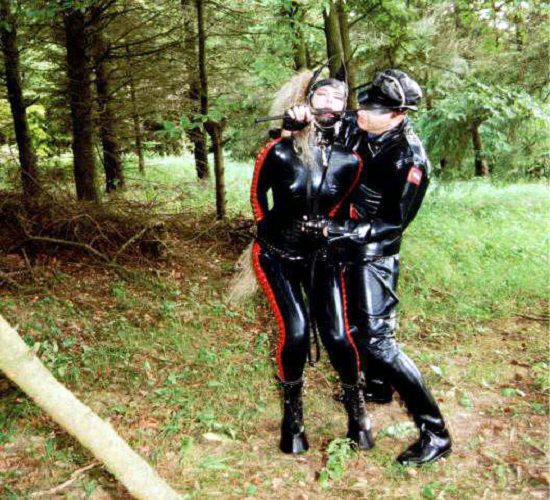 For the next hours she is exercised hard, learning to run, walk, prance and gallop to his commanding whip, but eventually He permits her to rest, and, aroused by watching and controlling his beautiful filly, He takes His pleasure with her, with her remaining fully harnessed, bridled and bitted.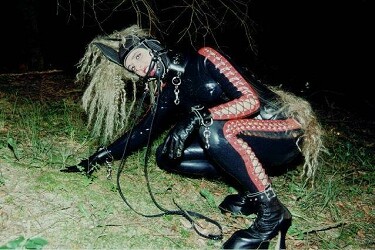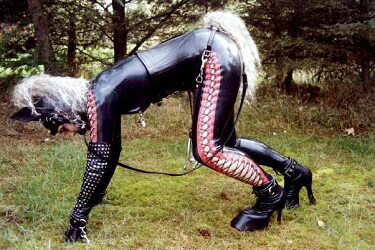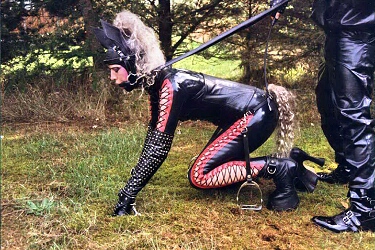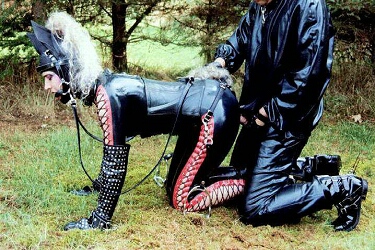 ******************************
- MASSEY -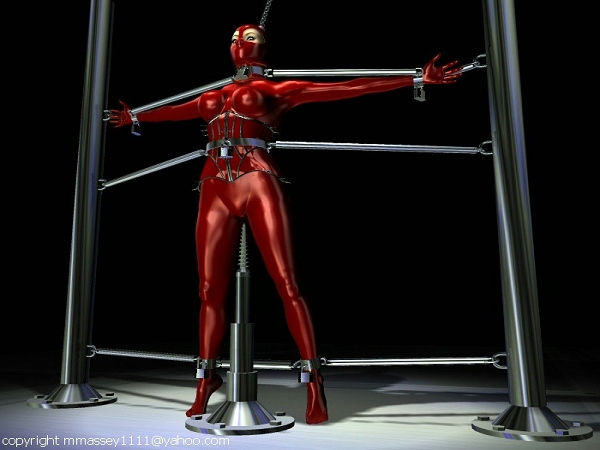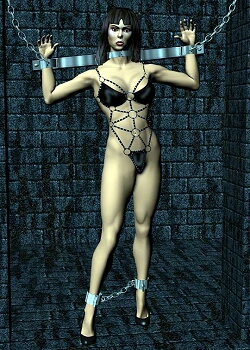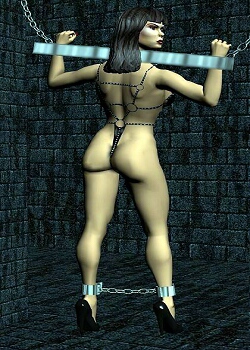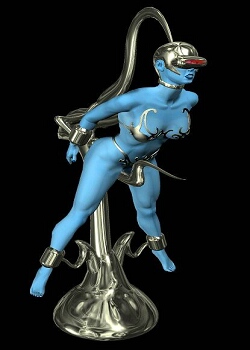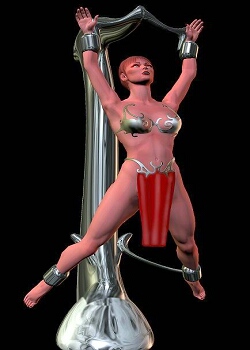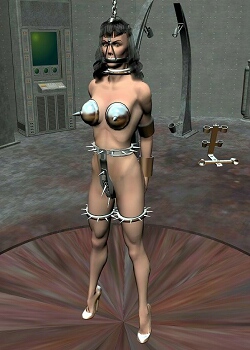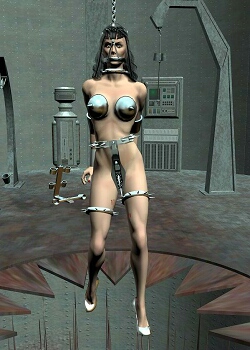 ******************************
- MAX -
Max is, I believe, the artist who assisted Sabrina to realize her dream of becoming a deeply and permanently held prisoner in her secret dungeon, and below is some of his work.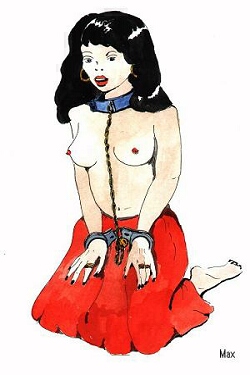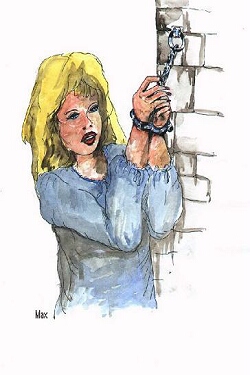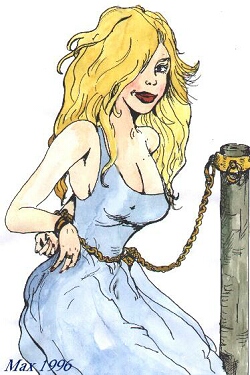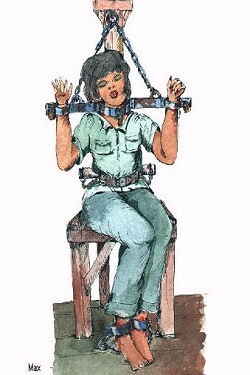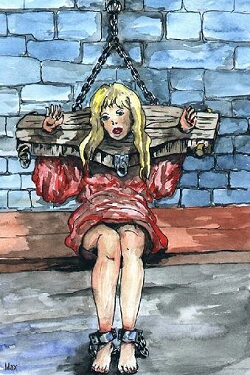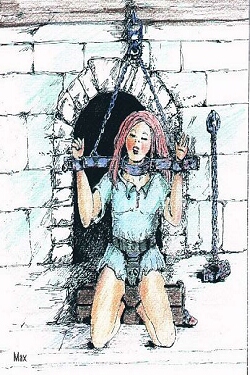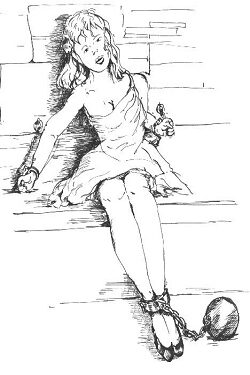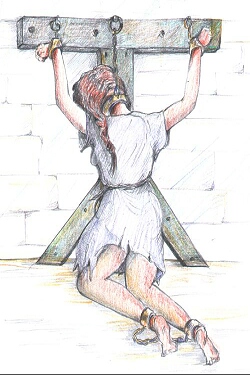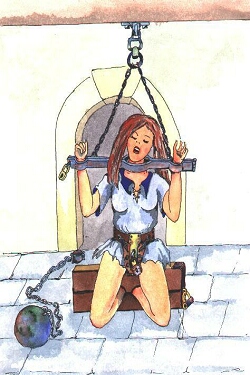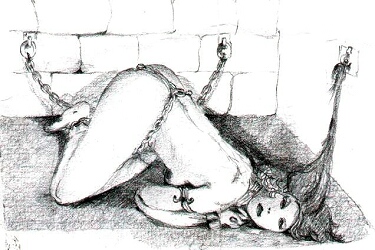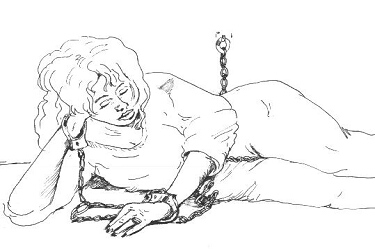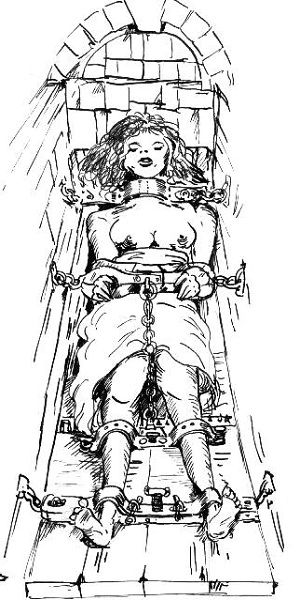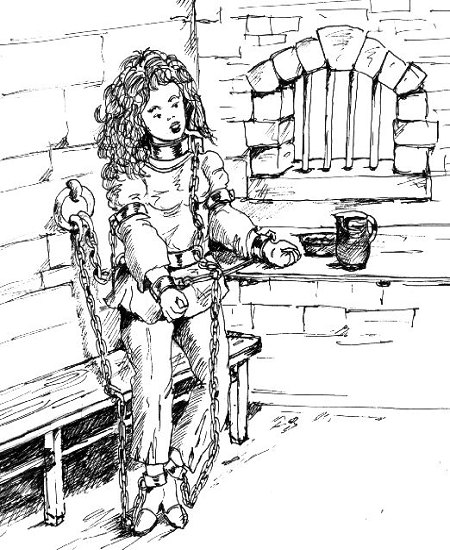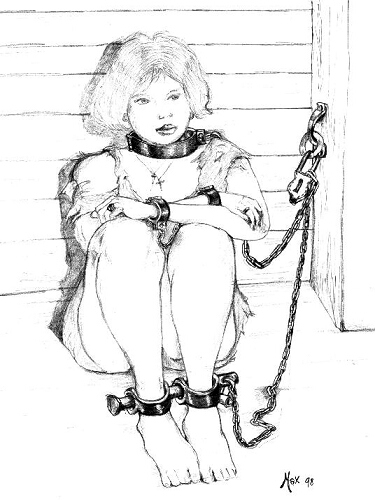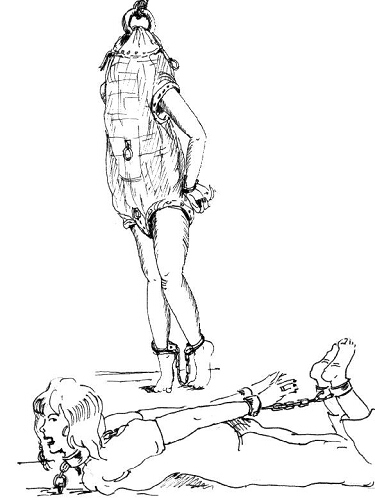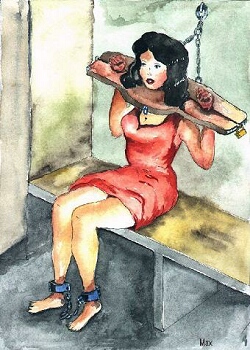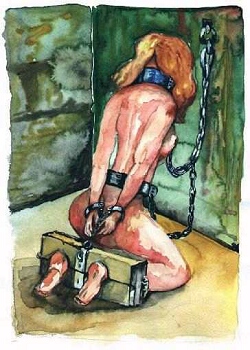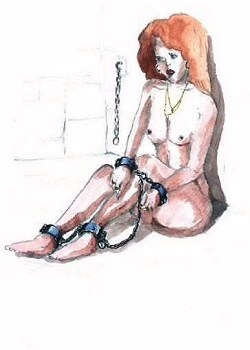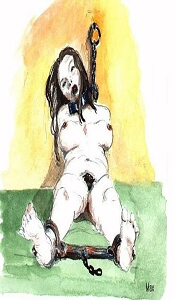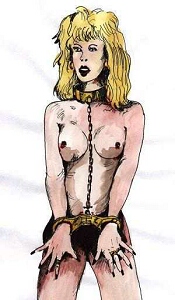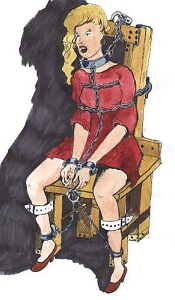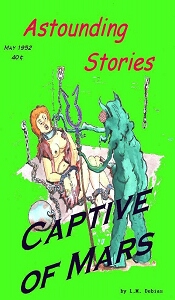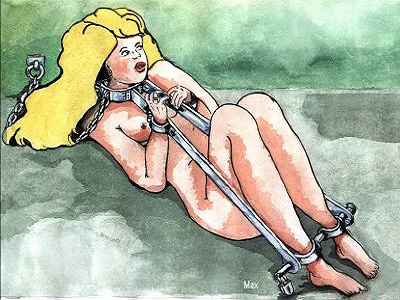 *******************************
- MC -
MC has also captured the essence of the Phony Girl/Horse Woman part of the B&D/S&M spectrum with some well-executed drawings of these beautiful ladies.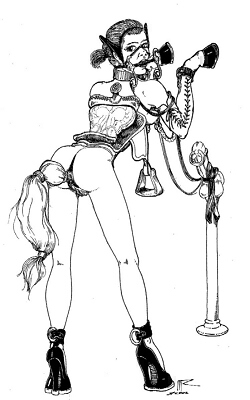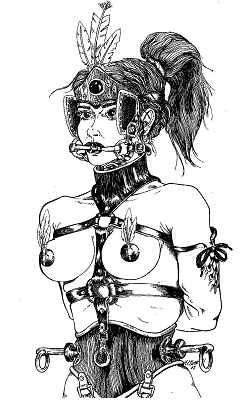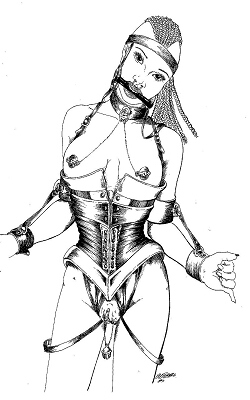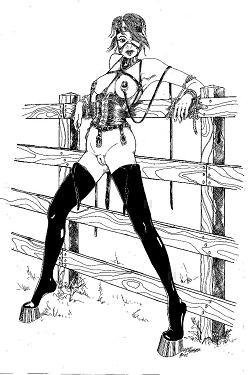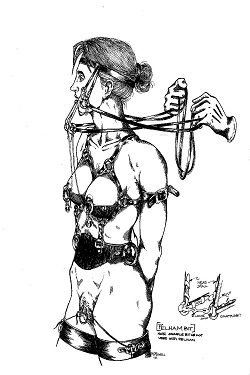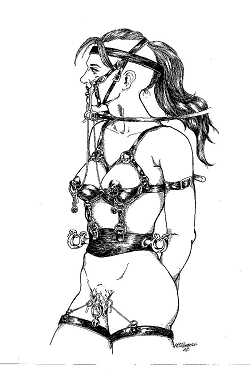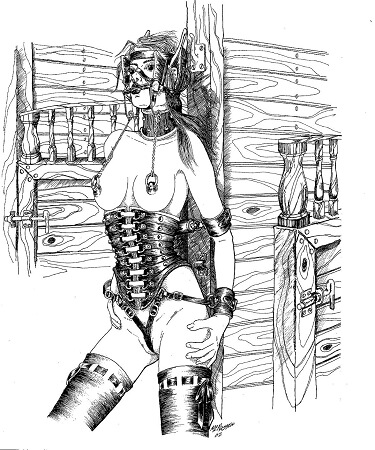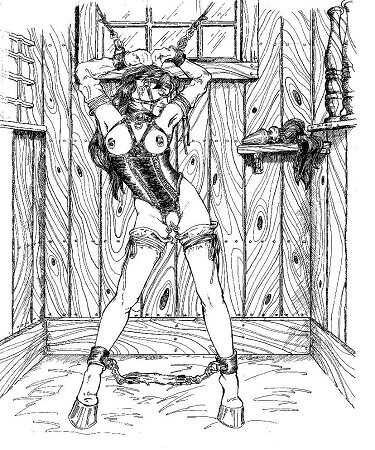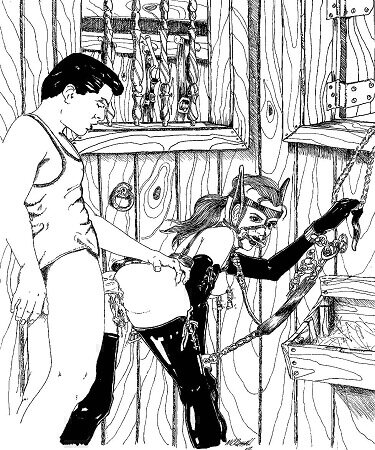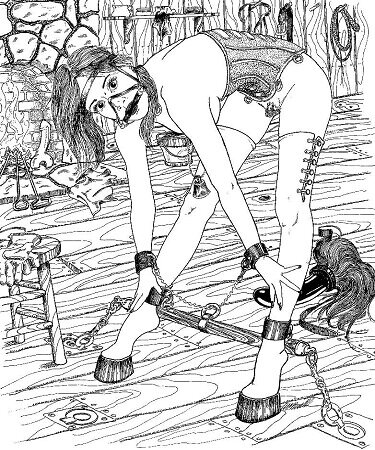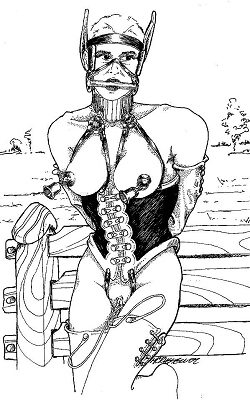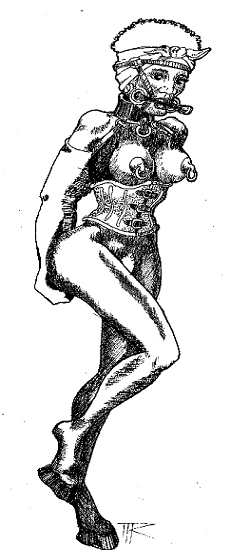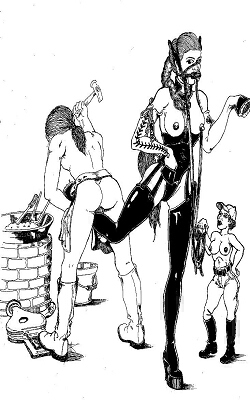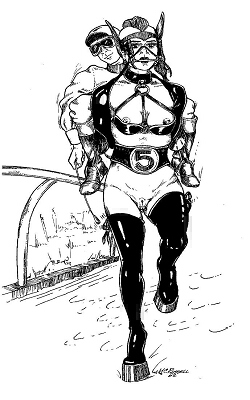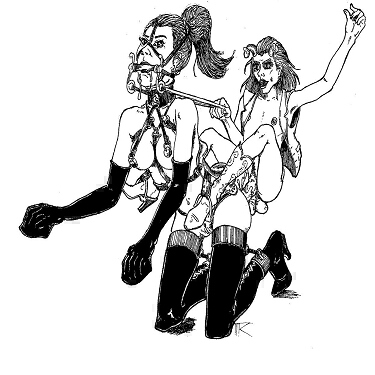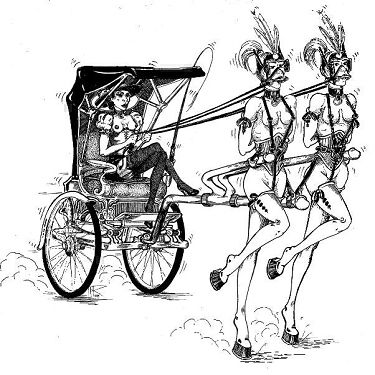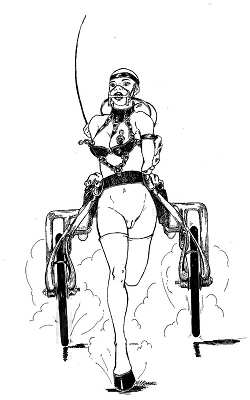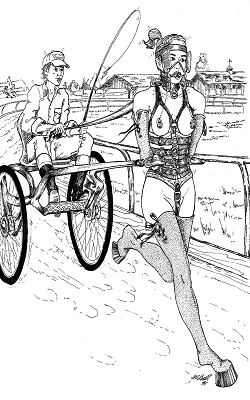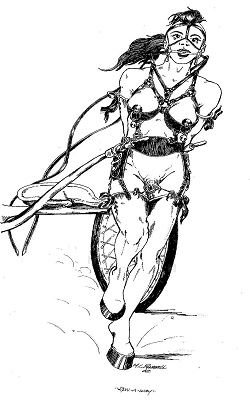 ******************************
NON-JG-LEATHERS ART - ARCHIVE/INDEX PAGE IS HERE
- HOME PAGE -