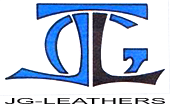 *****************************
JG-LEATHERS - TRAVEL PICTURES -
- PAGE EIGHT -
- 2006: Part 1 -
*****************************
- 13th - 21st MARCH: The San Francisco Fetish Ball Trip -
The first really big trip of 2006 :-).
I normally last about three to four months before getting itchy feet again and so this trip falls right into that profile, since I'd returned from my ping-pong ball like travels between Germany, the UK and France in mid-December. At any rate, Steffy he Rubber Doll and I began the trip on the 13th of March and made it to Chez Gord to overnight. The next day we climbed into the trusty Dodge Caravan and headed down the I-5 to overnight in Medford, OR before continuing to Elk Grove, CA the next day.
We arrived at Mistress P's home at around 2:00 pm for a very happy reunion with all of our friends, and soon the beer was flowing freely, along with lots of laughter.
- 15th March - Elk Grove, CA Frolics -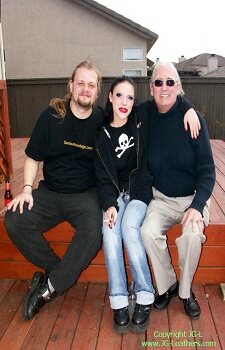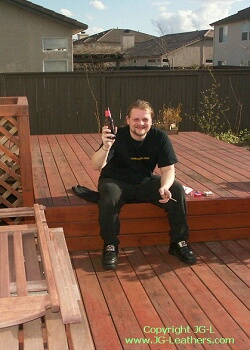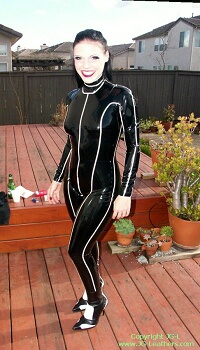 As matters turned out, we'd arrived at Mistress P's place just before everyone already there were about to begin a photo-shoot with Pupett and the Rubber Sisters, and, as always, chaos soon reigned while everyone tried to get out of the way and get ready at the same time.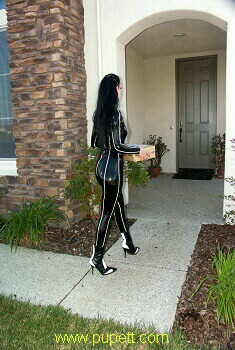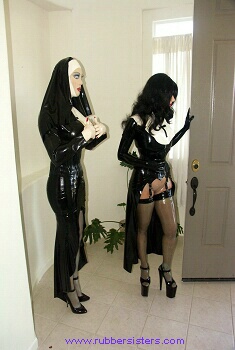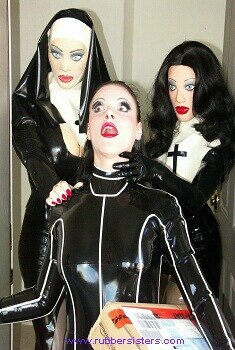 It was a nice change for me to be able to just sit back and watch it all happen, and not be a part of the action. I could have a beer and a smoke without a problem while the shots were taken but eventually, it was all done and the full story will likely be seen on the Pupett and/or Rubber Sister's web sites.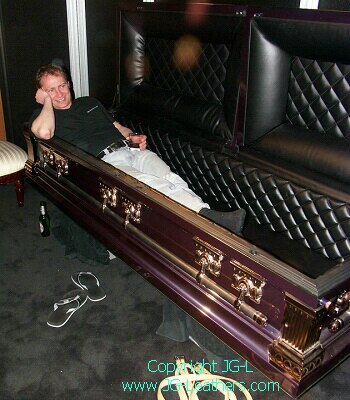 A short break was called for after the first photo-shoot and above Travis and Pupett take a break, as did Peter, a short time later. Steffy needed some entertainment and so, away we went again with more fun and games in Travis' incredible playroom. Within the hour, Steffy was quite thoroughly strapped into the 80/20 bondage chair.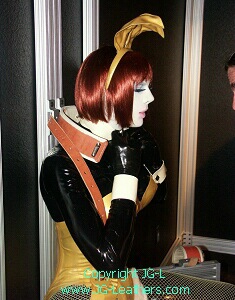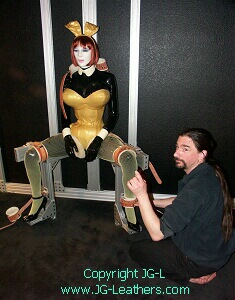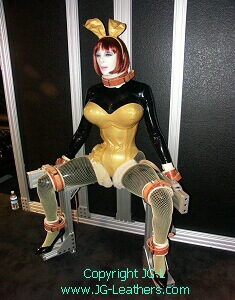 After all was finally said and done, we ordered a half dozen pizzas and they soon disappeared. It was time for bed and where all 11 of us slept is still a mystery to me. Pupett told me the next day that no matter where she went in the house, the sound of chain saw-like snoring was inescapable.
- 17th March - San Francisco Arrival & Club Z -
The next day it was off to Mark's place in San Francisco, to find that Gord had already arrived. We soon got organized, then it was time to start getting ready for the next major thrash, and so he got some of his gear out of his massive new truck and worked on it, right there on the street. Being San Francisco, not many folks gave the antics a second glance.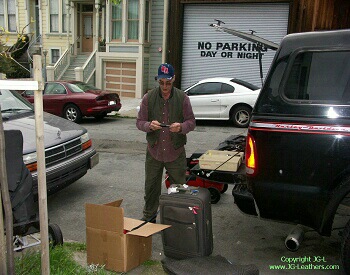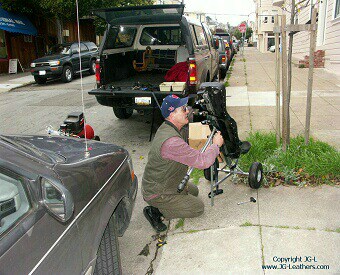 More chaos ensued, but we managed to get it together, then it was time to head off to Club-Z for the pre-Ball party, and what a party it turned out to be!
At this point I have to offer my deepest and most sincere thanks to Mark, (the web master of Seriousbondage. com and a photographer par excellence) for his wonderful generosity in allowing me access to and the use of all of the images he shot, in the below sets of pictures. He worked bloody hard and deserves all the recognition and kudos I can give him. Many, many thanks Mark.
Gord had done all the preparation work at Marks' place, but wanted to make 'an entrance' at the Club. This, as matters turned out, meant that he had to prepare his lady, Fem-Car, right out on the street in front of a local restaurant. Needless to say, the patrons got more than they'd bargained for as desert and eye-candy!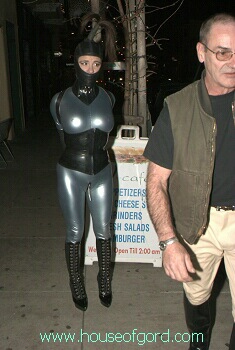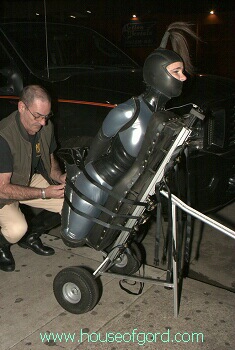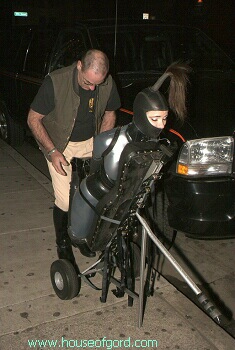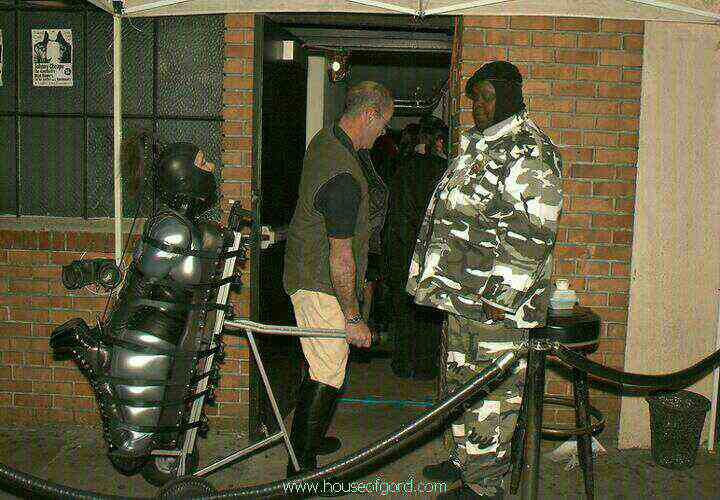 The doorman at the club took it all in as though Gord's arrival with a woman strapped to a trolley was a perfectly natural occurrence, and not knowing San Francisco that well, maybe it is! Once inside, Gord pulled his packaged lady around, proudly showing her off to everyone, but of course she wasn't left to her own devices, for he'd engineered some electrifying 'entertainment' for her along the way. Absolutely amazing what a 9 volt battery is capable of!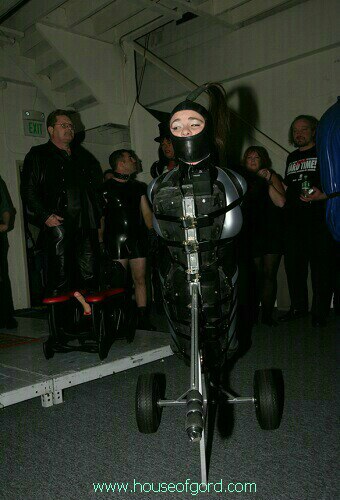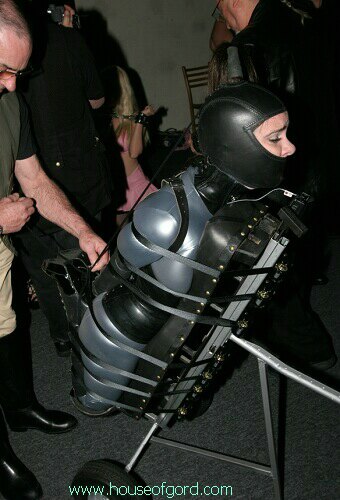 There was a huge variety of quite incredible costumes in evidence and we certainly contributed to the mix.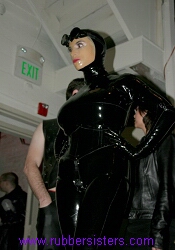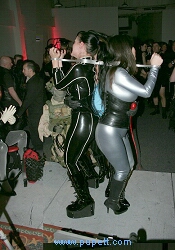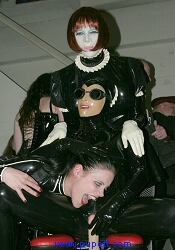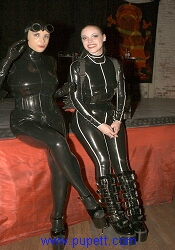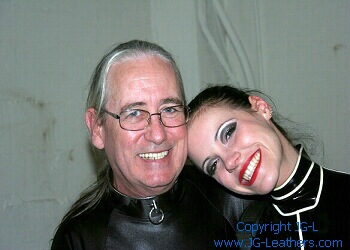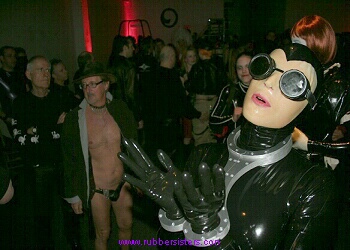 Below, Gord, being the 'ass man' he is, was in heaven, as can be seen from his shit-eating grin :-). He also loves to have control of the females around him (Good Luck!) and so, with Fem-Car and Pupett secured in some fiddles from Martin's Rigid Cuffs, he was a happy chappy, but there were other things to come.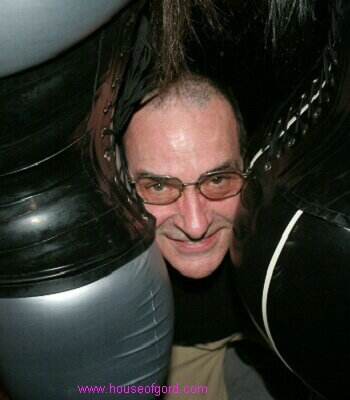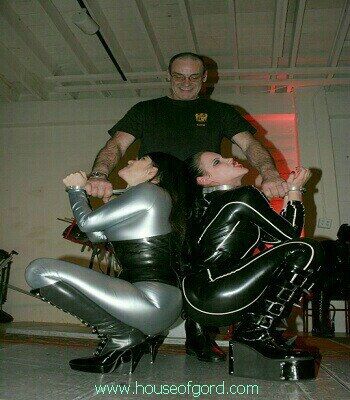 Charmaine and I had a chance to chat and reconnect, then we discovered another Vancouverite, in the form of a leather dog, and no, he didn't play the piano.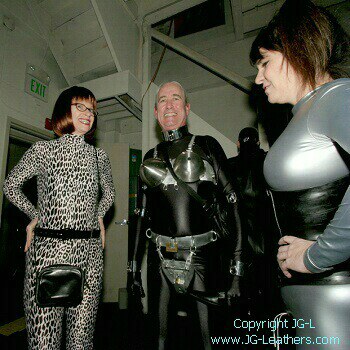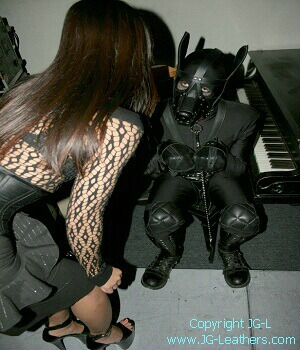 Club-Z had arranged a very special presentation by the world-renowned guru of spiritual piercing, Fakir Musafar, and although not specifically related to the world of B&D and S&M, what a demonstration of hook suspension it was!! Here's a bunch of pix of what we saw.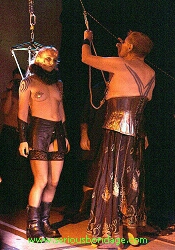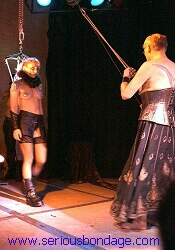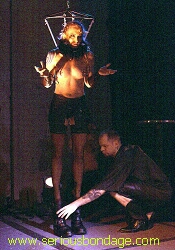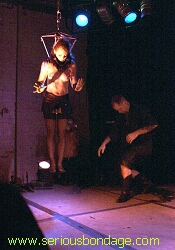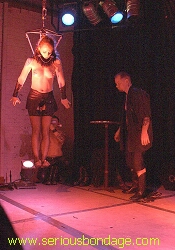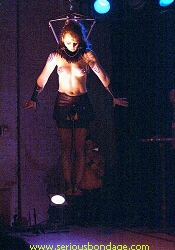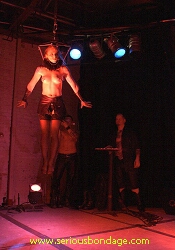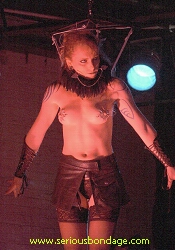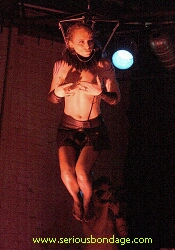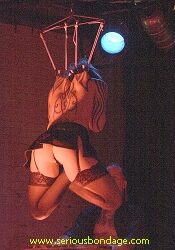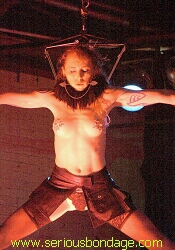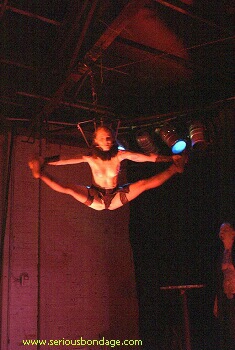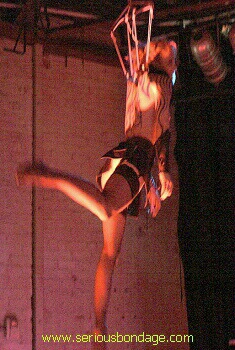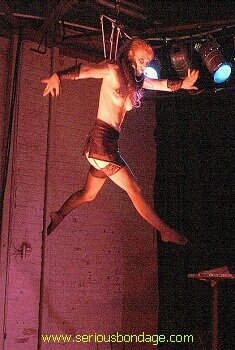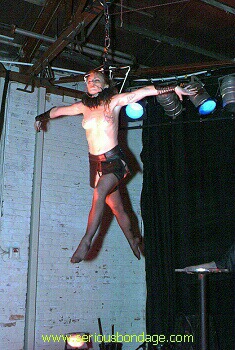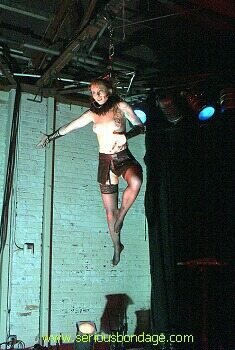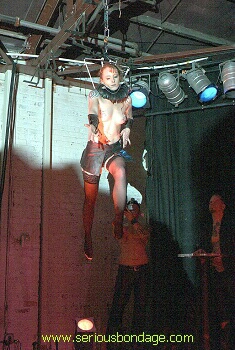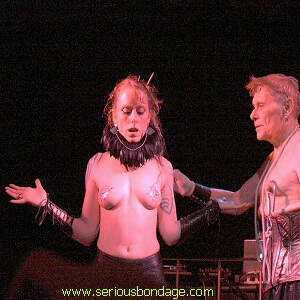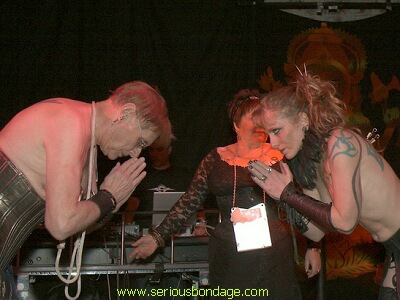 This wasn't the end of the evening's entertainment though! Not by a long shot! Next, it was Gord's turn to demonstrate one his incredible Woman-Tamer-Orgasmatron Machines and the crowd got another display of something that was truly incredible.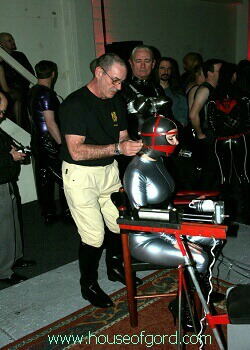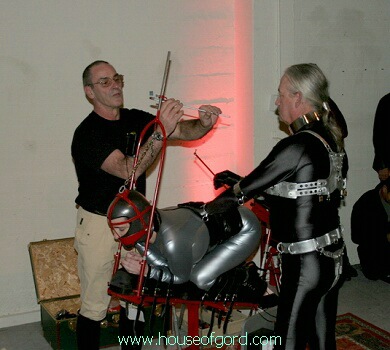 The initial preparations were fairly straight forward, then Gord enlisted me to assist with getting Fem-Car properly mounted on the machine. It was ... uh ... a little traumatic for her at points, but this Lady has a willingness to try damned near anything and she is truly, something else.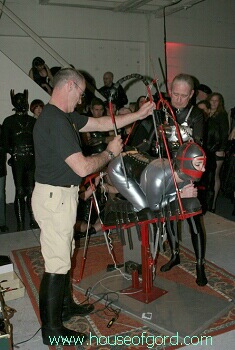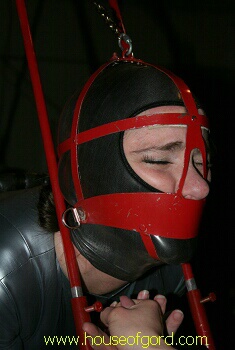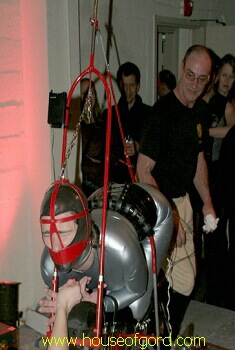 Some of the more intimate (and intimidating!) adjustments brought forth some interesting changes of expression, but the process, by this time was glacier-like in its inevitability. Hhhmmmm ... Gord and the adjustment being made below ... Folks, that ain't a stick of dynamite he's emplacing (although it looks like it), but the effect on the lady is about the same once it all gets going.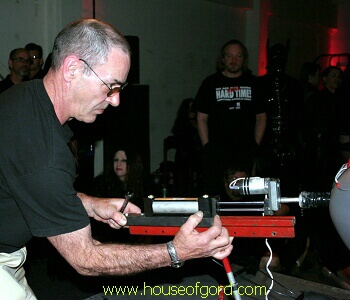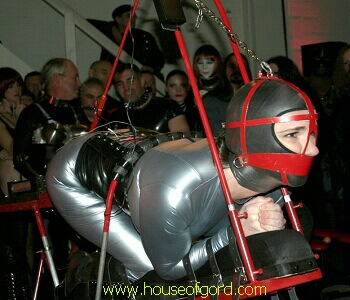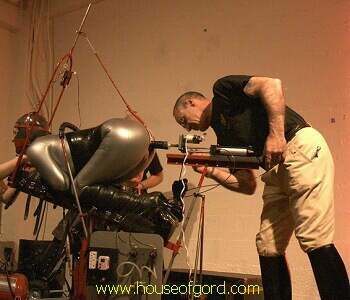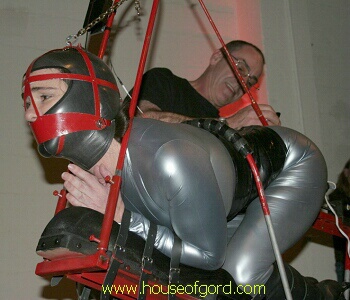 At last we were set, and with a final tweak of the restraints, Gord settled to the floor and began, figuratively and literally, turning her on. The sight and sounds that followed were something to behold, and I say that after having witnessed a lot of things over the years. Gord, as a Master Inventor and Appreciater of Womanhood? No question at all. Do they enjoy his machines and manipulations ... without a doubt.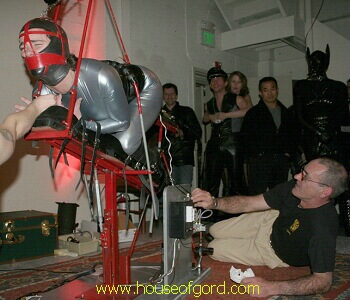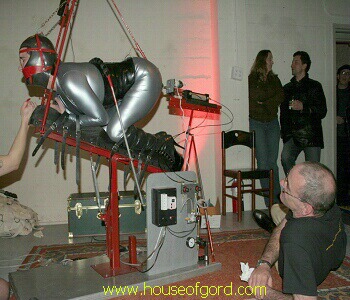 There's a limit to what the human body can withstand though, and Gord always knows where that is for his ladies. And so nearly an hour later, we released Fem-Car and started disassembling the machinery while she subsided into residual orgasms on the floor, closely watched and cared for by Gord. In the end, so to speak, all was well and Fem-Car recovered fully, although she was, understandably, a little wobbly for a while.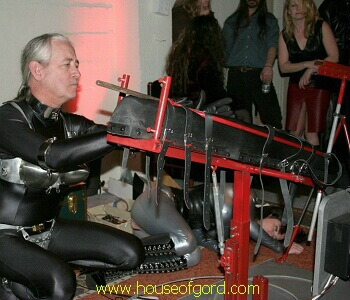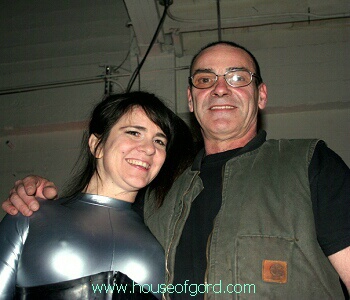 - 18th March - San Francisco Fetish Ball -
Most of the next day, the 18th, we spent as 'make and mend' time, then it was time to get ready for the major party, the San Francisco Fetish Ball, Sponsored by Mr S and Madame S. As always, parking in San Francisco is an absolute bastard, but we managed to get it all organized and were soon downtown at the venue.
Once again, I must acknowledge and thank Mark for his generosity in both allowing me to use his images and for all of his assistance helping me get into the final portions of TC.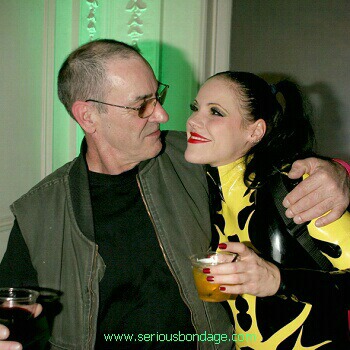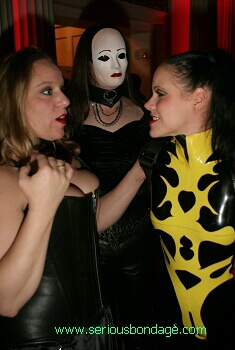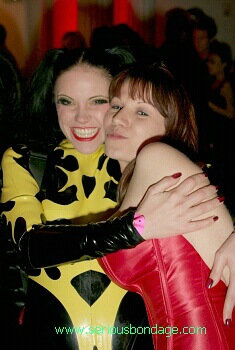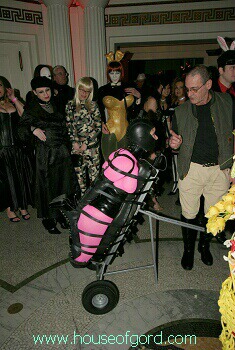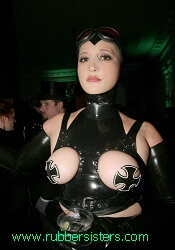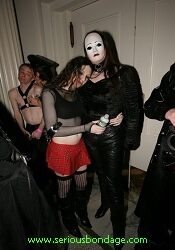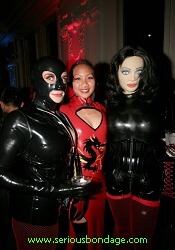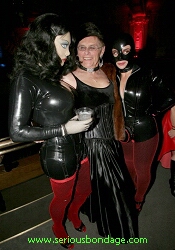 I finally managed to get fully costumed in The Creature, then did a walk-about, carefully taken care of along the way by my good friend Charmaine. From her own past experience in the female version of TC, she knows well just how limiting it is and I was very glad to have her with me.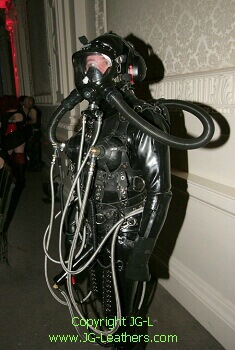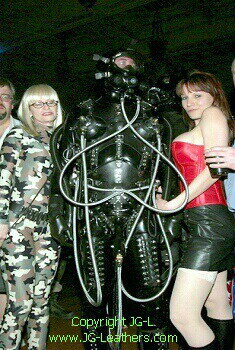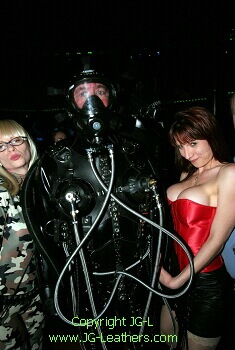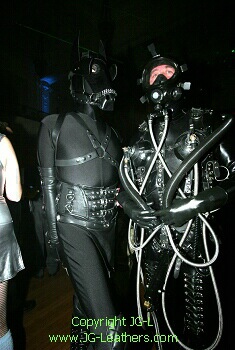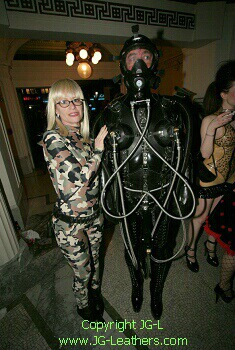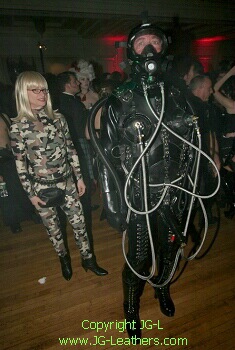 Eventually, the restriction of wearing the head gear became too much and I happily removed the mask and was able to enjoy some of the sights, unimpeded.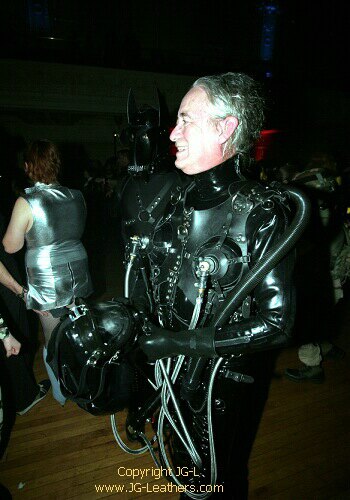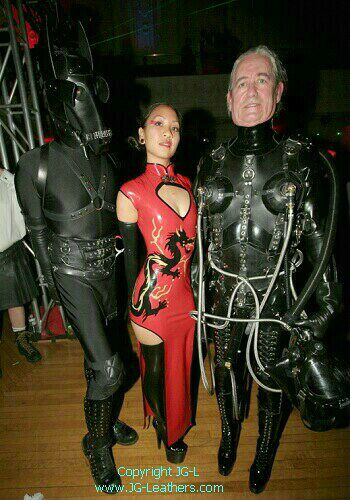 As seems to be the case at all of these types of events the disc jockeys have the amplifier volume turned up to 8 million decibels, and my ears just cannot handle that sort of volume. The solution was to disassemble part of the head gear, the ear defenders, and finally use them for their design purpose. Then I was a happy camper :-)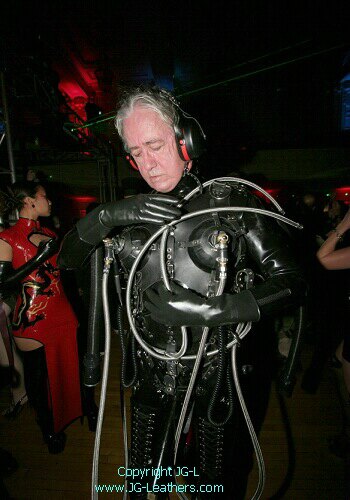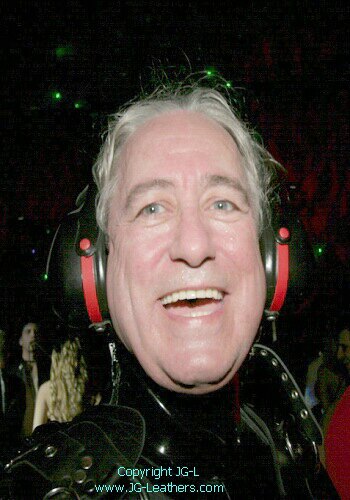 We didn't hang around to the bitter end of the party, nor did any of us go to the after party party. Soon enough, it was time to return to Mark's place and get out of all of our gear and try to get some sleep. Gord and I had plans for the next evening's meal.
- 19th March - Eating At Joe's -
During the time we'd invaded Mark's house, we'd all been eating at the corner restaurant, Joe's, and that honourable personage, having met many of us before, but always in vanilla garb, was naturally quite curious as to why we'd all showed up again. Gord and I told him the bald truth about being in town to attend a kink event, and told him that we'd all show up for supper on Sunday afternoon so that he'd get to see for himself what we were talking about. And so it began, again :-).
Gord and I surfaced well ahead of all the young sprogs and got busy making a sign for the coming afternoon. After a trip to the local art store and a couple of coffee's, we soon had a pretty professional looking placard. I did most of the sign work, while Gord worked on the mounting system on his Trollop Trolley :-)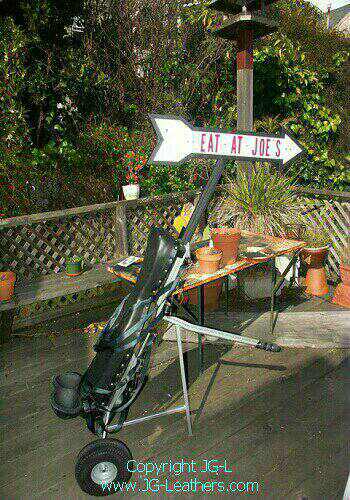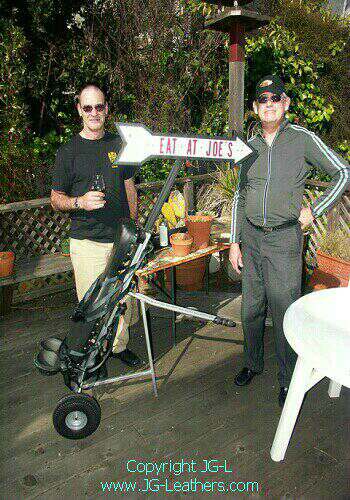 Eventually the remainder of the crew came alive and towards 2:00 pm we all began to get ready for dinner at Joe's. Little did he know what was about to descend upon him.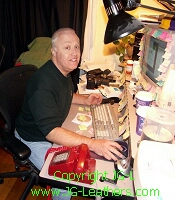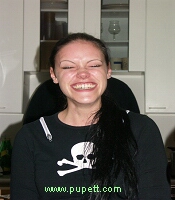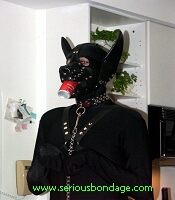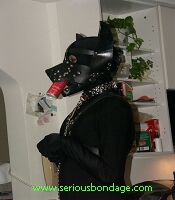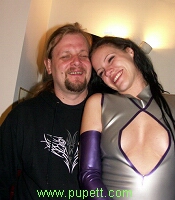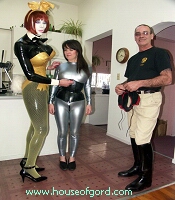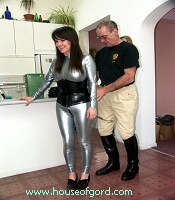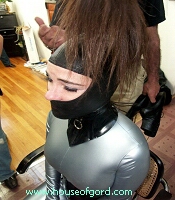 Fem-Car was soon, again, strapped in place and off we went in a parade of kink, heading for Joe's, but also to give the good folks in the neighbourhood a little display and something to talk about.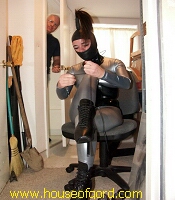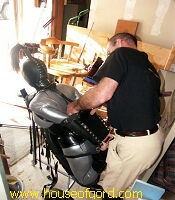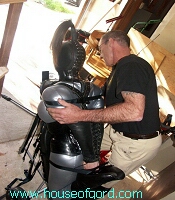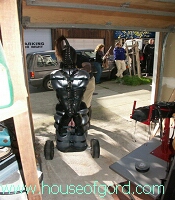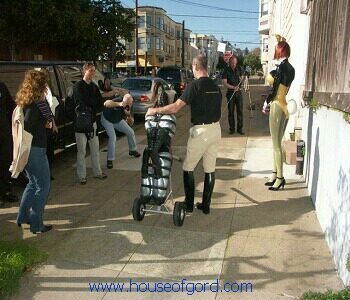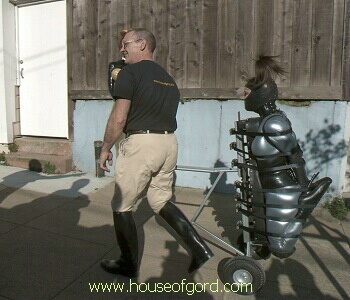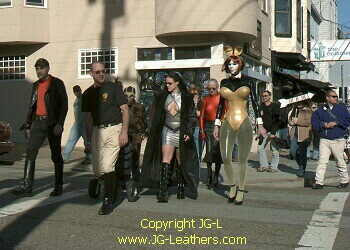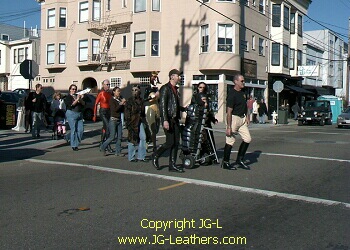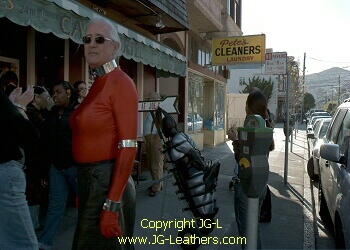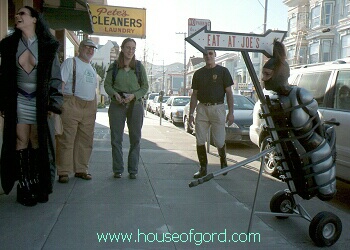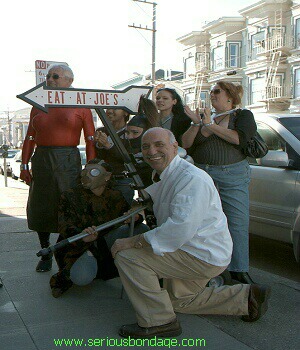 We're pretty sure Joe was impressed with what we'd done, and too, he finally got to see many of his customers of the last week dressed in their favourite gear.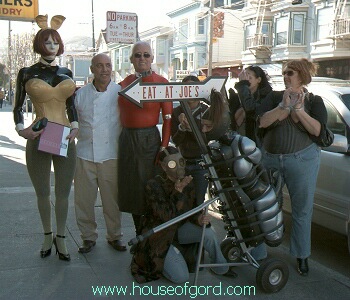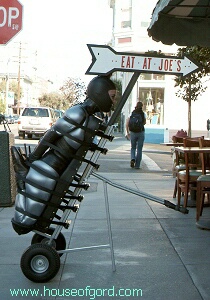 And then there was the 'Dog Incident' ... We had our own Leather Fido as a mascot and kept him out on the side walk, and as luck would have it, one of the locals was walking his (real) dogs. Upon seeing Leather Fido, one of them became curious and decided to check him out, but a warning growl soon changed the real dog's attitude and Fido got a growl in return. The real dogs were quickly dragged off down the street and Fido was heard to say "Bitch!" both in reference to the real dog's sex ... and attitude. We all cracked up :-).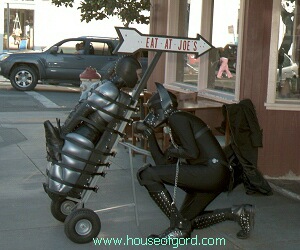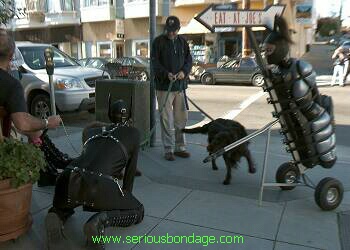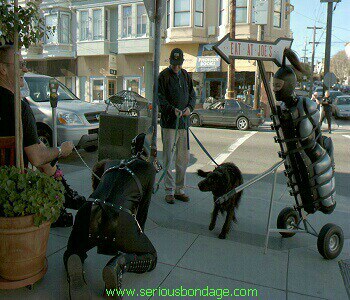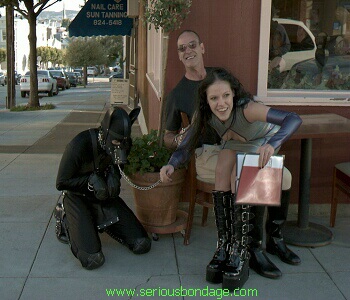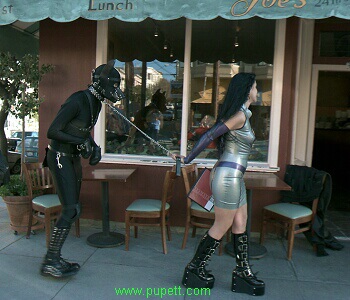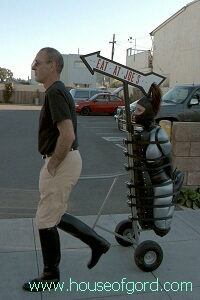 We had to bring Fido inside and while Pupett did that, Gord took Fem-Car, on her Trollop Trolley, for a brief tour of 24th Street, for, after all ... isn't it nice to go for a Sunday walk with your girl?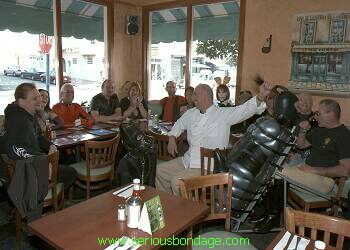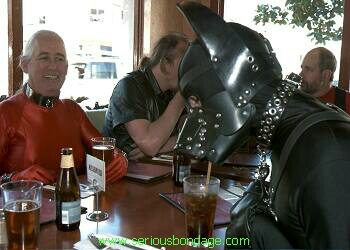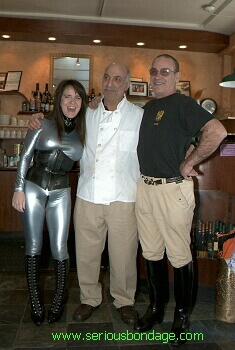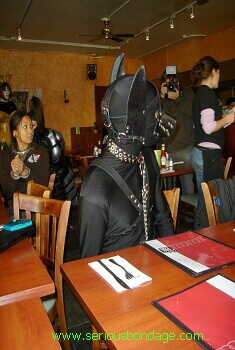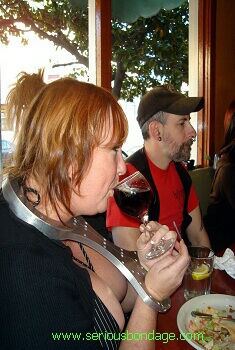 At last we were all inside and reasonably sane, then it was time for some food. Soon the place had dissolved into hilarity and assorted mayhem, and even Fido got to sit at the table while the ladies quaffed wine, wearing Martin's fiddles. Joe eventually kicked us out, far past his usual closing time for Sunday afternoon, and we headed back to Mark's place to continue the well-begun party.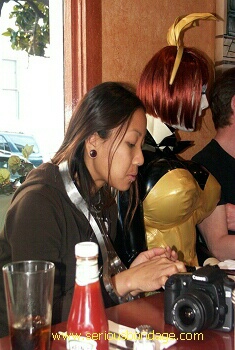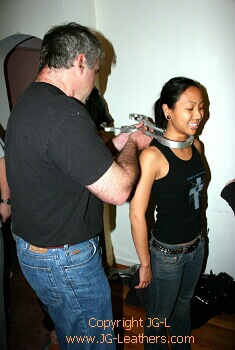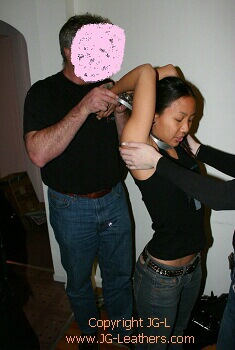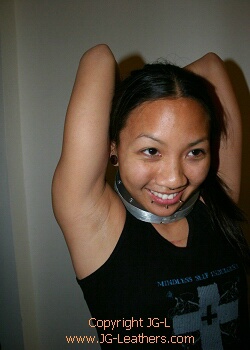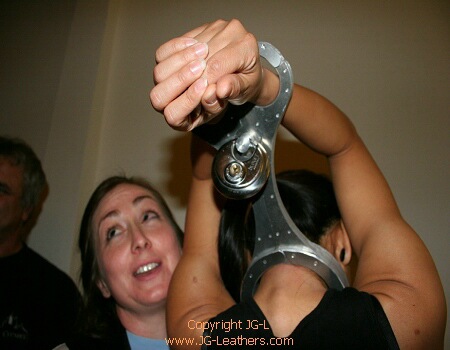 It was time for a little testing of the different configurations the fiddle can be used in and a new one can be seen in the pictures above. HHHmmmm. Certainly works for me as an observer, but I doubt that a lady would be all that impressed ... helplessness and vulnerability to the max with this set up!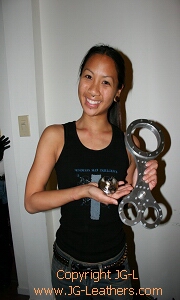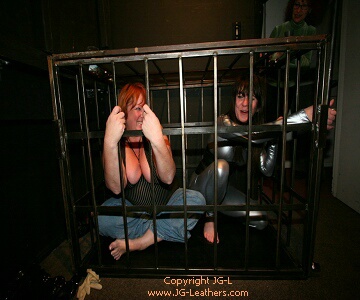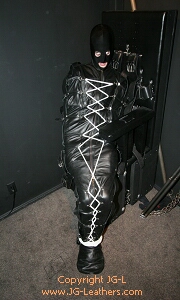 Well, things just got sillier as the night went on, but eventually it all came to an end and everyone returned to reality. It had been a wonderfully bent weekend and a lot of laughs for us all.
END OF PART ONE - PART TWO APPEARS ON PAGE NINE
******************************
- JG-LEATHERS - TRAVEL PIX INDEX & ARCHIVE PAGE IS HERE -
- HOME PAGE -