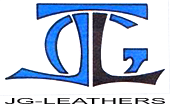 ******************************
JG-LEATHERS - TRAVEL PICTURES -
- PAGE SIX -
- 2004 -
******************************
- APRIL: Off to The Frolics in San Francisco, CA -
A road trip to San Francisco, to be at the launch Party for www.seriousbondage.com seemed like a good plan and so I set off down the highway on the first of April.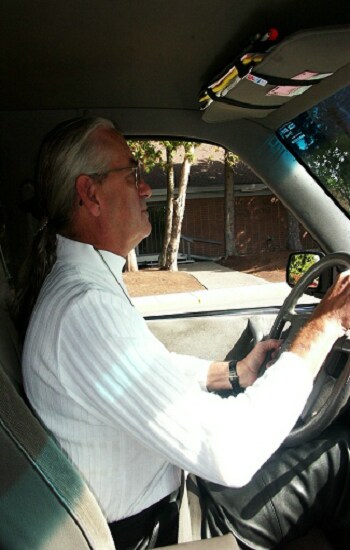 TWO ABOVE - All set to go to San Francisco from Tsawwassen (Yep That IS how it's spelled.) It's a rugged 1 day drive, alone (16 hours), or an easy 2 day one with a stop halfway. The scenery is outstanding and the highways are excellent. The drivers, however, leave something to be desired.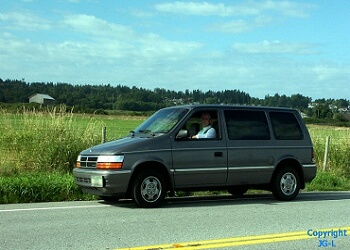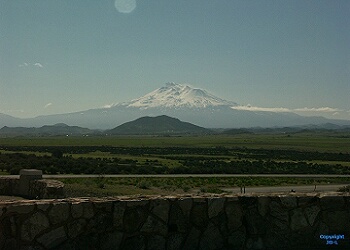 TWO ABOVE - My trust 1992, Dodge Caravan with all the goodies stashed in the back. RIGHT Above - Mount Shasta, CA from about 50 miles away. Damn, but that thing is a monster! Incredible scenery and a pleasure to drive through. Although a dormant volcano, I was happy to be away from it, despite its majesty.
- APRIL: San Francisco, CA -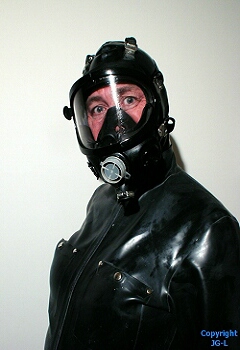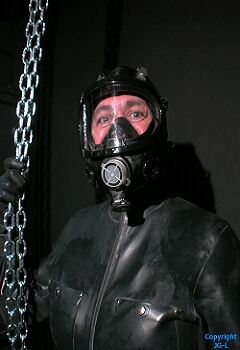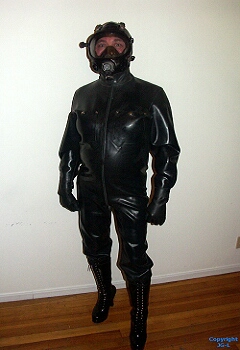 THREE ABOVE - Mark was kind enough to give me a gas mask he had no further use for, and being the 'perverter' I am, I saw immediate possibilities for it. Once I was dressed for the coming shoot with this mask and a full rubber suit he had available, we were soon happily moving toward the next session with our good friend Travis.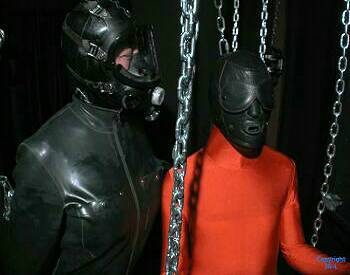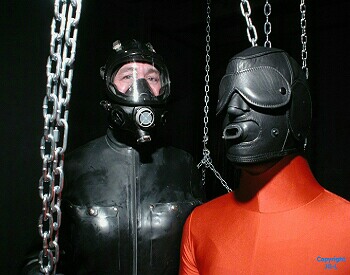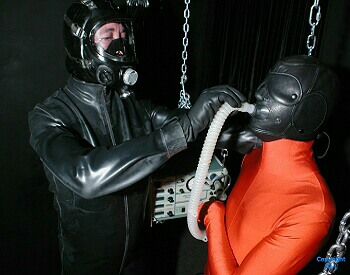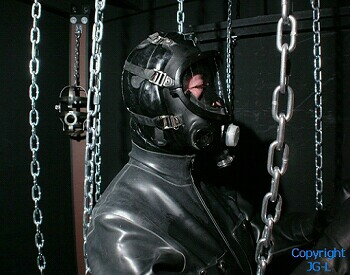 FOUR ABOVE - Travis, as all good kinks are, was ready to go at the drop of the proverbial hand cuff. We both had a hoot dressing for our respective parts in the shoot and testing the ventilator he'd brought along.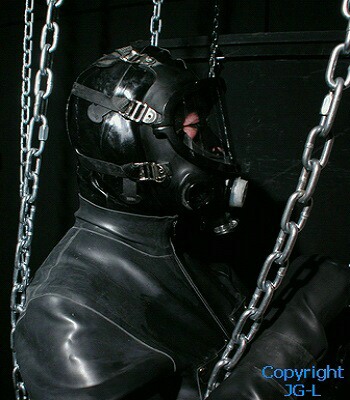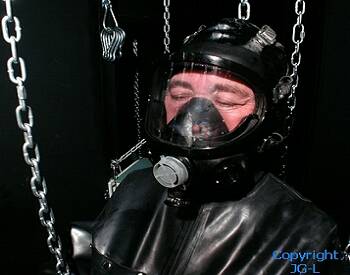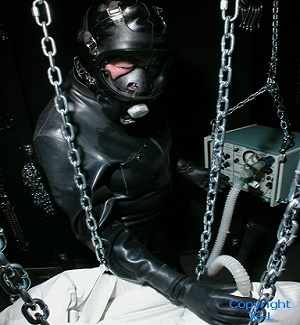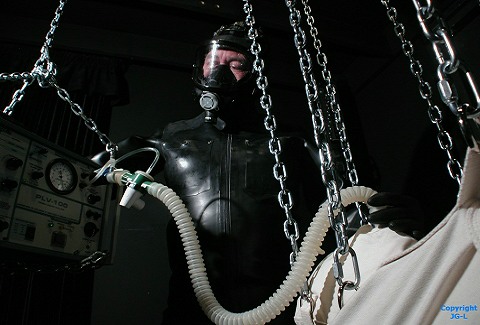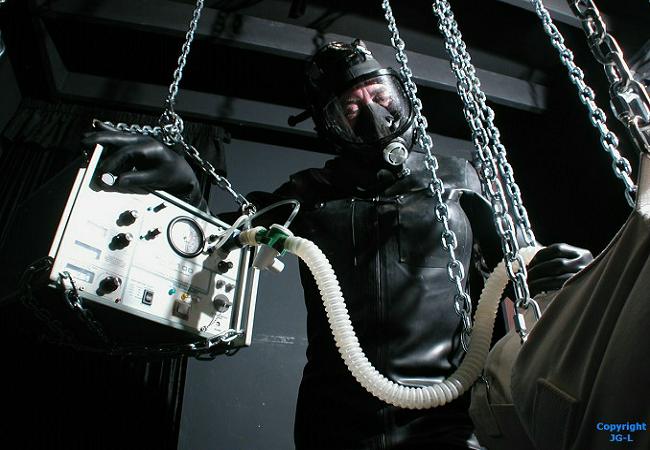 FIVE ABOVE - I'm certainly dressed for the part, being fully enclosed in rubber, and feel not a little like some sort of weird executioner or doctor while 'administering' the sedative to the fully straight-jacketed and suspended 'patient'. A scene like this sends so many visual messages and sensory ones that it is hard to describe, even being a part of it. The hissing, pumping noise of the ventilator added even more to the whole environment of strangeness ... but THAT is what it's all about!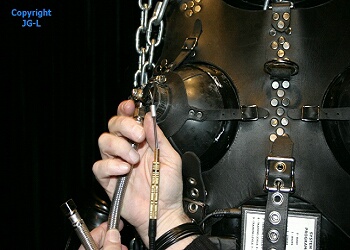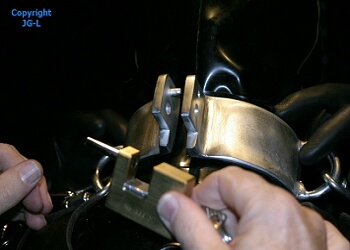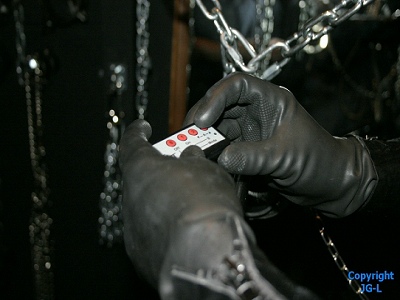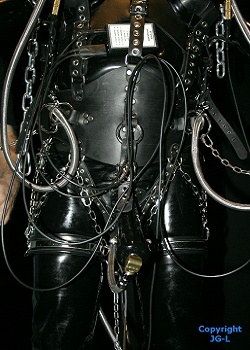 FOUR ABOVE - Time for the next photo-shoot in Mark's dedicated playroom. As always, there's a substantial amount of preparation required for any shoot and just dressing in the initial stages of the gear takes nearly an hour. Then, of course, there are the usual circuit checks for the e-stim gear and putting on the final restraints. This, for me, is always a wonderful time, for I slide easily into the role and thoroughly enjoy all the sensations that come with each new addition to the set up.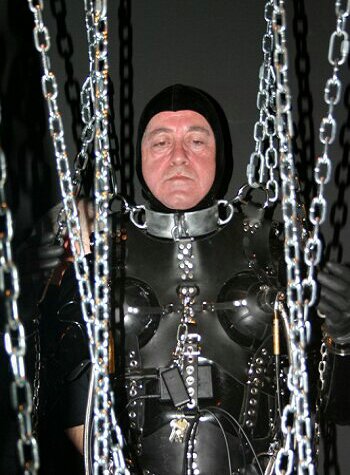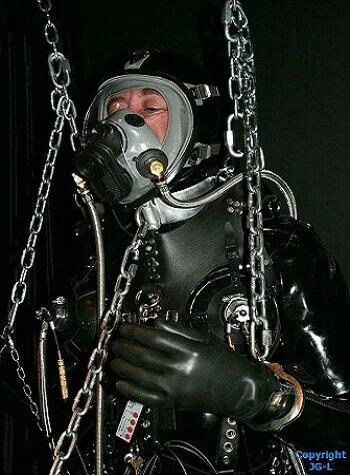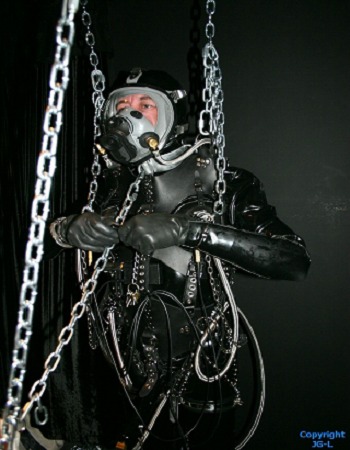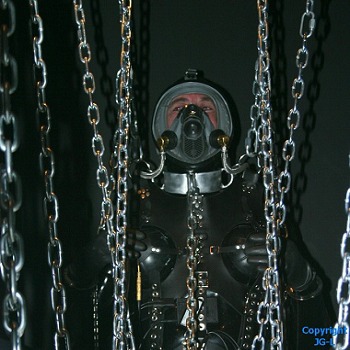 FOUR ABOVE - Now it's beginning to get truly interesting! The harness, cuffs, collar, chains and locks have all been secured and the gas mask is performing as it's supposed to. Wow! What a feeling and like anyone in a different situation, I test the various freedoms still permitted, listening all the while to the sound of my own breathing. Soon, I know, life will get substantially more interesting when they take control of the Erostek ET-302R e-stim machine and begin to test its controls.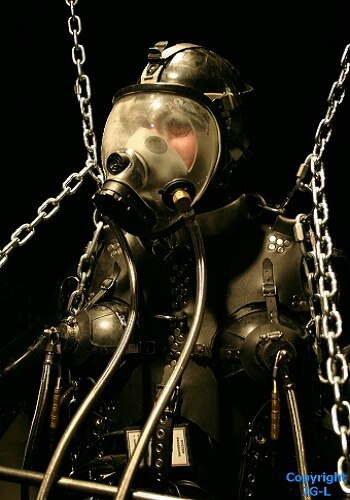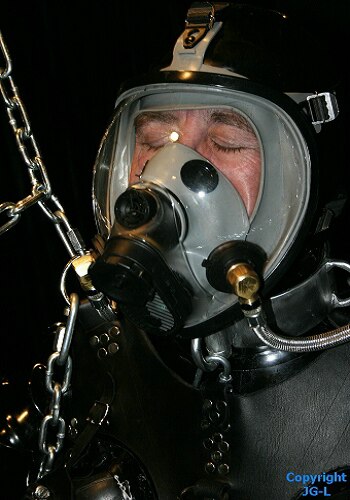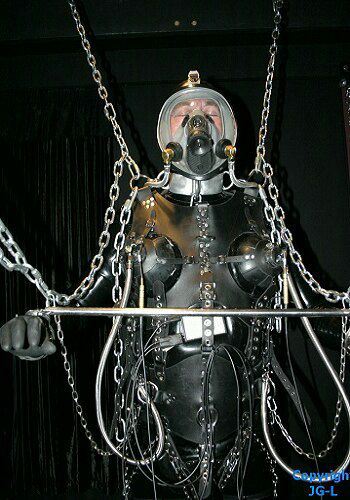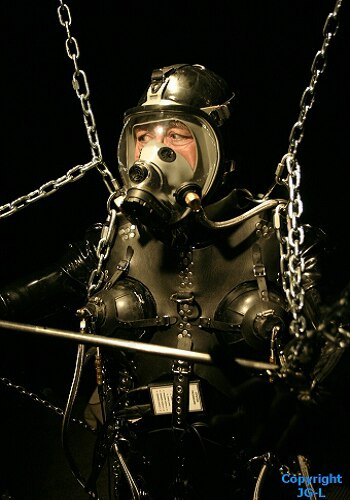 FOUR ABOVE - The mask initially fogs a little, adding even more to the whole strange atmosphere of the session and I soon sank right into the sensual experience of being held inescapably, unable to get free of the mask or what was happening. I no longer had control of the e-stim remote and things were definitely going on. I began to get a little apprehensive that the sensations would become too much, but now, there wasn't an escape.
- SEPTEMBER: San Francisco's Folsom Street Faire -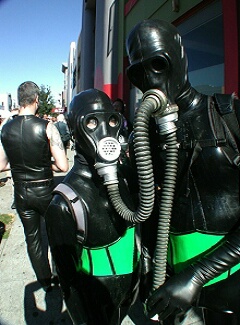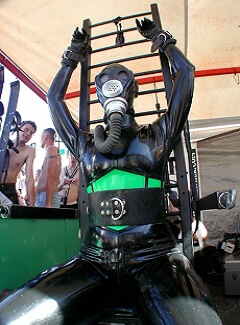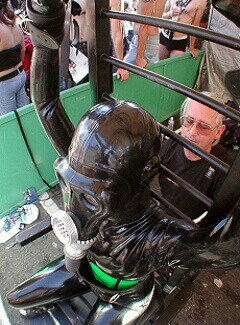 THREE ABOVE - I met some friends who I didn't recognize while I was perusing the sights and sounds of the 2004, Folsom Street Faire. Not wanting to be recognized by anyone on the street, and there were hundred's of thousands there, both he and she remained snugly concealed within their gas masks for the whole of the hot afternoon. A little later with their assistance we became one of the many centre's of interest on the street when we tried out a little bondage at the Mr S booth.
- Sacramento, CA -
I thought that the Folsom Street event and the shoots Mark and I had already done were going to be a pretty hard thing to beat, but boy, was I wrong! After Folsom, was done we drove to Sacramento to see Travis' new place and meet his alter ego ... Mistress Patricia. Travis has an amazing collection of toys and one of his neatest, is, of all things, a fully retro-fitted, B&D casket.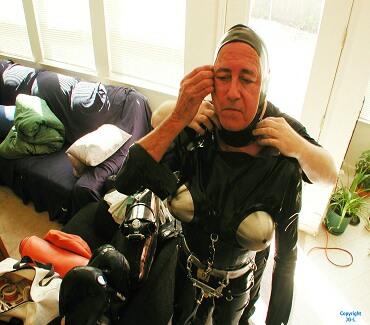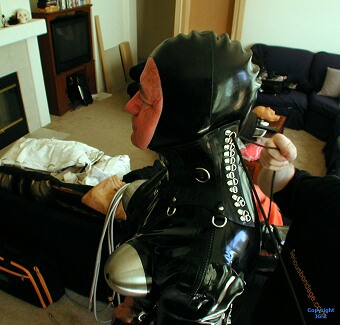 TWO ABOVE - And so it was preparation time again. A happy occurrence for me, as I don't get to play with my toys and costumes very frequently. All the usual gear went on, then came a new, rubber neck corset (made for me by MOR Rubber) that integrates to my torso one and wow! What a feeling that was. I need assistance to get into the final stages of the costuming (and to get out of it too) and that adds even more to the whole 'ceremonial' of the bondage process and game.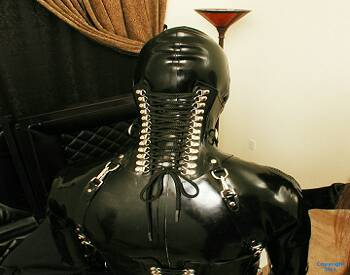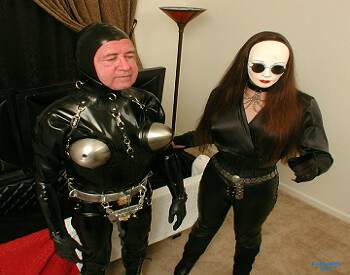 TWO ABOVE - The neck corset/collar is laced as tight as it should be and then Mistress Patricia takes me in to view her most impressive storage/training and isolation device ... the fully functional casket. Hhhmmmm ... not too sure about this, but willing to give it a try.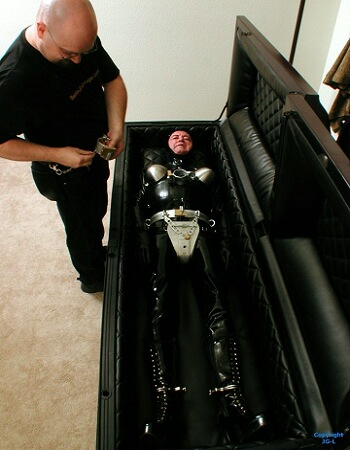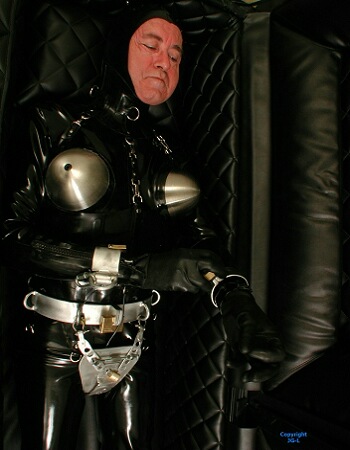 TWO ABOVE - OK. Settling in isn't too bad and actually is pretty comfortable. Gotta check the wrist cuffs for security as part of the preparation, then it was time to get ready for the next steps. I'm still a little worried here, but beginning to quite like the experience ... so far.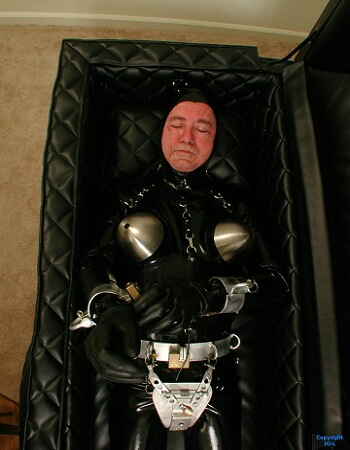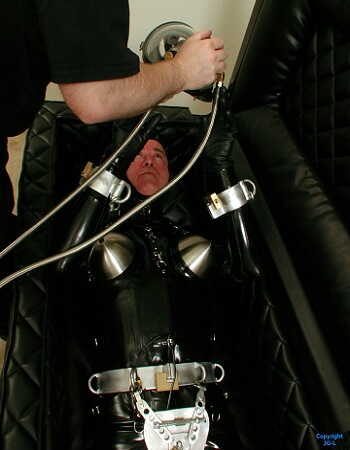 TWO ABOVE - Time for the air control mask and here one of the assistants is helping to fit me with it. Sort of like assisting at one's own execution. Scary and fun all at the same time :-).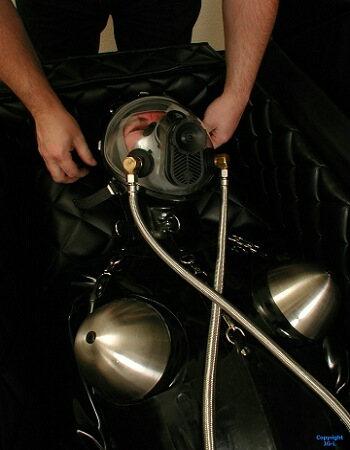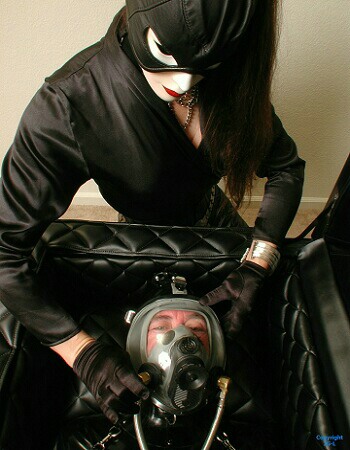 TWO ABOVE - The mask is settled over my head and face, making an air tight seal, and Mistress Patricia adjusts it further, ensuring security. The sensations of captivity and enclosure are certainly growing stronger and stronger as the minutes go by. I'm definitely getting into 'the zone' as can be seen in the right side picture.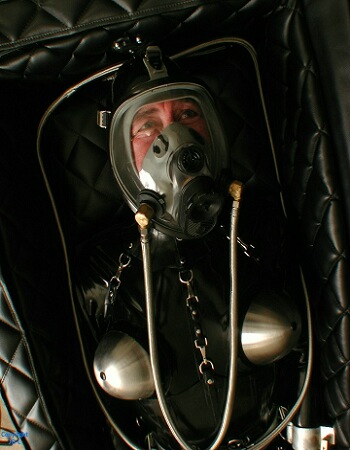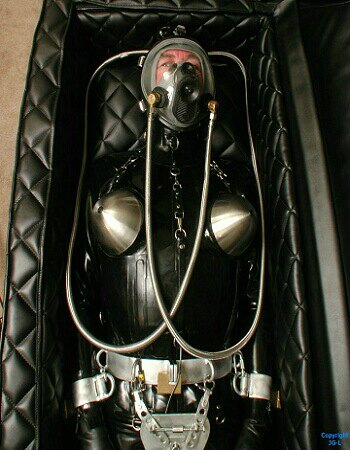 TWO ABOVE - The air lines have been attached to the connection inside and the wrist cuffs locked to my chastity belt. Now, I can't get out, even if I want to and just have to wait quietly until whatever happens, happens. HHhmmmm. This could be somewhat of a challenge.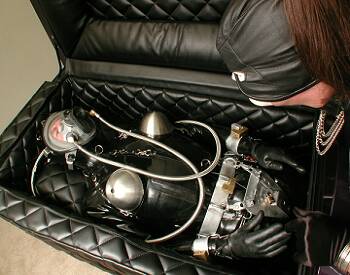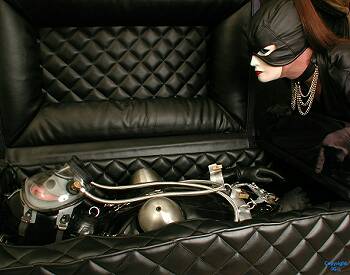 TWO ABOVE - Mistress Patricia was MOST insistent though and so I lay there waiting for what she had planned next. She obviously enjoyed having a new toy in her casket and took a little while to drool over what was presented, bound and helpless to resist.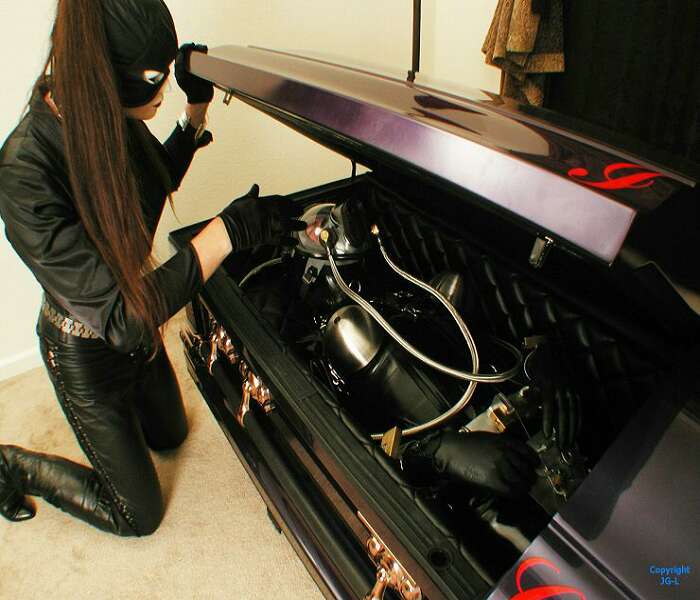 ABOVE - The lid begins to close and already I'm beginning to feel the isolation and removal from the outer world more and more deeply. I have to relax and try to remain calm. but can feel myself hyper-ventilating already. Damn! This is pretty intense!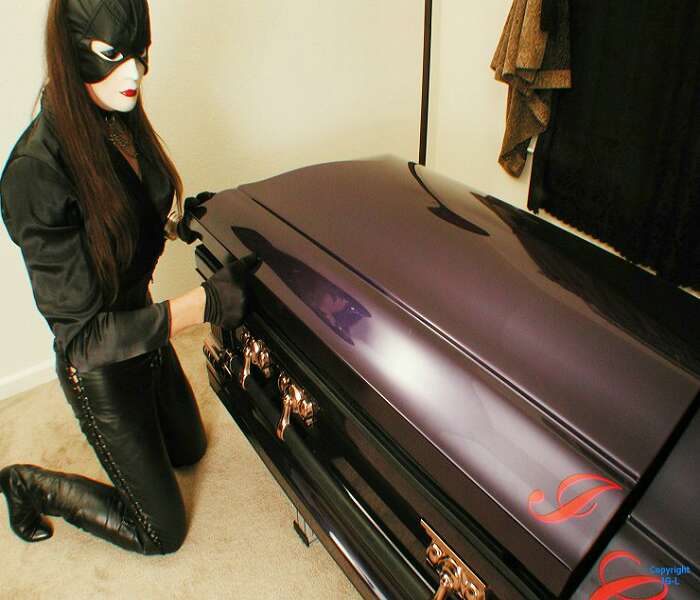 ABOVE - Mistress Patricia closed the lid those last inches, then cranked the draw-bar lock fully closed, sealing me into an airtight enclosure. The world outside the casket ceased to exist for me and I was captive, rubber-suited, gas-masked and chained inside a bottomless black, silent space. They went off and left me there and it was a rush! Unable to struggle thanks to my chastity belt and locked cuffs, fully blinded and deafened inside, I was in deep doo-doo. Although I rarely suffer claustrophobia, this time I was starting to freak a little after about ten minutes of contemplating my situation.
- DECEMBER: Frankfurt/Offenbach, Germany -
I rarely travel out of the Lower Mainland of BC in the Summer, for the weather here is about as perfect as can be found: neither too hot nor too humid and the scenery is spectacular. Most of my travelling is in the Autumn, Winter and Spring when this area gets somewhat unpleasant for extended periods. This time it was off to Frankfurt to see my good friends Corinna and Frank and to attend a kink party in Kralsruhe, then meet the gentleman who owns Axsmar, in Mannheim, and at the same time, get to meet Absolutist my story teller friend.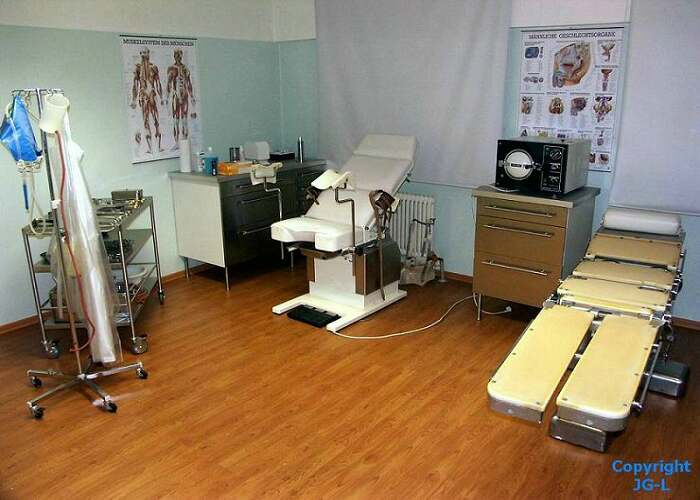 ABOVE - I made a visit to the dungeon and studios of Lady Isis in Offenbach/Frankfurt, and here I saw a REALLY classy set up. Lady Isis has done a superb job of setting up her premises and I was very impressed. Keep in mind that I've seen a lot of dungeons in my time, but this one ranks right at the top. This is one of seven theme rooms, her Medical Area, and it puts most real doctor's on-site surgeries to shame. Everything was sparkling clean and beautifully set up.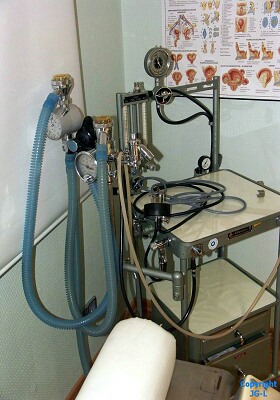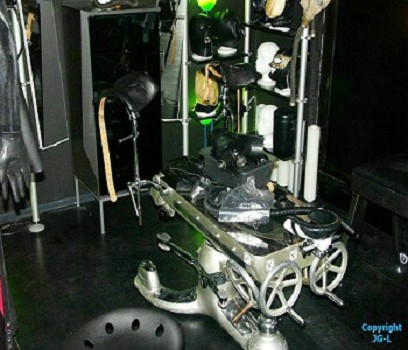 TWO ABOVE - On the left, a detail image of the breathing equipment in the medical room. The right side image shows one corner of her rubber treatment bondage room and the equipment is not only visually stunning but if one were to be a client of lady Isis, some pretty strong visions of what could be done in here come to mind. Lady Isis is an accomplished Domme and has a wonderful dedication to serving her clientele thoroughly and properly.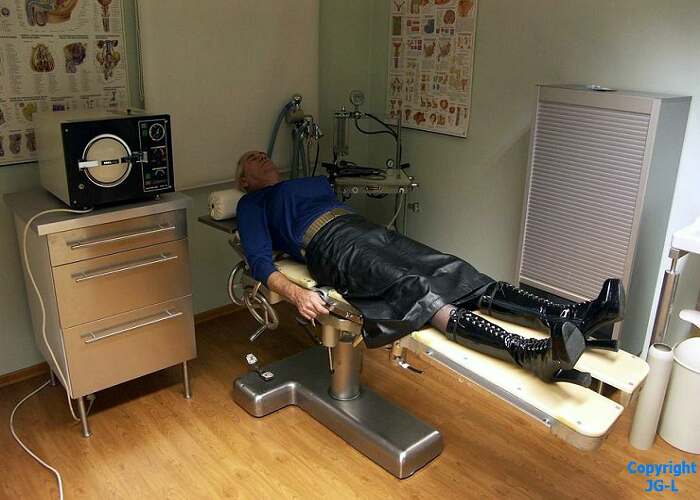 ABOVE - Being the sensation slut I am, I just HAD to try out some of the equipment here and although we didn't play during the visit, it was a most interesting sensation to just lay there and think about what might happen.
- DECEMBER: Mannheim, Germany -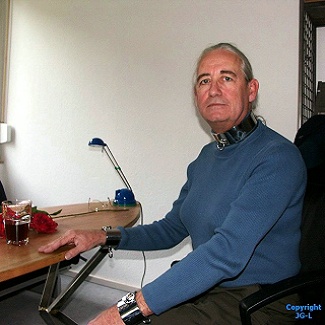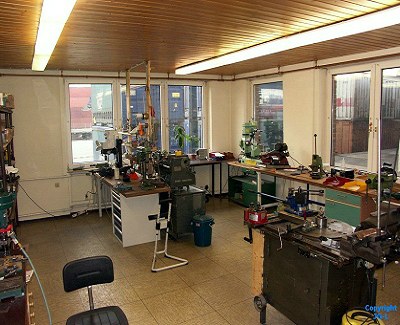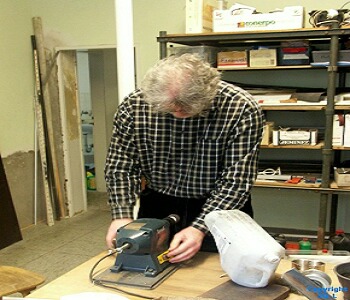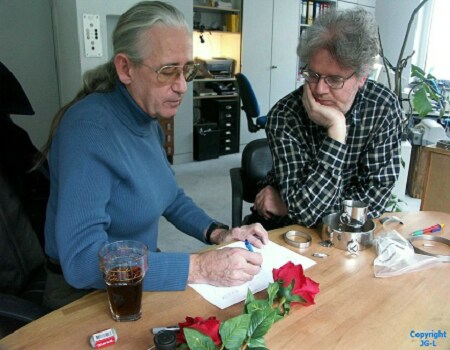 FOUR ABOVE - These images were taken when I went down to Mannheim to visit the premises of AXSMAR, meet the owner, and pick up my newest gear from him (the wrist cuffs). His work shops are beautifully organized and the restraint jewellery that comes out of them is, in my opinion, the very best that can be purchased, bar none. The bottom right image shows me sketching a design for a custom made restraint belt that can be quickly and easily transformed into a full-on chastity belt (male or female) with the addition of a crotch piece.
- DECEMBER: Paris, France -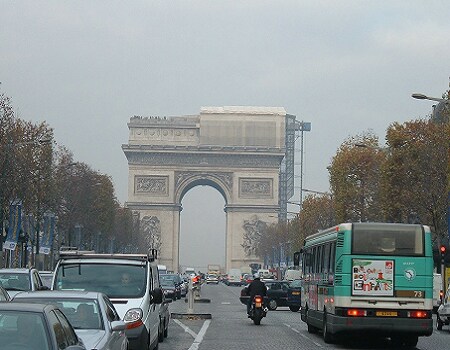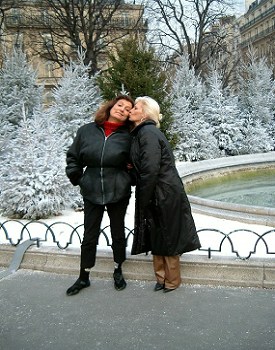 TWO ABOVE - Ah yes. Paris. What an interesting city to visit. On the right are my friends Maitresse Francoise and Mistress Antoinette just doing a walk about.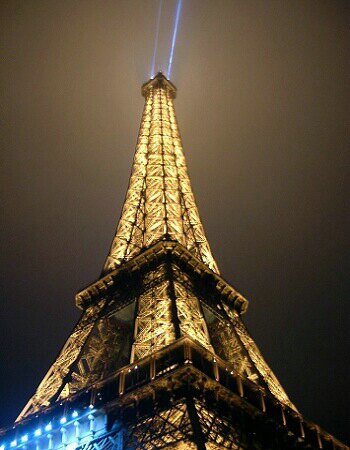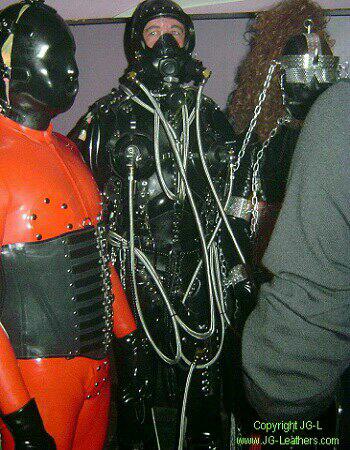 TWO ABOVE - If the image on the left needs some explanation, then I give up. However, the one on the right is obviously of me and some of the other happy revelers at the Nuit Demonia Party held at La Loco, right beside the famous Moulin Rouge. I was but a very small individual in a crowd of some 1,600 kinksters who attended this blow-out weekend long event and it was an incredible environment. Those folks DO know how to party!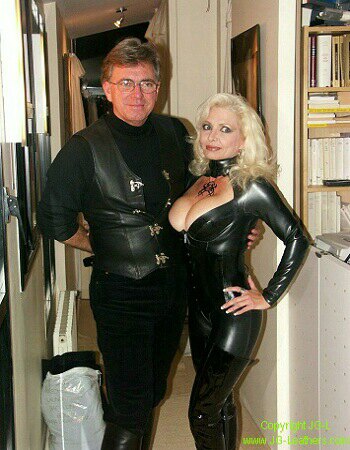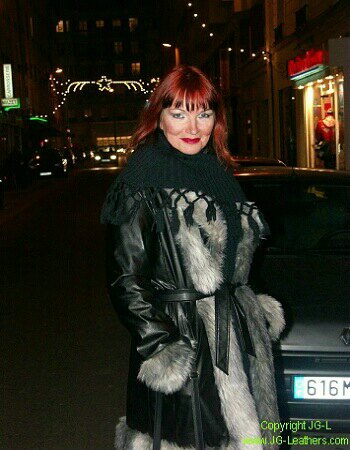 TWO ABOVE - David jackson, owner and publisher of DDI (Domination Directory International) and my good friend Mistress Antoinette, just before we all left for a dinner party, the night after the Demonia party. On the right is Mistress Madieanne of Amsterdam and another friend of stunning presence and beauty, combined with a quite evil sense of play .... definitely my kind of gal!
******************************
- JG-LEATHERS - TRAVEL PIX INDEX & ARCHIVE PAGE IS HERE -
- HOME PAGE -