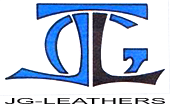 *******************************
- TRAVEL PICTURES -
- PAGE FIVE -
- 2003 -
*******************************
- JANUARY: West Palm Beach & Fort Pierce, FL, & Edmonton, AB -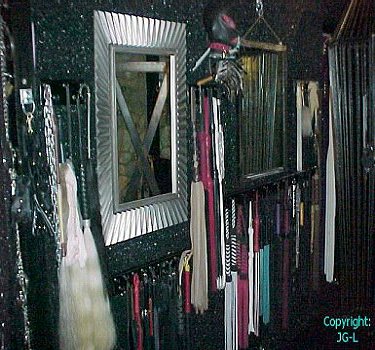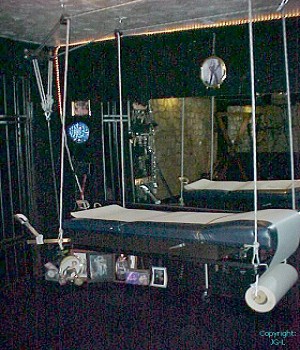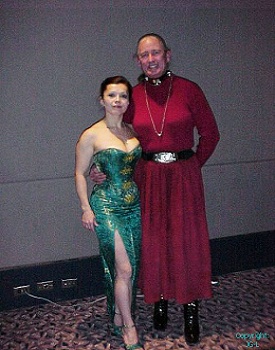 TWO ABOVE, TOP - Taken at the Dungeon of Mistress Elizabeth in West palm Beach. An wonderful hostess and marvelous Domme, with an amazing dungeon (the bed raises to the ceiling!). This Sublime Lady of the OWK has it all. BOTTOM LEFT - Florida in January is NOT the warmest place in the world, as can be seen by my clothing for the day, and what I wore on the drive up from West Palm to Fort Pierce. BOTTOM RIGHT - An old Friend, Midori and I. I hopped over to Edmonton, AB to attend her lecture and meet her once more. Midori is an experience and a teacher that should NOT be missed!
- APRIL: Brisbane, Australia -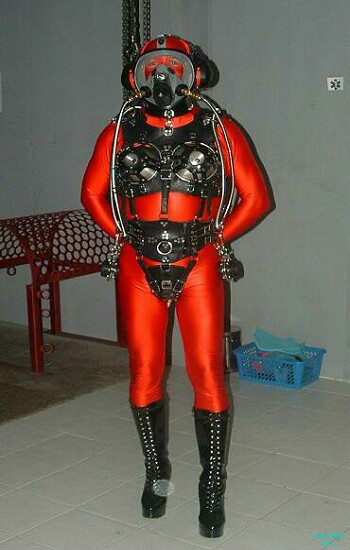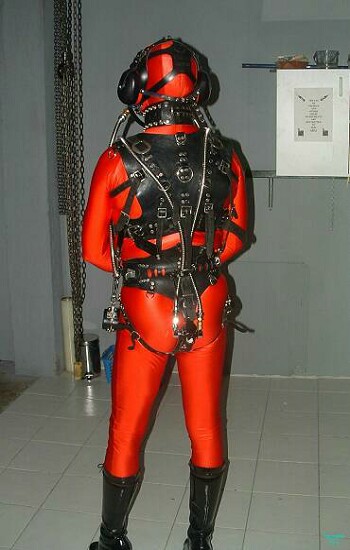 TWO ABOVE - My costume for a party at
Club Libertine
on my next visit to the land of the bouncing marsupial. The red Lycra suit came from
Zoom-Bizarre
, the gas mask from
Mr. S
, the boots from a store in Edmonton, and the rest I made. A good party and the costume raised some awareness, I'm sure.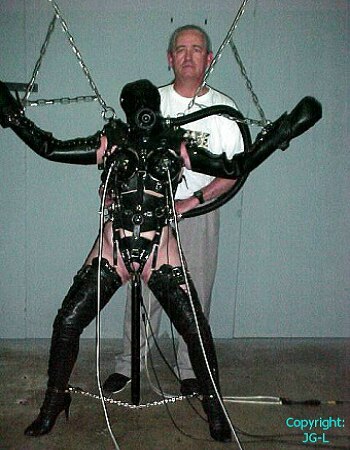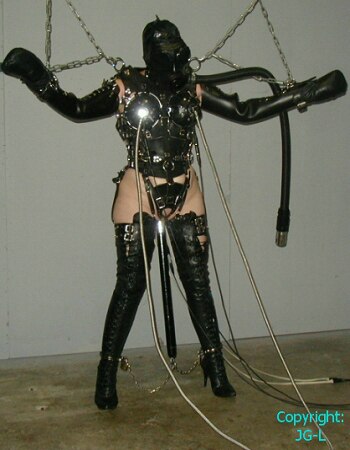 TWO ABOVE - A 'victim' of mine for a presentation at
CLub Libertine
in Brisbane. If you're fully involved with The Creature, as a female, there is
no
escape .... just the way it should be, of course!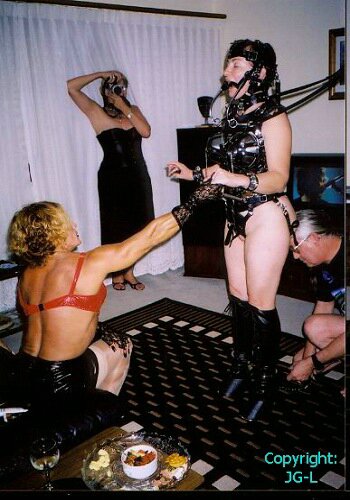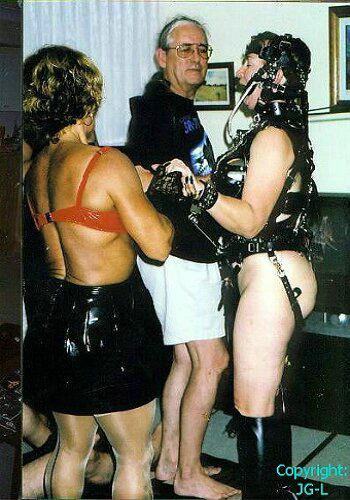 TWO ABOVE - My same 'victim, but this time accoutered as a Horse Woman for a house party in Coolangatta. Definitely not what the social cognoscenti were doing that night, but WE had a hell of a lot of fun.
- OCTOBER: Central Interior, BC -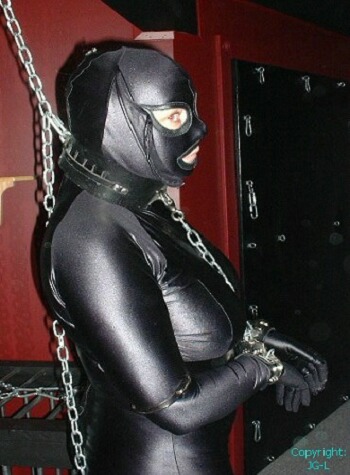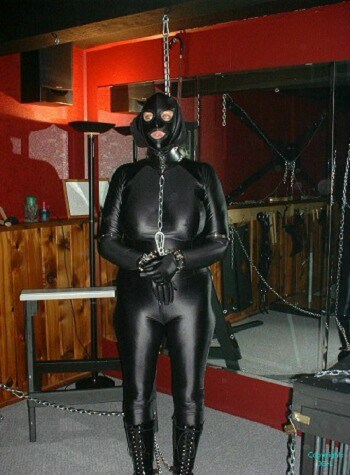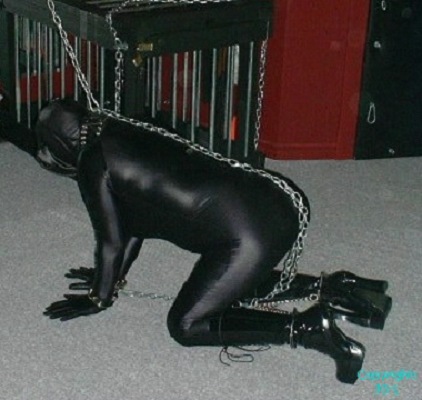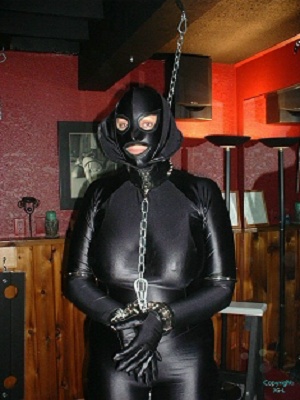 FOUR ABOVE - After a five hour drive through a horrible rain storm, I arrived at my friend's place and we immediately decided that the lady of the couple needed to experience the delights of a black Lycra suit and a few small add-on's. She, of course, could not be allowed out to scare the neighbours, and so suitable restraint measures were taken. A stunning woman, extremely kind, good-hearted and with a Master that is has a wonderfully evil streak in his soul. My kinda guy!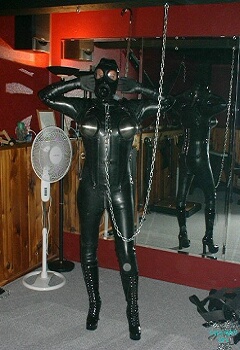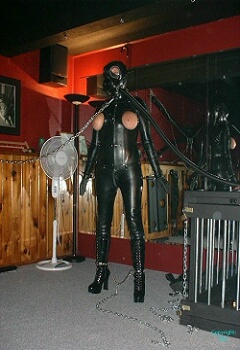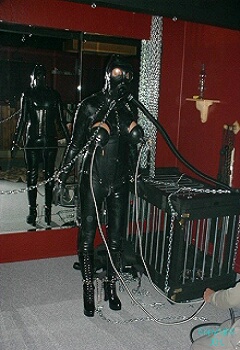 THREE ABOVE - The next day, it was time for a little rubber enclosure, in combination with some vacuum application. Of course we still didn't want her running off, and so a leash was a necessity, or so we thought. Turns out that it wasn't needed and we'd have better used it to keep her AWAY from the experience.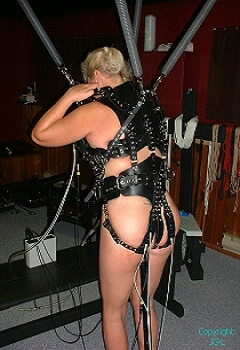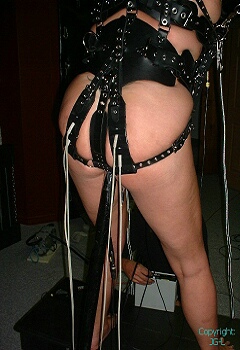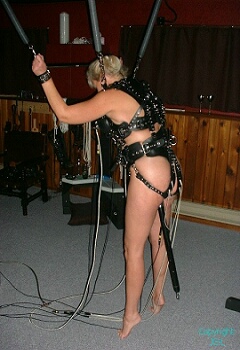 THREE ABOVE - All the preliminary stuff had been done and it was time to get to some of the stranger experiences I had available. My delightful 'victim' volunteered for the session, not really knowing what was coming, but soon found herself semi-suspended in a version of The Creature she had not experienced until this point. After a few warm-ups, we proceeded to further, more intense stimulation ... so much so that she attempted to get away from the inescapable, as can be seen by the unconscious,tippy-toe dancing.
- NOVEMBER: Victoria, BC -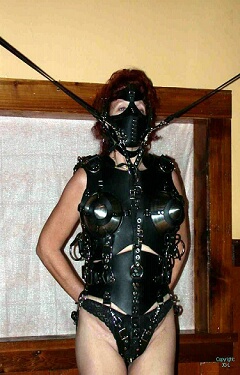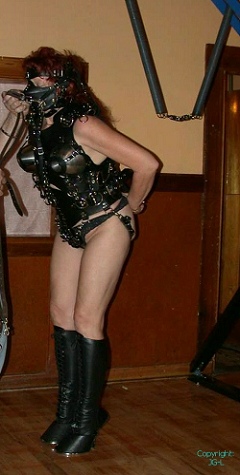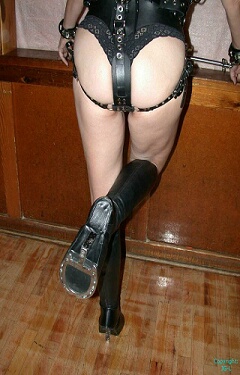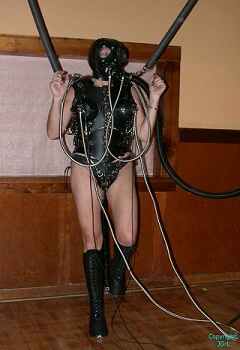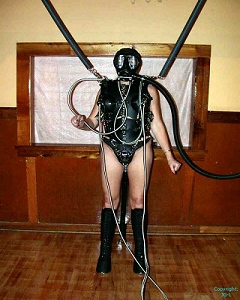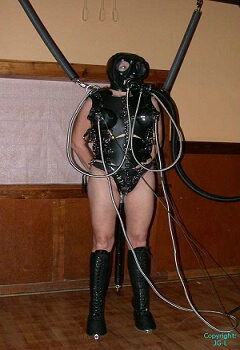 Taken at my presentation to the Sagacity Club of Victoria, BC. Another lady friend who wanted to be a Horse Woman and show her stuff to the crowd. A smart, funny and beautiful lady who put up with a lot to enjoy her role, temporary though it was. Part Two of the presentation, when, my lady friend got transformed into another version of The Creature. With her husband close at hand she wasn't TOO worried about what sort of nasty things I'd do, but then again, he has a happily bent mind also.
******************************
- JG-LEATHERS - TRAVEL PIX INDEX & ARCHIVE PAGE IS HERE -
- HOME PAGE -