- FEBRUARY: Edmonton, Alberta -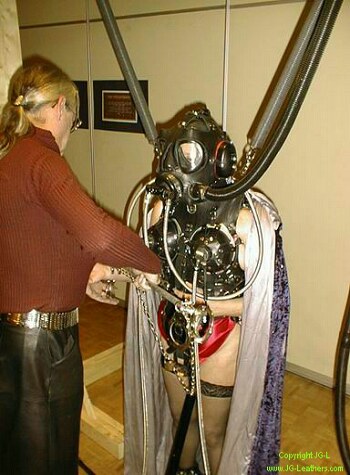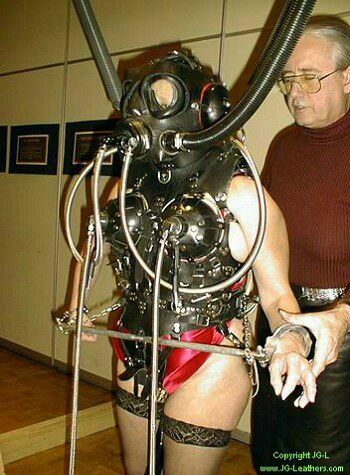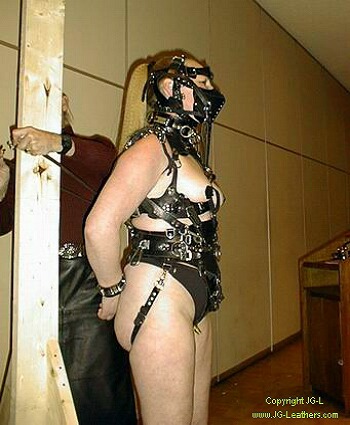 FOUR ABOVE - Taken at the Lupercalia Celebration, when I did a combination Horse Woman and 'Creature' presentation. I was ably assisted in the presentation by my good friend The Pink Princess (she'll KILL me for that one), and Lady Lioness. Believe it or not there IS life in Edmonton in the middle of a Canadian winter! The Edmonton O Society, sponsored Lupercalia and is the central point for a vibrant, alive, very friendly, and thoroughly enjoyable kink community. I had a grand time and met truly nice folks.
- APRIL: San Francisco, CA -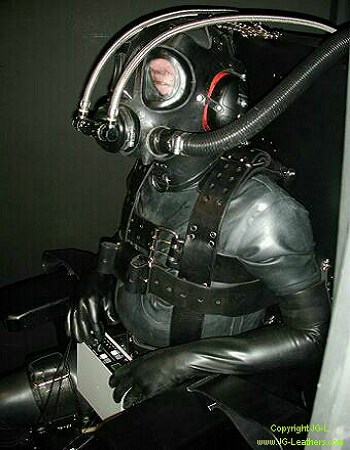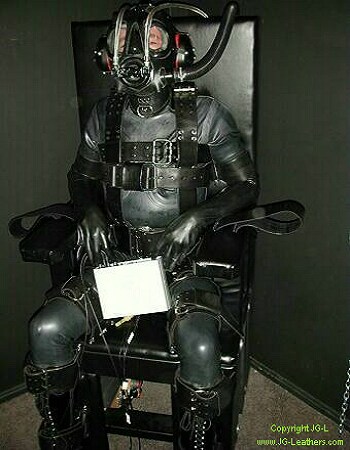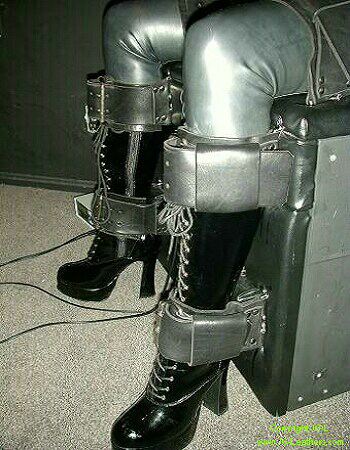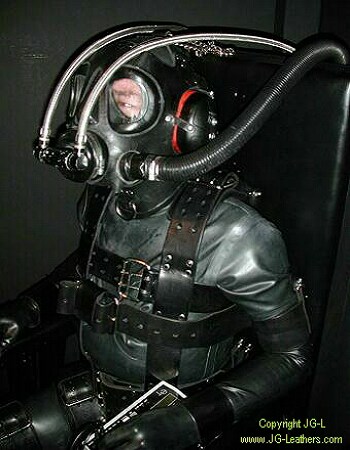 FOUR ABOVE - My first trip to The City By The bay in many years and one made to meet a guy who has turned out to be a wonderful friend and mentor for my foray into creating a web site; Mark of seriousbondage.com We're a lot alike in that we're and sensation sluts. This was my first experience in Mark's INCREDIBLE Bondage Chair and of course the rubber suit and gas mask were mandatory requirements, as was the addition of some e-stim to brighten things up even more :-). The quality of his construction is plainly visible, and the experience left me wanting more of the same.
- SEPTEMBER: Paris, France -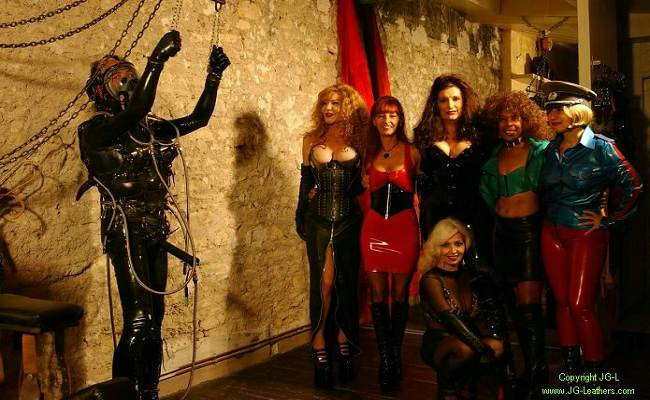 Yep! Another trip to The City of Light, Paris. I was there to attend the Nuit Demonia event, as a guest of Maitresse Francoise. Just messing around in her dungeon with a group of American Dommes who were also there to attend the event. Without exception, ALL were wonderfully accepting and happy ladies, who have a distinctly different life experience than most women. A wonderful group to be sure and I enjoyed meeting every one of them.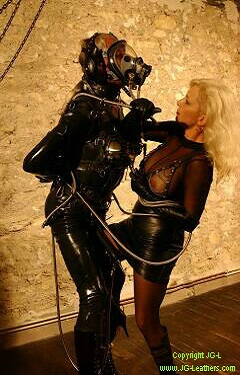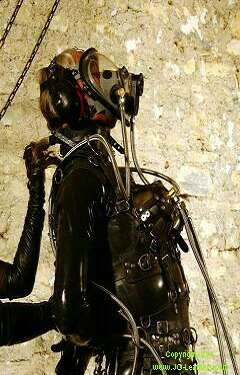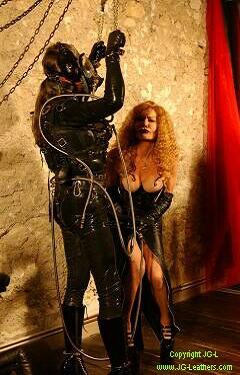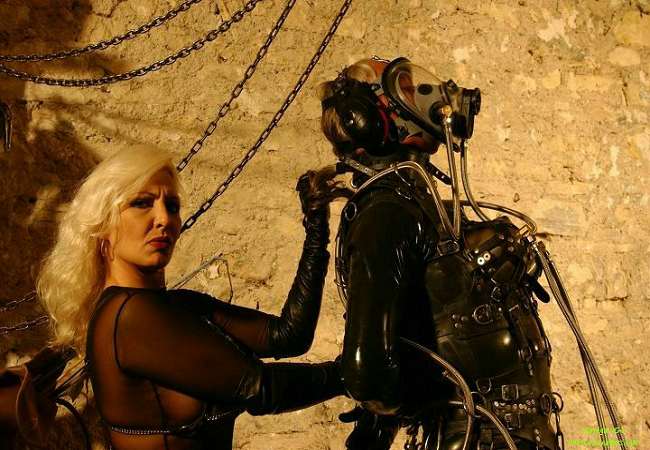 FOUR ABOVE - A little play before departing for the party that night. Of course I didn't enjoy it at all (and if you believe THAT, I've got a deal for you to buy the Eiffel Tower). Mistress Antoinette and Goddess Elizabeth DID enjoy ourselves and then we were off - to the party.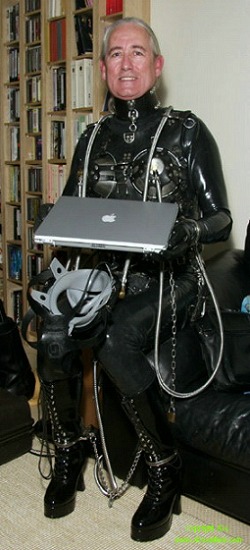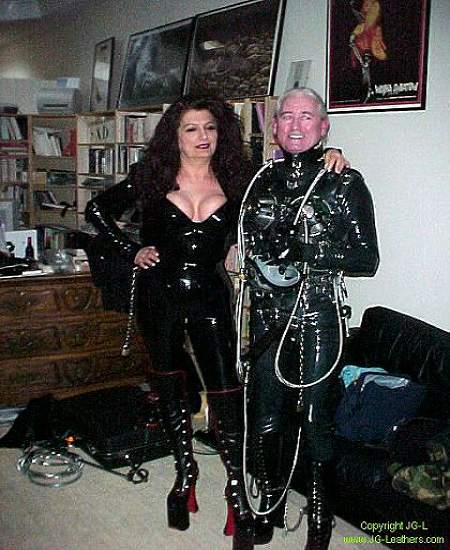 TWO ABOVE - Not quite Cinderella getting ready to go to the ball, but one does what feels good, and I did :-)!! Francoise and I. What a lady!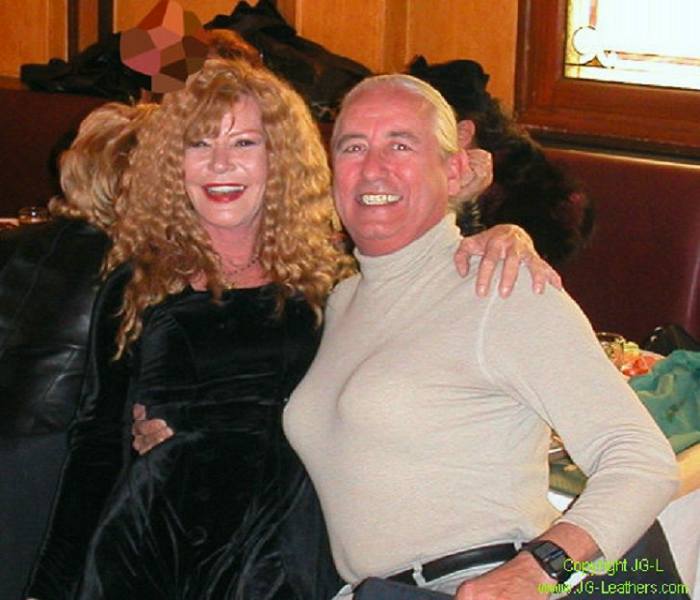 ABOVE - Goddess Elizabeth and I comparing breast sizes at a local restaurant Needless to say, our table got a LOT of looks from the regular vanilla patrons. Parisians though, have seen it all, nearly.
- SEPTEMBER & OCTOBER: Kehl, Germany -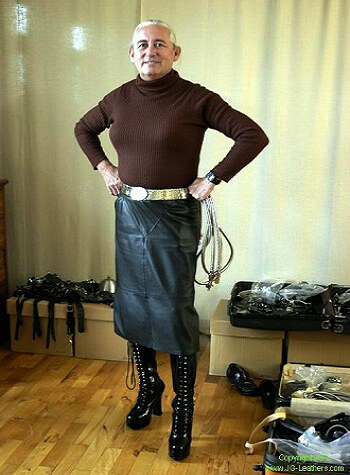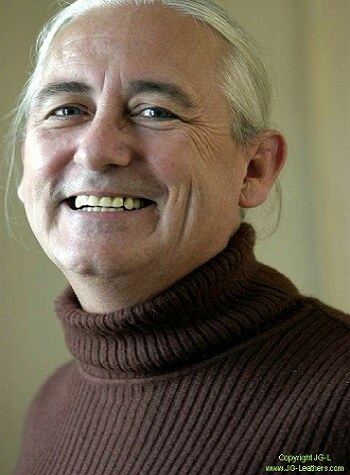 TWO ABOVE - After my frolics in Paris, I flew to Strasbourg and was picked up there by my good friend Thomas of Zoom-Bizarre and we hopped across the Rhine River to his home and studio. in Kehl, Germany; my first visit to that great country. Here I'm getting settled in with all of my gear.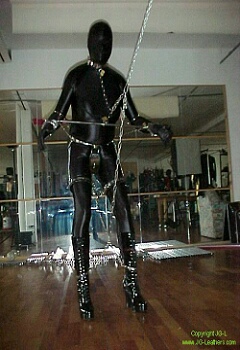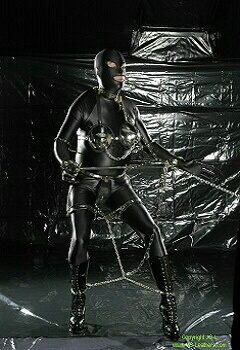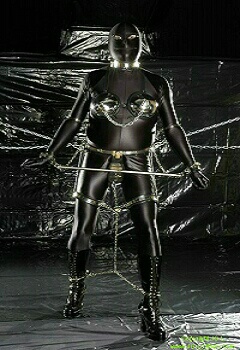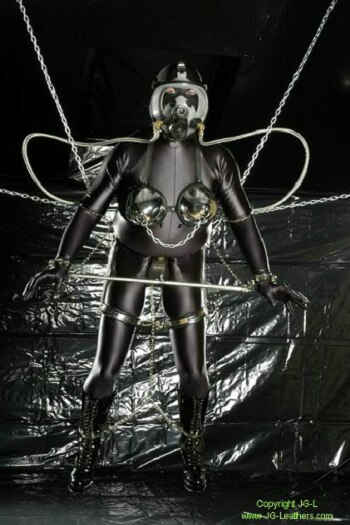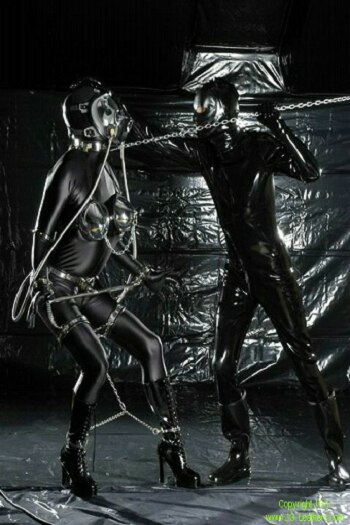 FIVE ABOVE - Thomas has an incredible selection of toys and equipment of all sorts as well as a a great studio set-up. He's the person I bought my Lycra suits from, as well as the heavy duty steel collar, cuff sets, and steel belt from. His sales division, CSara has a wonderful selection of beautifully crafted gear and I highly recommend a visit.
Anyhow, I got dressed then waited around (actually you can see I had no chance to wander off) until the studio and lighting was fully organized, then away we went. There was no doubt I was in the outfit for the duration and I had a great time in all the situations you see above, especially the suspension! Wow! What a trip!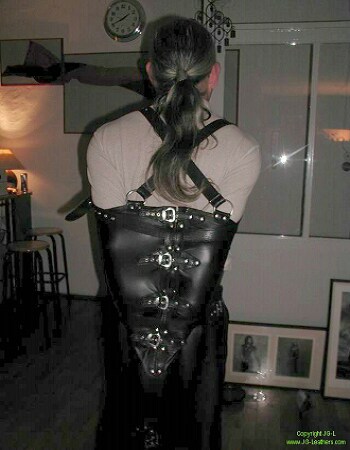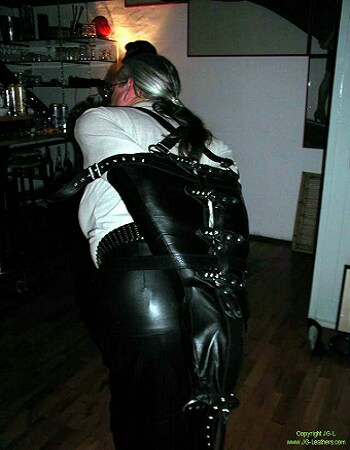 TWO ABOVE - I'd always wanted to try a single glove and so I got my chance early one morning (as can be seen from the clock). There's no doubt that unless you've had some practice wearing one of these restraints, you'll want out of it pretty damned soon. I think I stayed in it for about an hour all told. It took my arms shoulders a couple of days to recover, but all in all it was a fun experiment.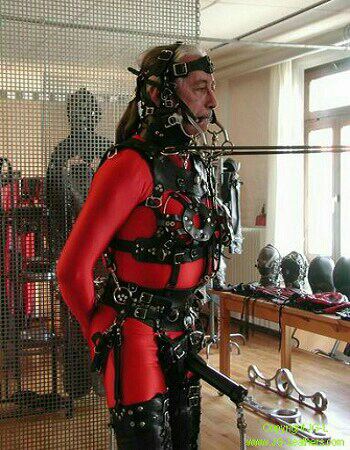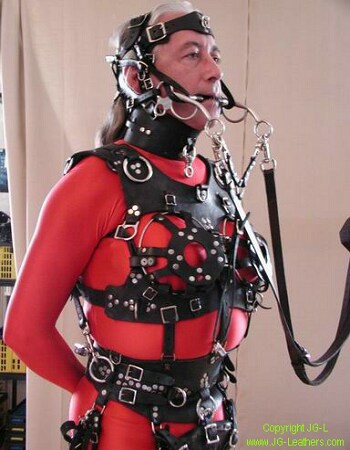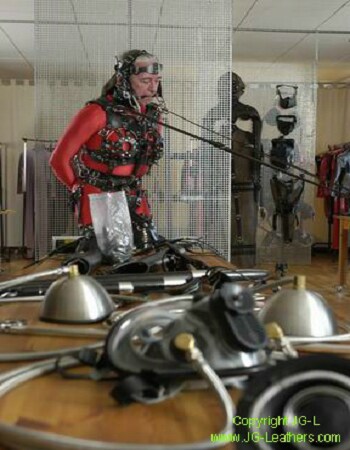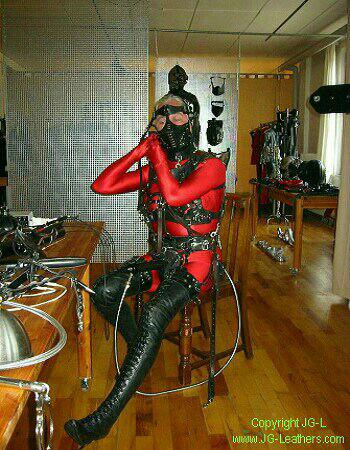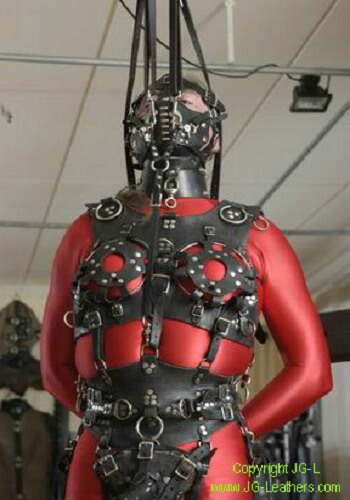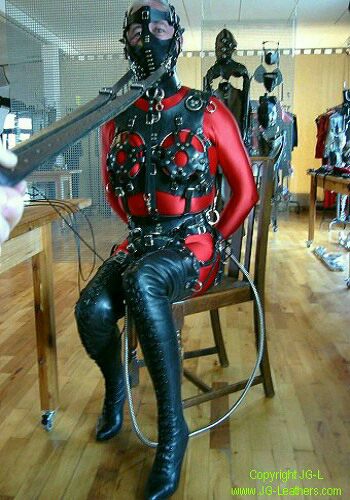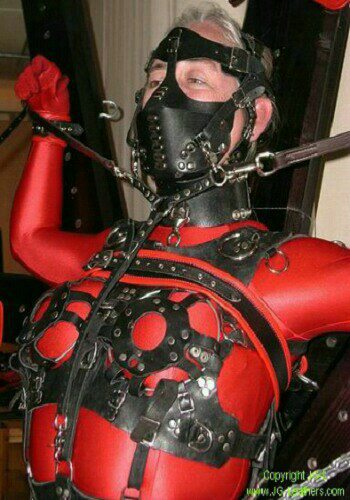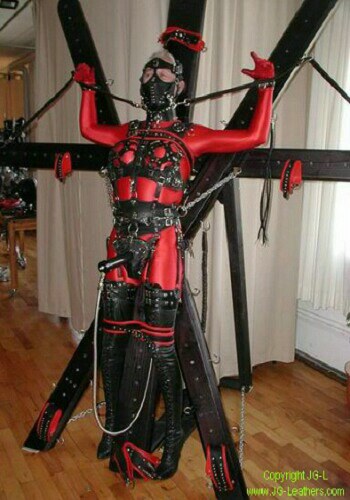 EIGHT ABOVE - A chance to show off in my Horse Man/Woman harness is never to be missed and I happily climbed into it (and then all the locks were closed, ensuring I stayed in it :-)!) These images were taken by a very professional lady photographer, Corinna, from Frankfurt. She and her SO, Frank, have since become good friends and I had the pleasure of visited them in 2004.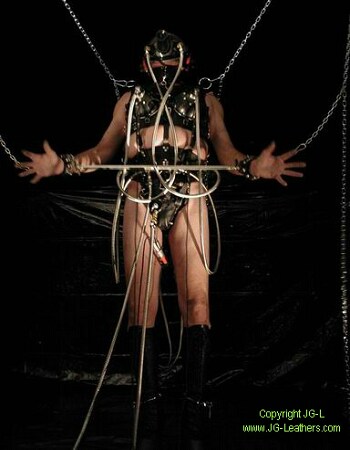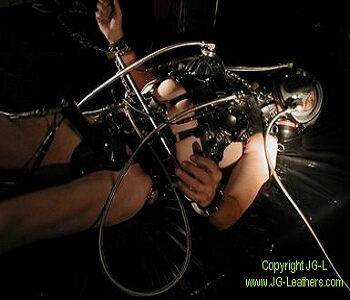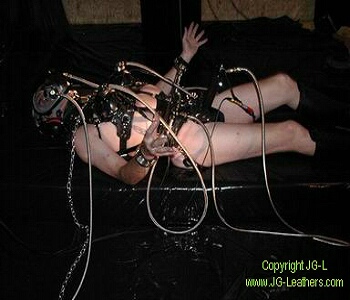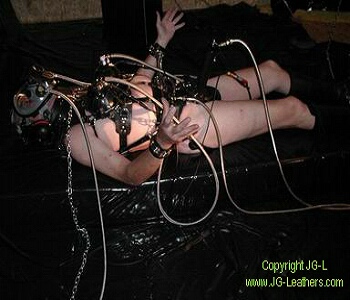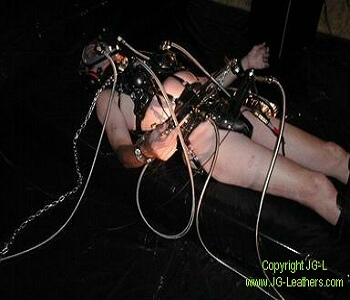 SIX ABOVE - These images were taken by Thomas on the last day of my stay with him, wife and trusty dog Sammi. It was time for some serious play while images were shot, and again, I had a wonderful time (strange as that may sound, after you see the imagery).
All in all, it was a most memorable visit and I will, without doubt return to Germany many more times in the years to come.