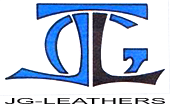 ******************************
JG-LEATHERS - TRAVEL PICTURES -
- PAGE THREE -
- 2000 -
******************************
Some of the more recent photographs contained in this section already appear on the seriousbondage web site, but the earlier stuff has not been seen before. It's a pretty general once-over-lightly selection of images from the assorted trips I've taken over the years, and will be expanded upon as more trips come along in the future.
Enjoy!
*****************************
From here on, I managed to take, or have taken, quite a few pictures while travelling, and hope you'll enjoy what follows. Really, they're only 'happy snaps' and not attempts to display photographic expertise, so, keeping that in mind, read on :-)!
- JANUARY: Vero Beach, FL -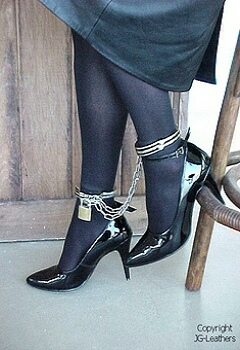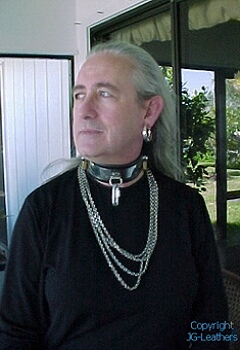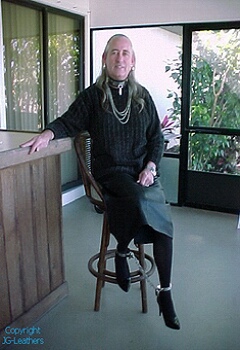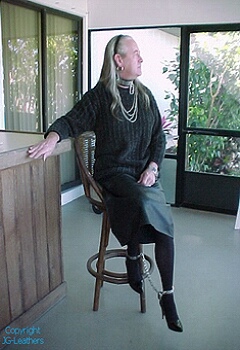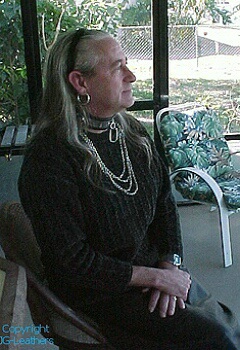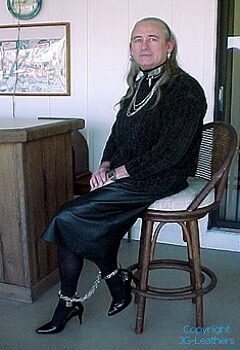 SIX ABOVE - Another trip to see my good friend Bill Jones and his wife. I had to get away from the Pacific NW January weather and so Florida seemed a good option. Here, I spent a very pleasant afternoon sitting in his 'Florida Room' looking out over the canal to the Inter-Coastal Waterway. Bill calls his place a 'water-back lot. Perhaps these images aren't strictly kink, as defined in some of the others on this site, but they give an idea of the other areas of kink that attract me. (Pix taken by my very good friend, a fine photographer, Chris)
- MARCH: Los Angeles, CA -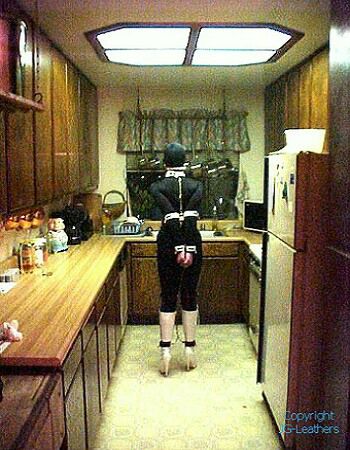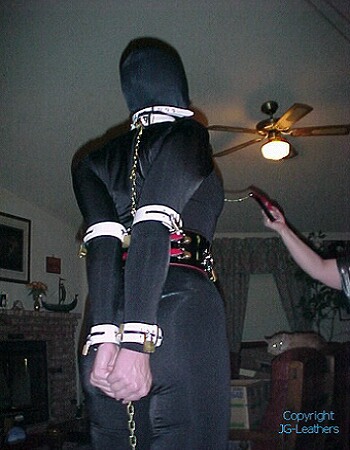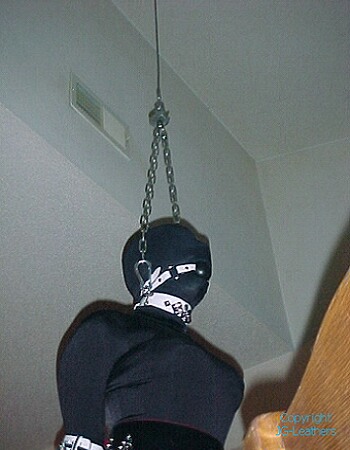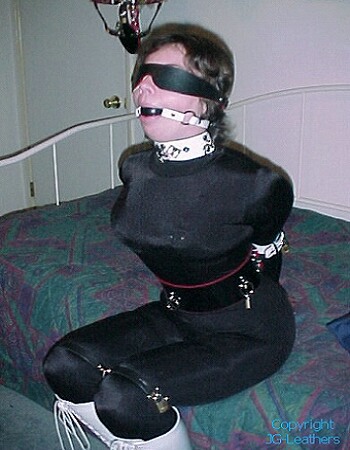 FOUR ABOVE - These pictures were taken while I was on a trip to see another good friend, Ledermeister (sadly now passed away). A young lady was staying with he and his wife at the time, and she was very definitely into stringent restraints, as can be readily seen. She is a very flexible lady and loved the restraint, spending most of her time, bound as seen above.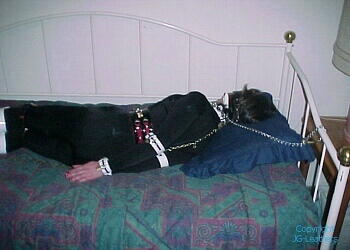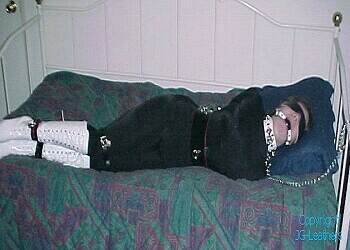 TWO ABOVE - During my visit, the young woman was given over into my control for my stay, and I, being the miserable sod that I am, ensured she slept quietly each night. Although some may find it hard to believe, she DID in fact spend the entire night fastened like this, and enjoyed it. The human mind is a strange thing indeed, but I respect and understand completely how she managed to transform her situation, and the mental imagery she conjured up to allow her to accept this state. All I could think of when observing her, was ... WOW!
There were other trips to LA to see Ledermeister over the following months, but unfortunately the pictures taken on the following trips are not available for upload. He and his wife were most gracious hosts and I'll not forget the wonderful times I enjoyed with them and their house guest.
- OCTOBER: Paris, France -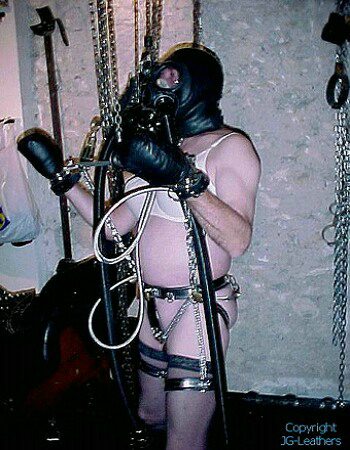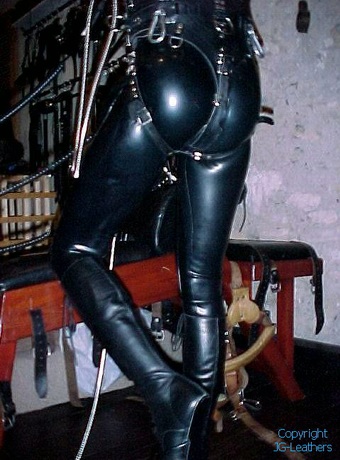 TWO ABOVE - These, and the images below, were taken during a visit to see my very good friend,
Maitresse Francoise
, in her on-site dungeon. Maitresse has an incredible array of toys and costumes, to meet a wide variety of fetish tastes. She is a caring, compassionate, and very intelligent Lady with a tremendous amount of experience, to say nothing of being a gracious hostess. The top left image was during a short session and the one on the left was taken of me, just prior to heading out to a Halloween party, completely encased in rubber and wearing the horse shoe shod, pony boots.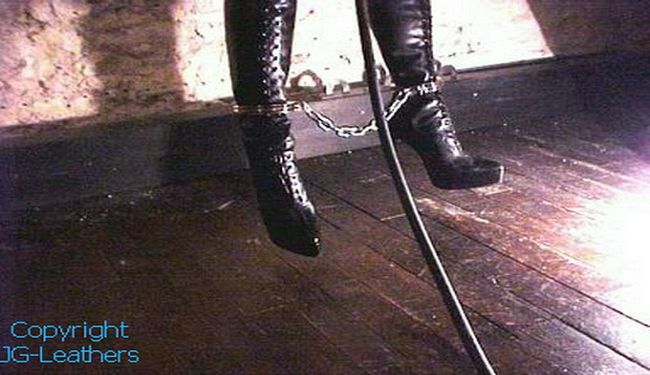 ABOVE - Another session, with this image showing that, yes, I am indeed fully suspended. The sensations of the suspension, with the harness strapped tight and holding me, then the e-stim and vacuum being applied; all while in full rubber enclosure, gas-masked, and unable to escape her attentions was quite a rush.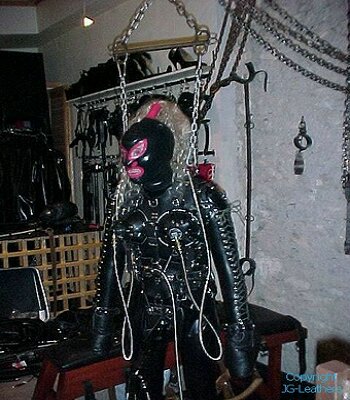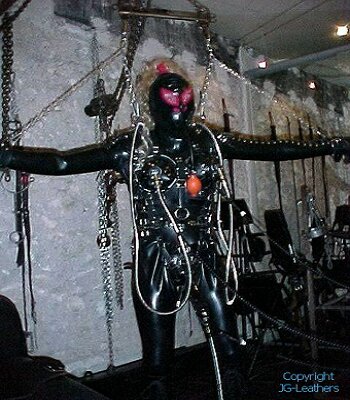 TWO ABOVE - Maitresse' friend and associate wanted to experience the delights TC is capable of, and so here he is, ready for everything to begin. Once the arm corsets are laced on and the mitts fastened, there's no possible way to release yourself and that message was soon made clear.
*****************************
- 2001 -
- MARCH: Phoenix, AZ -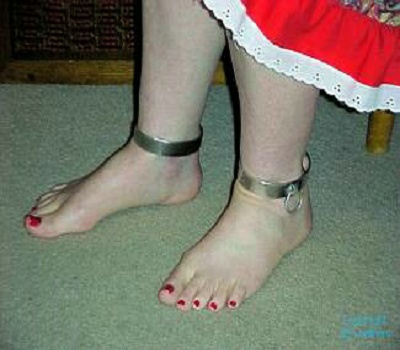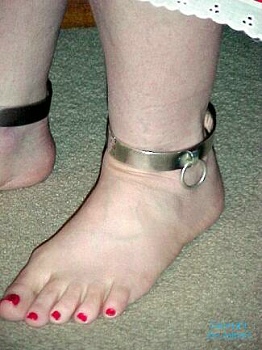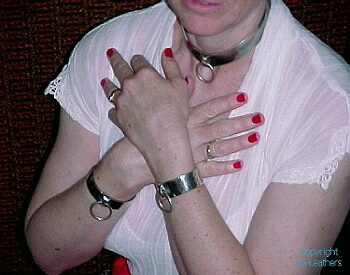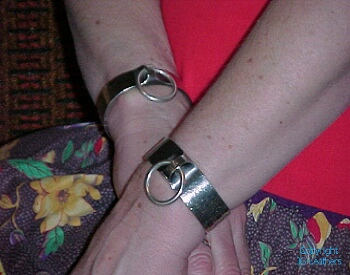 FOUR ABOVE - A very good friend of many years invited me to a meal and at his house and I was privileged to again meet his lady. She is a true gem of a person happily wears the signs of his ownership shown here, 24/7/365. These are custom made for her and only he has the keys, as it should be.
- MAY: Brisbane, Australia -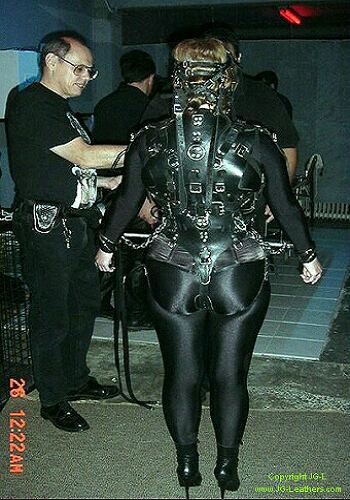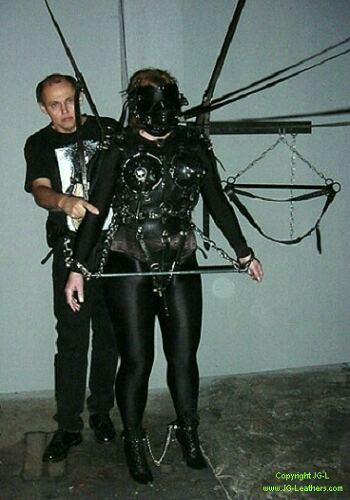 TWO ABOVE & LEFT, BELOW - These images were taken during a play party at Brisbane's kink club, Club Libertine and obviously show one of the configurations of the TC harness, this being the Horse Woman, with full bridle and face mask, plus bearing reins; but with a 'Sabrina' element added in - the wrist separator bar.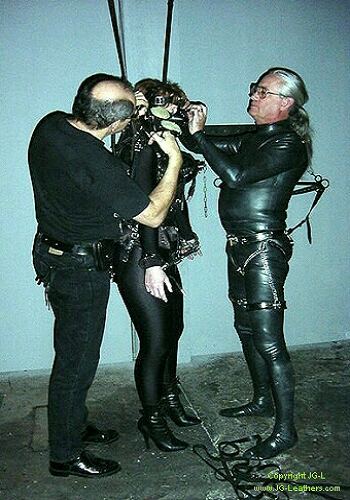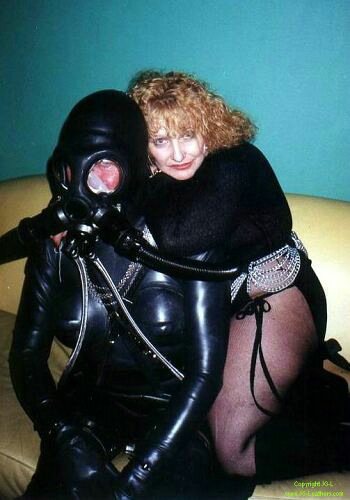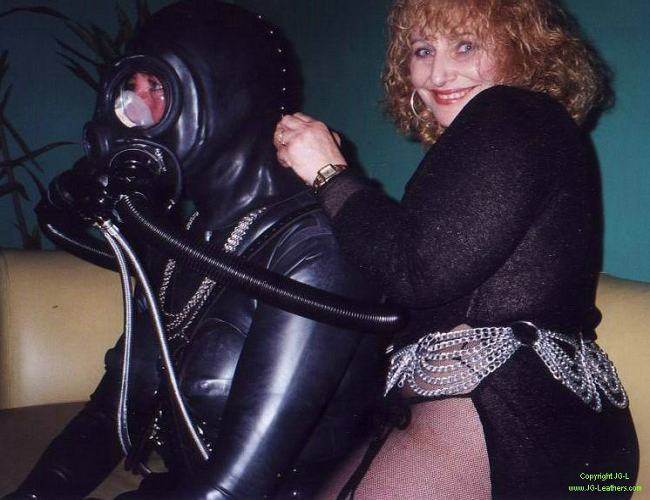 ABOVE RIGHT & SINGLE ABOVE - Being a ham (or small pork roast as the occasion requires), when invited out to attend a meal at a kink-friendly restaurant in Sydney, this was my costume, before the meal and after it. It was a lot of fun and the belly dancer who was there to entertain the patrons was a tad unhappy to find that she was mostly being ignored, with everyone watching the antics at our table. It was a hoot.
- OCTOBER: Paris, France (Again :-)!) -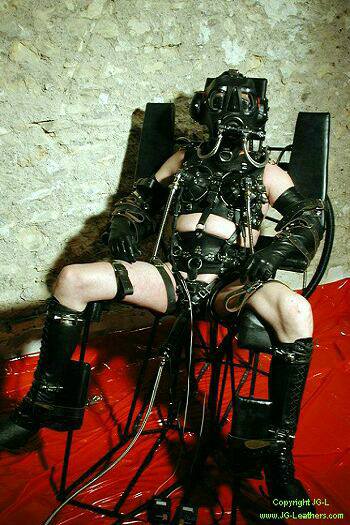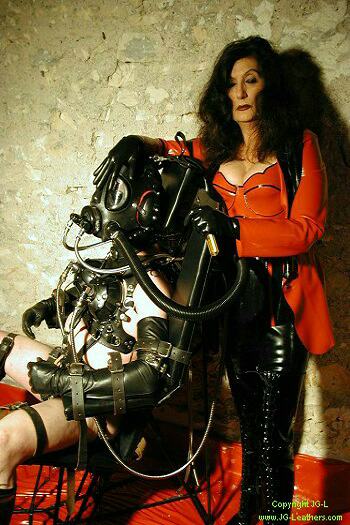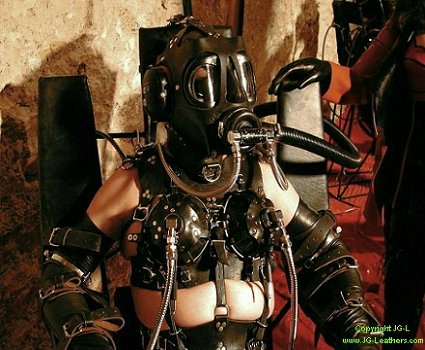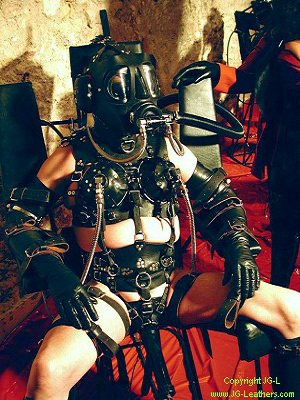 FOUR ABOVE - It was time for another visit to Paris to see my very good friend, Maitresse Francoise and this time we decided to try her incredible, wrought iron, restraint chair in combination with my Creature (Lite Version). Maitresse is a wonderfully warm person, but in her scene persona as the Domme in charge, she cannot be equalled. We've known each other for many years and although never really indulging in a 'full-on' scene, we've had a lot of fun.
Of course I had all of the usual equipment active when these images were taken (just in the interests of adding realism of course, and nothing to do with any sort of 'trip' being taken one will understand :-)!). What may not be so readily apparent is that beneath the gas mask, a set of blinding goggles is also being worn. Fun, you ask? Absolutely! You just have to modify your definitions a little.
******************************
- JG-LEATHERS - TRAVEL PIX INDEX & ARCHIVE PAGE IS HERE -
- HOME PAGE -