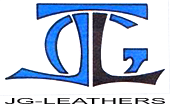 ****************************
****************************
- PAGE ONE -
- MECHANICAL DRAWINGS -
Drawings in this area show general configurations of the assorted types of equipment I've found of interest and in many cases have acted as the basic concept drawings, prior to the actual creation of the equipment.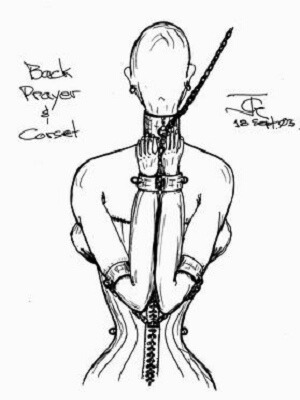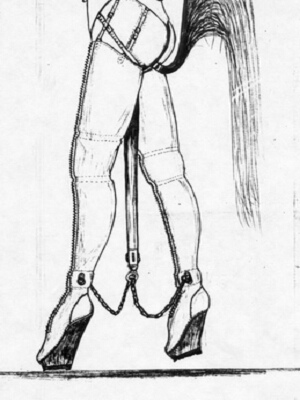 LEFT ABOVE - My version and vision of the classical"Back Prayer" type of bondage. It's easy to do the drawing of this, but in reality, it is almost impossible to manage, and if it IS done, the person's shoulders will, almost without doubt, be dislocated. THAT is not, generally speaking, a good idea!
RIGHT ABOVE - A very early drawing of the arrangement of an Inhibitor Bar employed in combination with thigh high, lace-up boots, pony-hooved boots, ankle cuffs, and a horse's tail. A horse's tail, mounted as shown, looks both silly and impractical. All elements of this concept drawing, with the exception of the horse's tail and the pony hooves on the boots, have been created and used.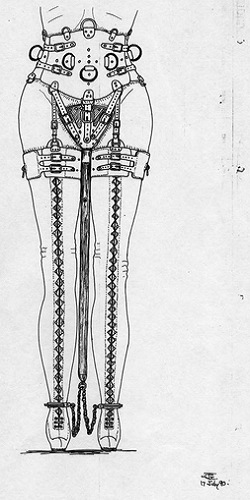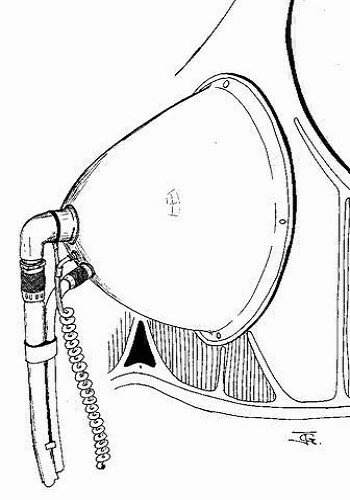 LEFT ABOVE - Another early drawing of the thigh boots, Inhibitor bar, ankle cuffs and hobble used together with the waist belt for The Creature. All of the elements of this drawing have been created and played with.
RIGHT ABOVE - A vacuum/electrical breast cup. Although not precisely as shown, this design has also been created and used by both myself and on assorted female 'victims'. The sensations of both a strong suction, in combination with e-stim through the nipples and breasts is incredible and bloody intense!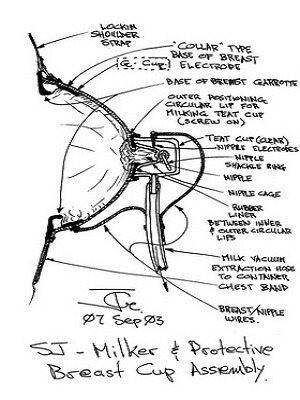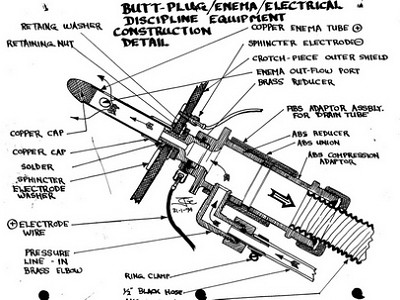 LEFT ABOVE - A fanciful cut-away drawing of what a vacuum/electrical 'milker cup' would look like. RIGHT ABOVE - The title says it all. There are some engineering errors with this design, but the concept is a workable one under controlled conditions, of course!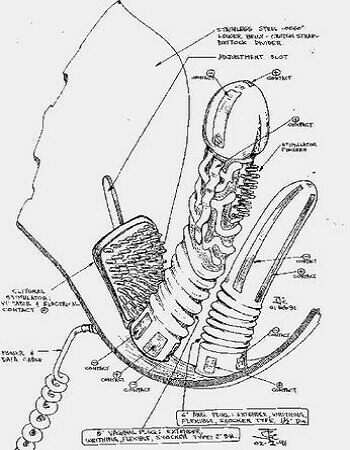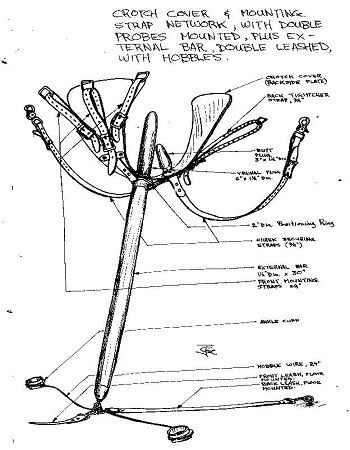 LEFT ABOVE - Another flight into fantasy. The design incorporates the capability of extension, vibration and E-stim on both plugs. RIGHT ABOVE - My modernized version of the "Inhibitor Bar" for application with The Creature, when used for treadmill exercise sessions. Note hobbles and the fore and after positioning straps.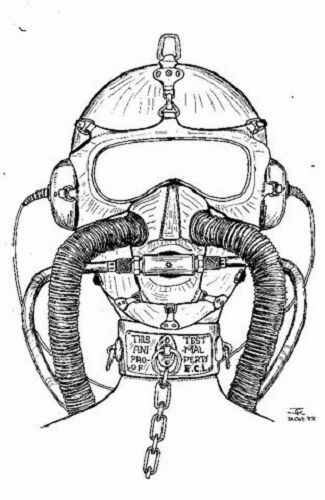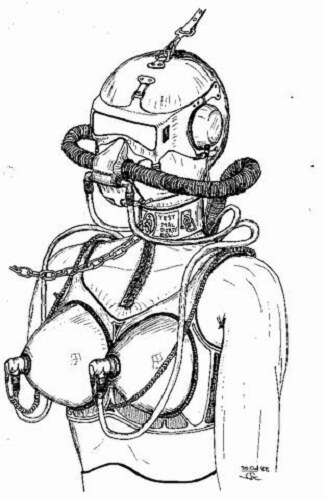 LEFT ABOVE - View of the Isolating Helmet Assembly, showing: vision elimination panel, air supply hoses, feeding and watering hoses, sound elimination ear muffs, and collar. RIGHT ABOVE - A larger view of the same system showing milking and electro-stimulation bra and breast cups. My perspective in this drawing was somewhat skewed, as any artist will gleefully point out, but the general idea is pretty clear.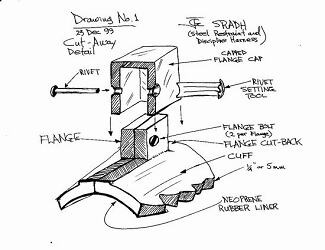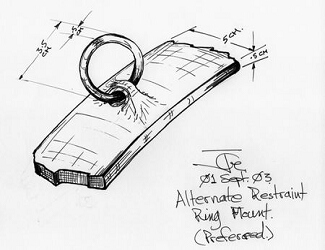 LEFT ABOVE - Detail of the manner in which Sabrina's cuffs and body harness are secured around her limbs and body. A very secure system and impossible to open without a drill and other tools. RIGHT ABOVE - An integral mounted cuff ring. RIngs are in proportion to cuff width and diameter; generally about 25 mm interior dia. and 4 mm in thickness.
- FURNITURE & OTHER GEAR -
These drawings, as in the Mechanical Category, are concept drawings for the most part. Some of the designs shown have been created and others are 'in the hopper' for things to do.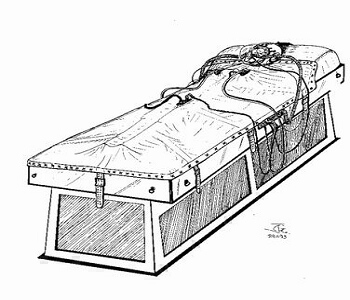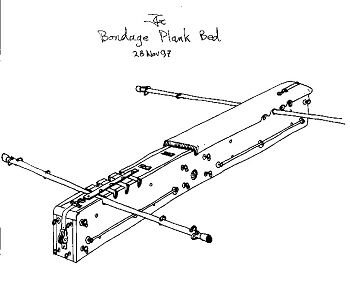 LEFT ABOVE - A pedestal-type bondage bed design. The occupant wears a full rubber suit and gas mask/breath control system beneath the rubber sheet, is securely strapped down and fitted with chest and crotch vacuum and e-stim systems for a night's entertainments. RIGHT ABOVE - My concept drawing for a 'Plank Bed', complete with arm and leg spreaders as options. This design has been created and stands on meter high supports, or, it can be suspended, leaving the strapped on occupant to tilt and twist worryingly.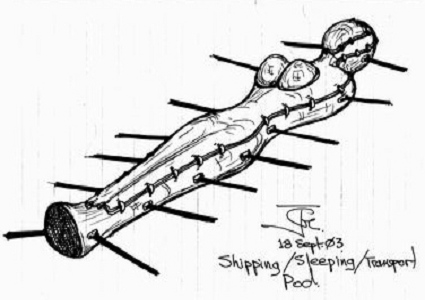 LEFT ABOVE - A concept sketch of a 'Slave Girl Shipping Case'. The design incorporates a thick fibre glass mould over a thick, foamed rubber liner and embedded in the liner are suitable e-stim/sensor pads. RIGHT ABOVE - After seeing and playing in Mark Burnley's incredible bondage chair (see: Seriousbondage), I immediately wanted to create my own, but in a different version, yet with all the security of his. My design would incorporate the ability of the entire chair to be tilted back, have the legs spread, knees bent, and arms spread, or any combination of the above.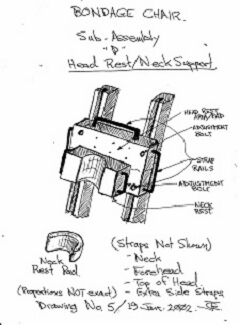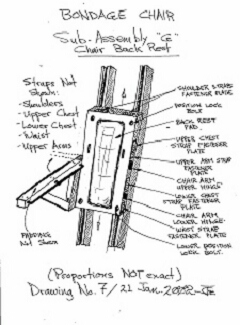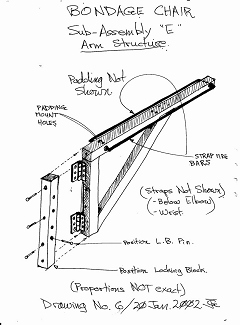 FIVE ABOVE - More detail drawings of the JG-L concept for a Bondage Chair. This has yet to be created, but with plans made, the actual creation will go quickly, and with the hope that the result will be an experience that cannot be easily escaped. I've tried to build in as much adjustment capability as possible, without compromising structural strength.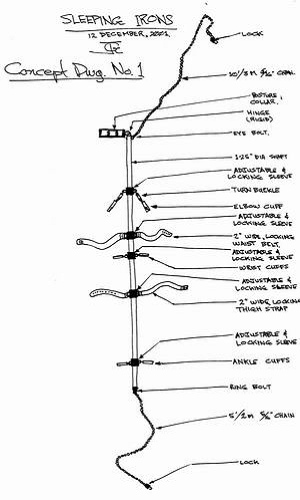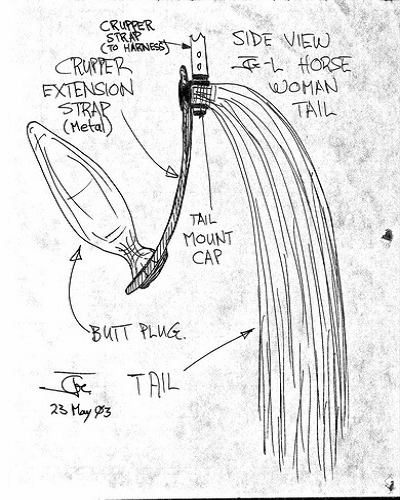 LEFT ABOVE - A design to 'Sleeping Irons, as described by the authoress 'd' in one of her stories,(see FICTION area, Non-JG-L/Corsets). This device or one similar to it, is her frequently required nighttime method of being secured, she tells us. RIGHT ABOVE - The JG-L version of the manner in which a Horse Woman's tai should be attached. Note that a 'crupper' strap may be used with great effect, in that the butt plug can not bet pulled out, only up.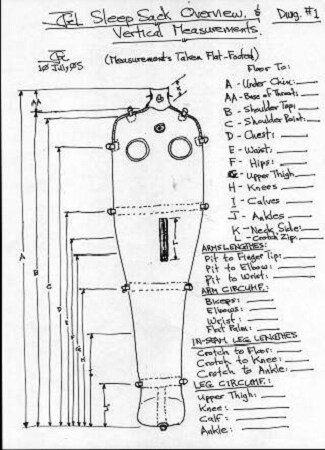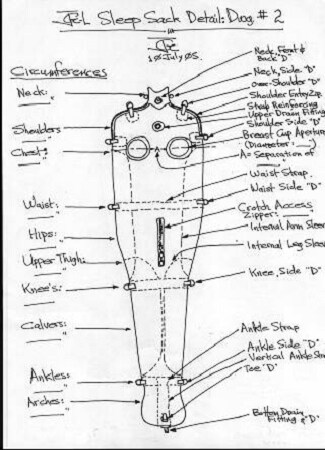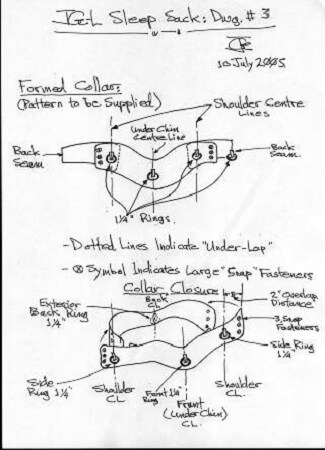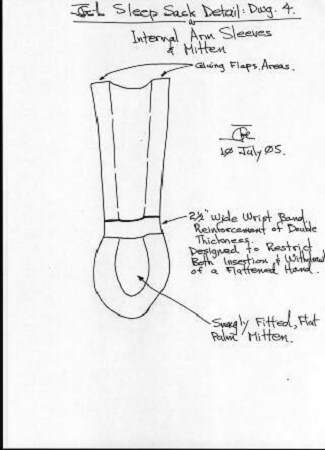 FOUR ABOVE - My concept sketches for a custom made Sleep Sack, to be made by MOR Rubber. It will be constructed using a very thick latex (.080-.092 mm thickness). The design features a shoulder-type entry, rather than the usual front zipper and thus is very secure. A few other things have been added in (naturally!), and these are: reinforced apertures for vacuum/electrical breast cups, top and bottom drainage fittings for the attachment of washing or hot/cold water flushing hoses, and embedded 2" wide straps with D-rings on the sides, back, and shoulders (top and sides) so that the wearer can be fully immobilized once imprisoned within the Sack.
The high, double thickness, formed collar will over-lap those of any gas mask that the occupant will also be fitted with, and has a unique, 'lapped' design to ensure a snug fit. Also, note that the interior sleeves for the arms and hands have narrowed wrists, reinforced with a 2.5" wide rubber strip that will require some effort both to insert or withdraw the hand. The mitt portion will be a snug fit for a flattened palm. One other unique feature is the two interior 'sleeves' for the legs, adding even more restriction.
I plan to use this after dressing fully in my cat suit, arm corsets, boned bondage mitts and thigh corsets, and of course, e-stim and vacuum applications will be used in addition.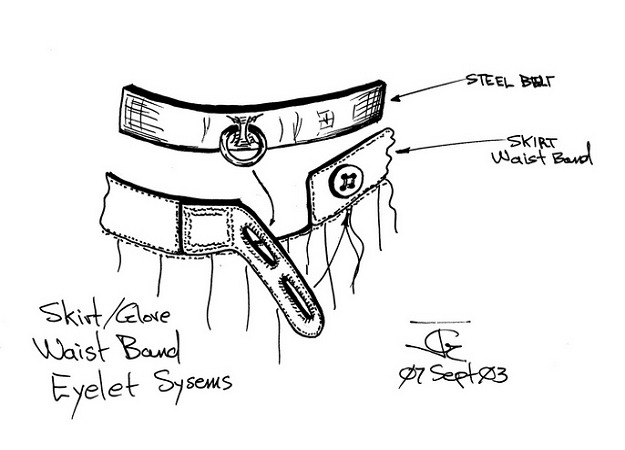 Strictly speaking, the above sketch is not particularly B&D, but is a needed concept drawing, to indicate how an inner, locked on steel waistband would be employed in conjunction with the wearing of a skirt. The outer, concealing garment is effectively locked on with this configuration with the wrist chains employed for trips to the store or while at home.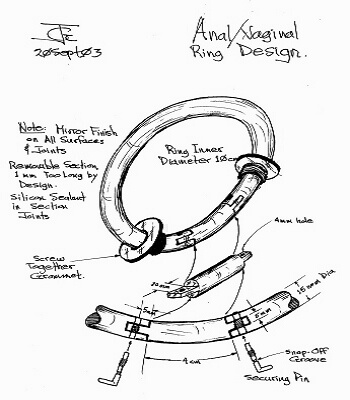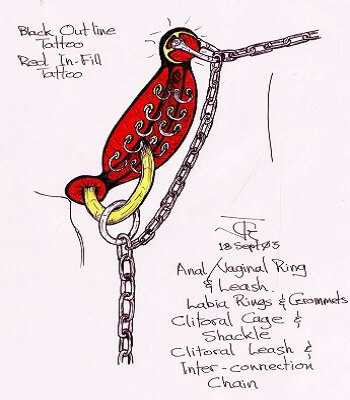 Fanciful design created for one of my e-mail/IM friends. The design is derived from a disciplinary device, created back in the Middle Ages, by Nunneries to punish and control any of the Sisterhood who went astray. This design has been updated to modern standards, but given the physical and sanitary problems is TOTALLY impractical.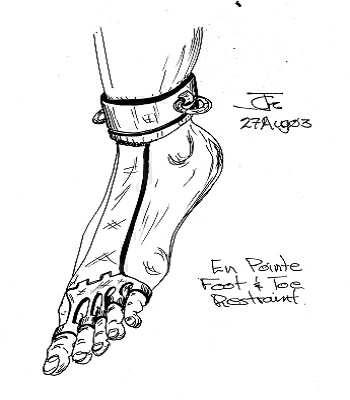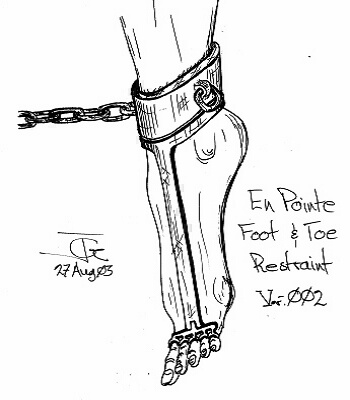 Another couple of examples of my lack of ability to draw the human figure, or portions thereof, but the drawings get the idea across fairly well. This foot restraint is designed to be permanently attached to the wearer's ankle cuffs and would force her to keep her feet in an 'en pointe' conformation at all times; this also to be worn within the thigh high ballet boots she'd be fitted with for day wear.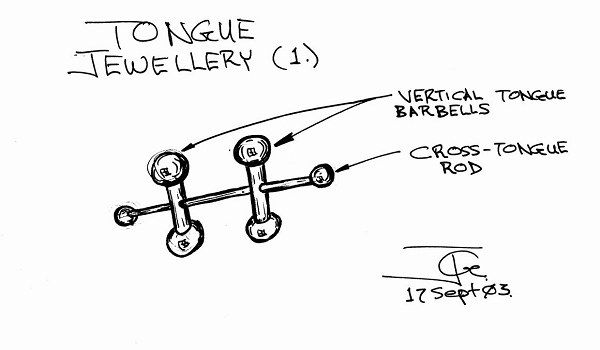 Proposed tongue piercing for 'Sabrina'. Two of these assemblies are planned for her, one placed near the front of the tongue and the other at the position of the molars, each sized so that the cross-tongue bar bell end balls are snug along the side of the muscle.
- MALE CHASTITY CAGE CONCEPT DRAWINGS -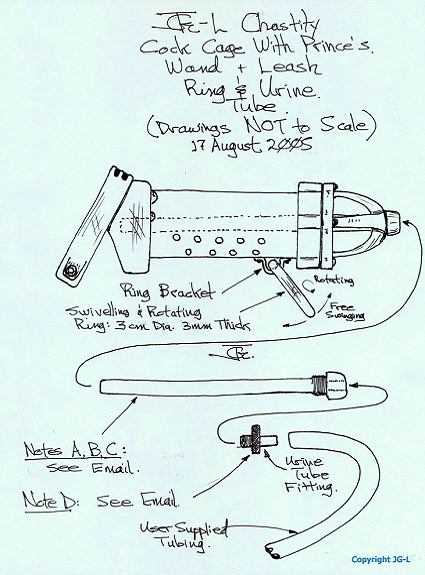 A concept drawing of the combined Chastity Chastity Cage and Prince's Wand made by Steelwerks. It may be a while before I can get this device but I'll eventually own one, and have it designed in such a manner that it can be worn as see, or combined with my custom made Axsmar Restraint Belt and its crotch cover plate for the ultimate in security.
Since the above drawing was uploaded, the design has seen some substantial changes and as can be seen by the four drawings below, it has been refined into a VERY secure device indeed. Fort those who are interested, this design is now being created for me by Steelwerks (in Montreal) and will be ready to be locked on (and in), we hope, by the end of November. I'll supply images of the piece when they become available.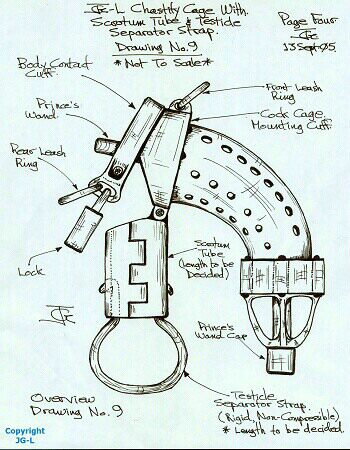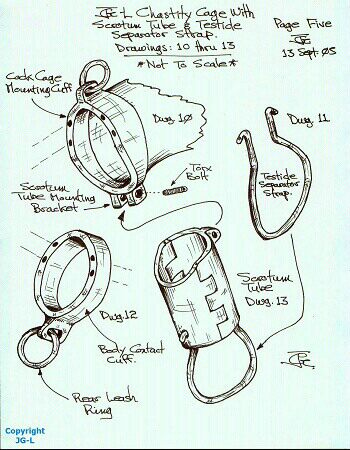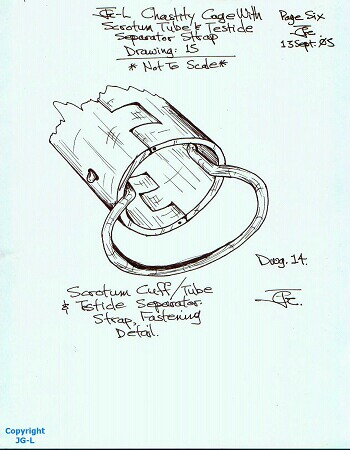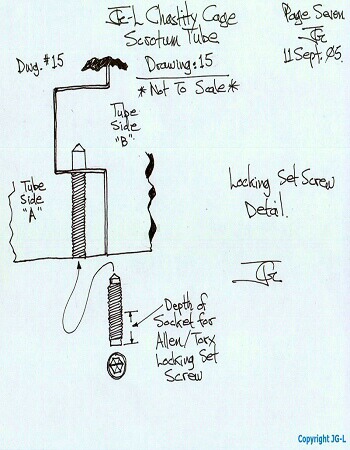 The proportions are a little off (let's be practical here) but the general idea is represented pretty well, I feel.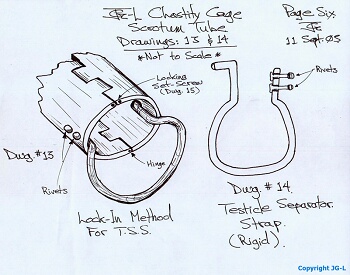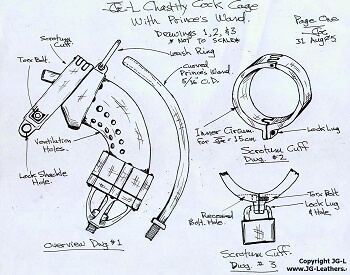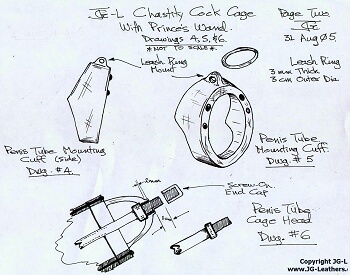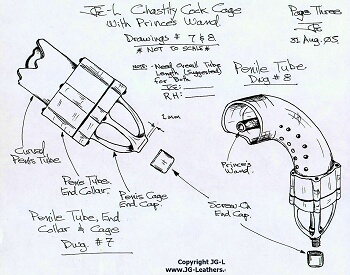 ****************************
- SECTION MENU -- TO HOME PAGE -