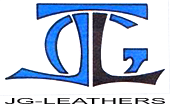 ******************************
JG-LEATHERS - ARTICLES
- PAGE FIFTY-SEVEN -
An Interview With 'Orchid' Of E-Restraint
20 April, 2016
*******************************
I'd like to thank STGA for the following interview, conducted by him and very kindly forwarded to me for inclusion on the site. Should you wish to contact him directly, please email him at:stga@hotmail.com. Deserving of no less in the way of thanks is ORCHID herself, who has kindly allowed me to use the images you'll see below.
Please visit her site and check out the HUGE array of both excellent images and videos available there, for this is but a very small sampling of them and I've not even gone anywhere near her huge video section. You'll NOT be disappointed. OK, enough of my blathering and on with the interview and eye candy :-)!
One last thing ... at the end of the interview, I've placed some of STGA's own images as additional inspiration.
In an era of cookie-cutter B&D/S&M web sites, e-Restraint is one of the few which stand apart from the rest. For a start, e-Restraint has been around since 1999, being founded at the very height of the dot com Internet craze. Those last few years of the 90's saw a flood of small and medium-sized B&D/S&M web sites emerge, and almost all of them were gone just a few years later. Not e-Restraint, however, which has been running continually since 1999.

It is not just longevity which sets e-Restraint apart, although that fact alone would make it exceptional. One of the truly different things about e-Restraint is its unique sense of style. A picture or video from e-Restraint is instantly recognizable, yet it's hard to say just why. There is something classic about their work.

e-Restraint also has its own stable of performers, most of whom are featured nowhere else. Its leading lady and web mistress is Orchid, who aside from being amazingly beautiful, has an almost supernatural ability to maintain a sense of dignity even in the most awkward of bondage situations.

I've often wondered about the person behind the "Orchid" non de plume, so when I saw the opportunity to interview her via video chat, I couldn't resist. Victoria, e-Restraint's most prolific female dominant, was behind the camera and Orchid was sitting at home with a keyboard balanced on her lap. I began by asking Orchid about the site itself:
STGA - So, where did e-Restraint come from?
Orchid - Around 1998 I was looking at sites on the Internet, but most featured men tying women up. What I wanted to do was to create a female only site, which was attractive and with one glance at the locking restraints the viewer would know they were inescapable."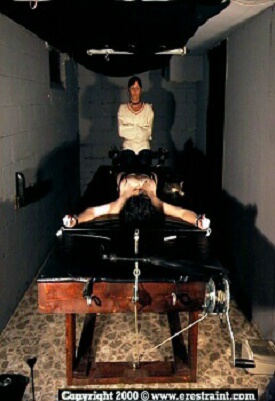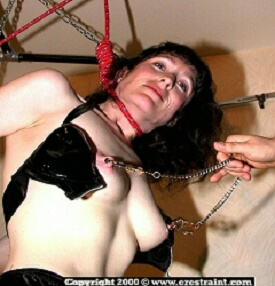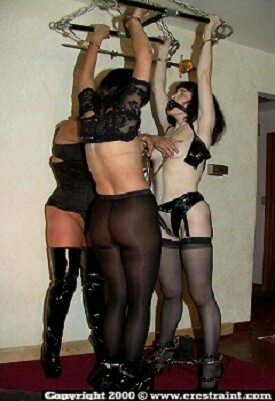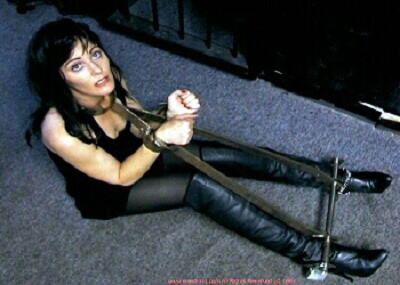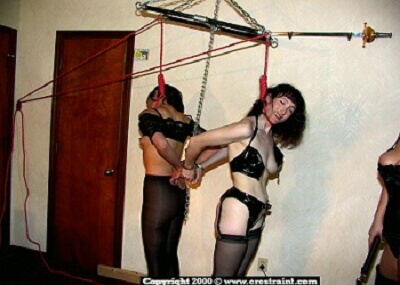 STGA - So presumably you were already interested in B&D/S&M. This fascinates me, as it's really interesting to find out where people's B&D/S&M interests come from. At what age did this interest emerge in you?
Orchid - When I was a teenager, I think.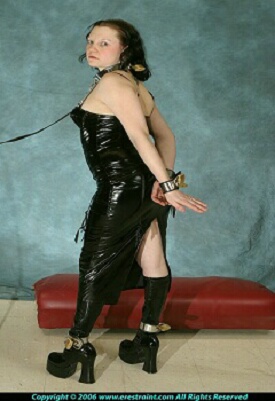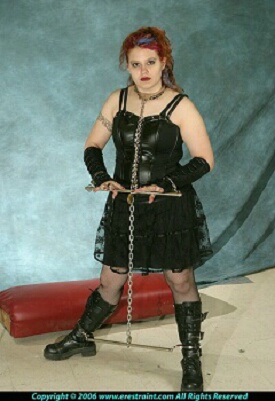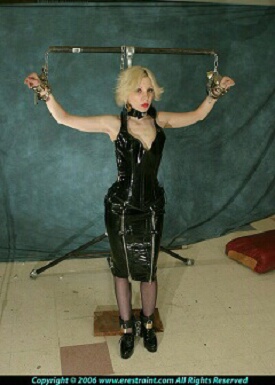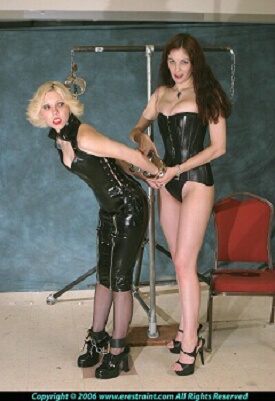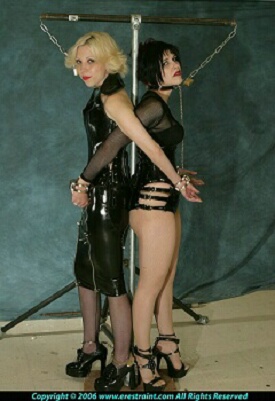 STGA - Is it the helplessness of being a submissive which appeals? Is there anything else?
Orchid - Yes, the helplessness. The inescapability of the restraints.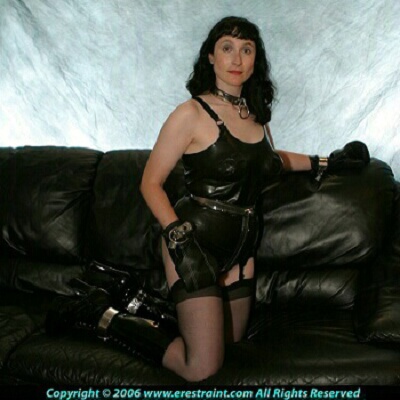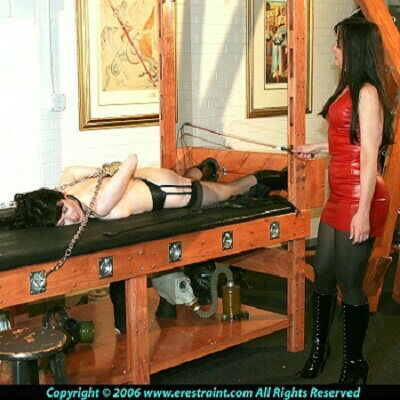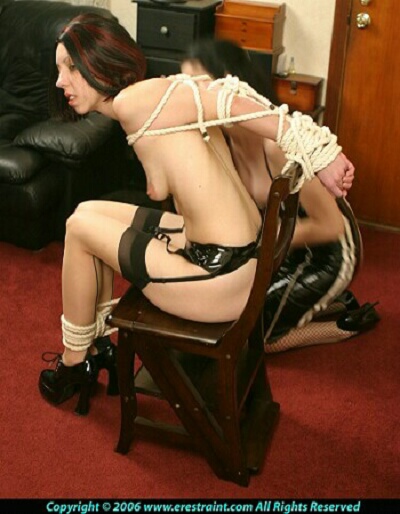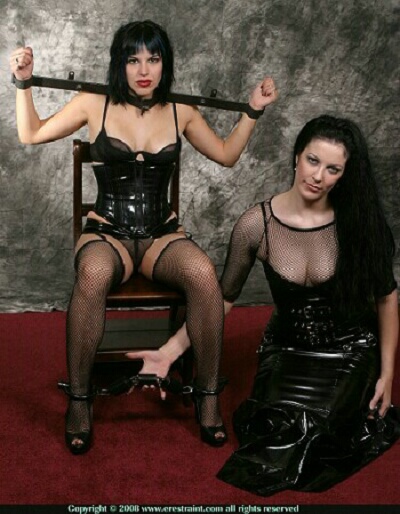 At this point a pair of handcuffs was slid across the table from near the camera. Was Victoria trying to tell me I was getting boring, I wondered?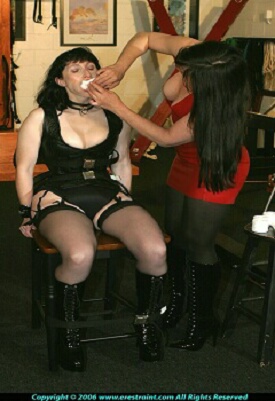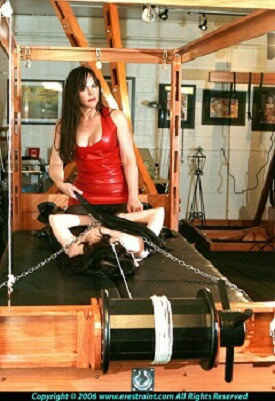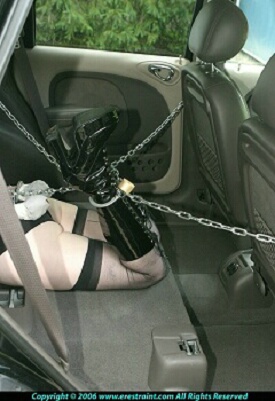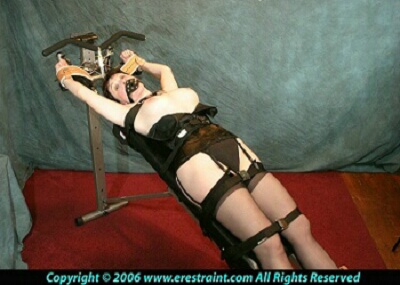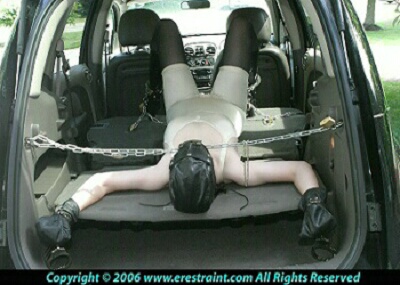 STGA - One of e-Restraint's recurring themes is breath control. Is this something which appeals to you personally?
Orchid - Yes. We have nooses and the garrotte chair, although I don't like plastic bags very much.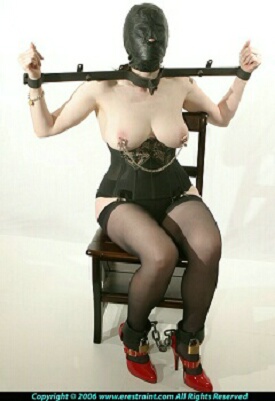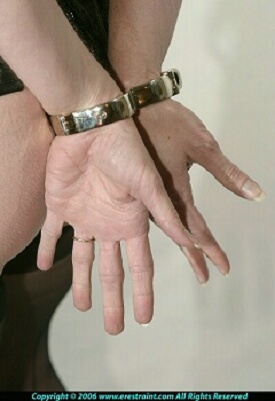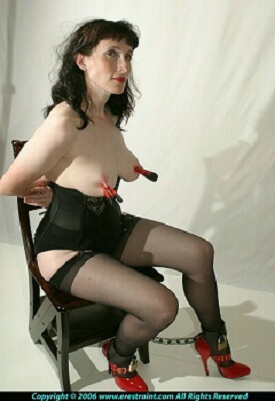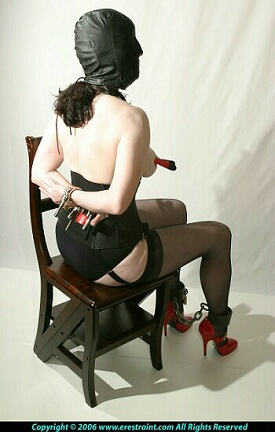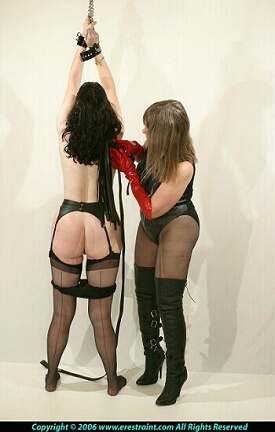 STGA - I've been meaning to ask you about nooses, actually. Sometimes you seem to be very upset while noosed.
Orchid - Well, often the nooses are very tight. I've blacked out once.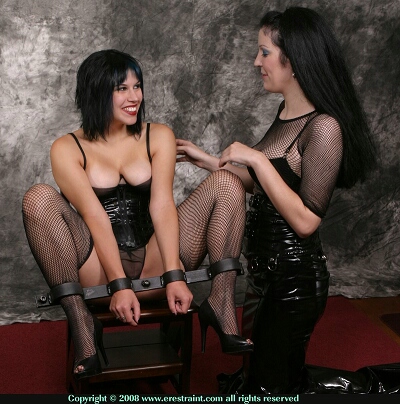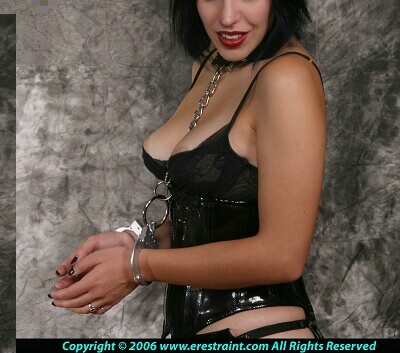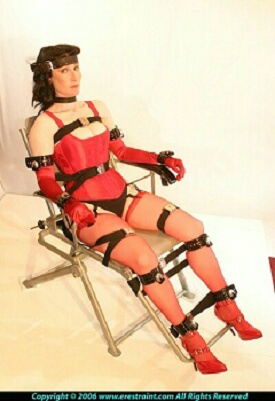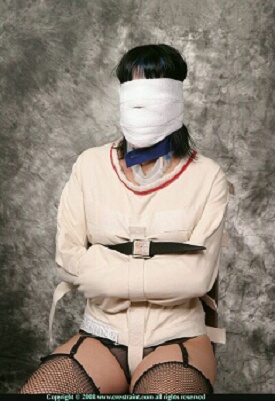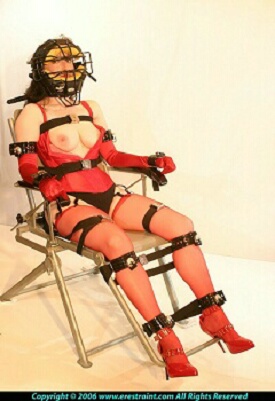 There was some chat between Orchid, Victoria and I about that garrotte chair, and Victoria's memorable line from the video which features it: "Gotta love the Spanish Inquisition. They came up with the kinkiest of toys." Orchid noted that Victoria could be fairly scary, and I added ,"I think Victoria scares us all." Victoria's almost instantaneous response: "Mission accomplished."
STGA - Straitjackets too. Are they another personal favourite?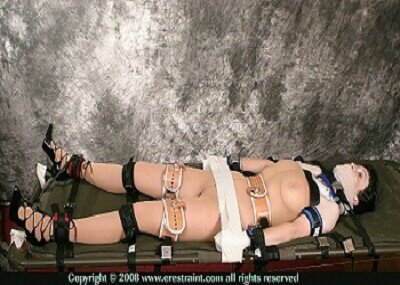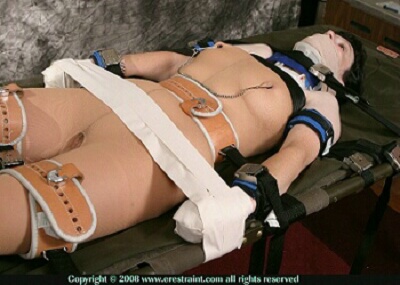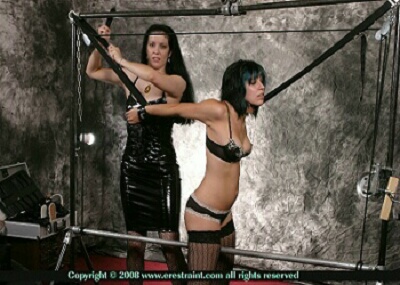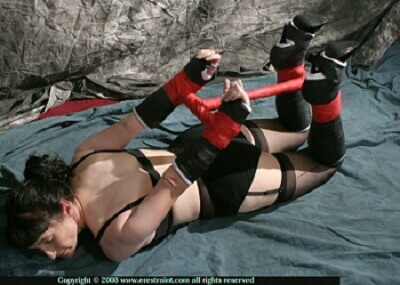 Orchid confirmed it as, and at this point, Victoria draped a straitjacket over the lounge nearby, which was promptly sat upon by a gorgeous black cat who proceeded to eat catnip off the jacket. Orchid wasn't too impressed with her favourite straightjacket being used as a kitty plate, and I couldn't help but notice that we had yet another B&D/S&M cat person. I wonder if it's a characteristic?
STGA - So, going back to e-Restraint, why do you think it has lasted so long: seven years and counting? So many others have failed in that time.
Orchid - Well, we try to stay focused on what we do best and what we like. We know we can't please everyone.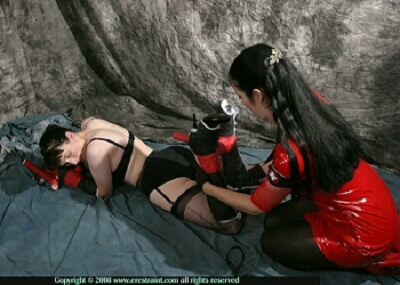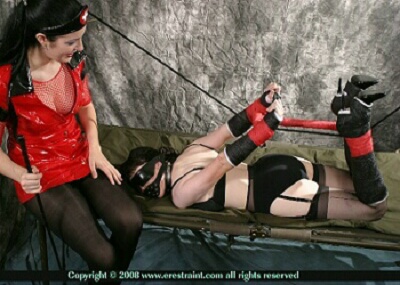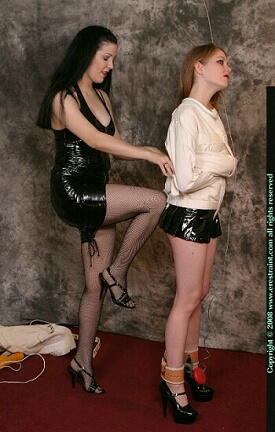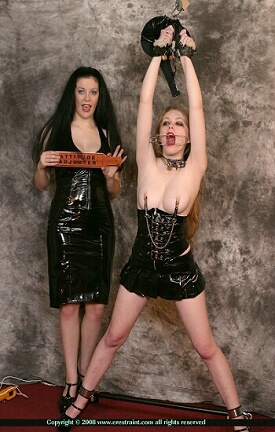 STGA - I think you fail if you try to please everyone, anyway.
Orchid - That is true. We focus on the restraints, which is the biggest part of what we try to showcase.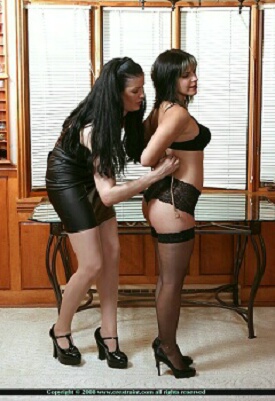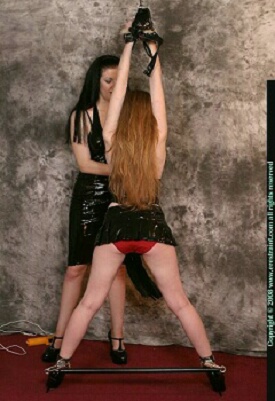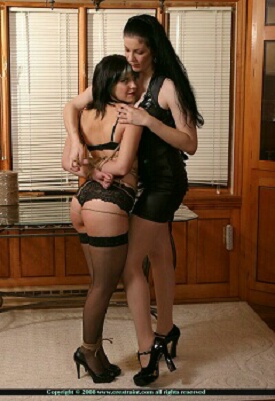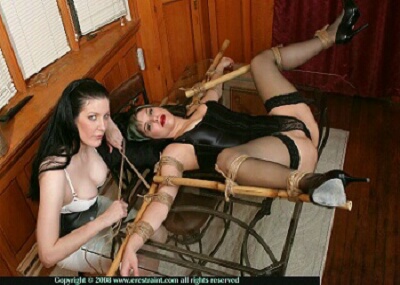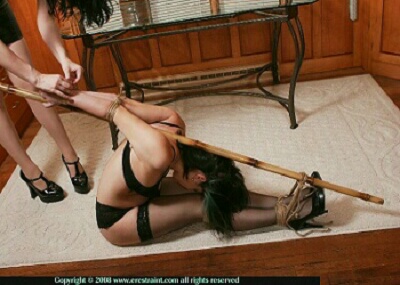 STGA - You manufacture most of these restraints yourselves, am I correct?
Orchid - We do manufacture some of them ourselves and we get some in trade. We like to make some of the leather restraints. We have a welding station, but don't have the right equipment for some of the heavy steel restraints.
I mentioned having a way of manufacturing them myself, as long as I could come up with a suitable cover story to explain to the non-B&D/S&M manufacturer what they were for. Orchid laughed.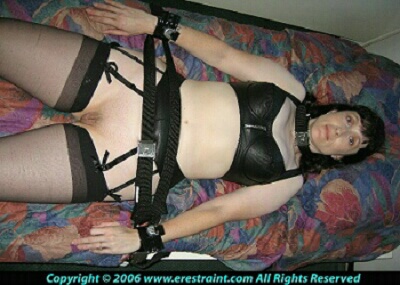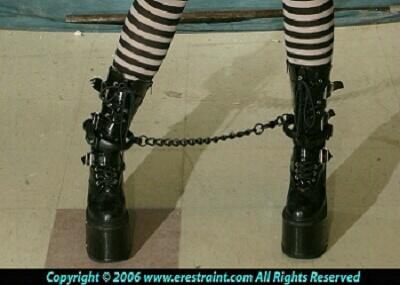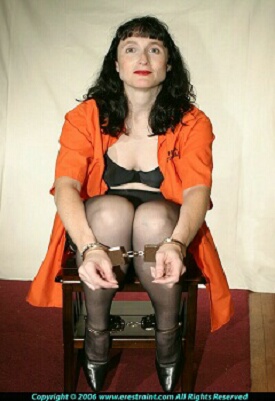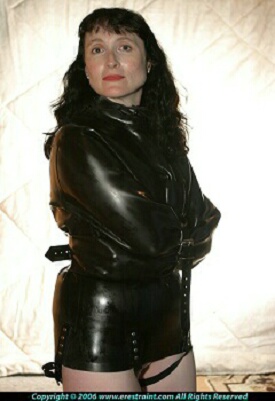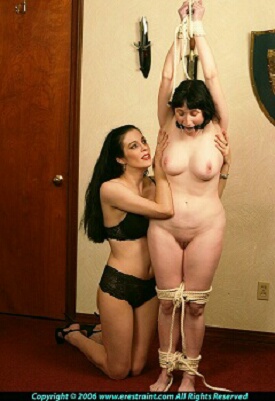 STGA - Do you have any amusing anecdotes from photo shoots you can share?
Orchid - I guess they might be amusing now, looking back, but most of them were not amusing at the time. We have had a few near misses over the years. We have had a few photo-shoots gone wrong!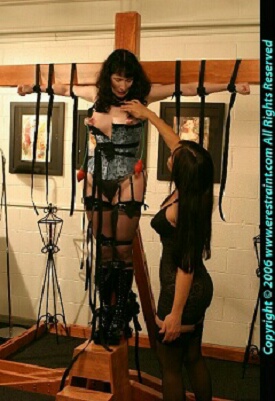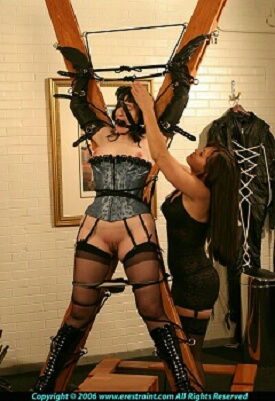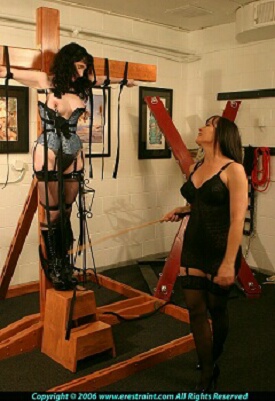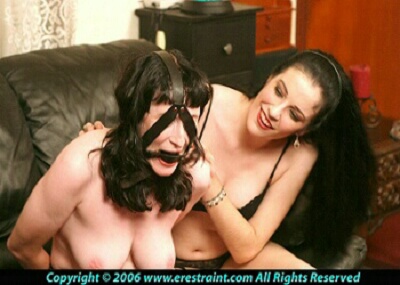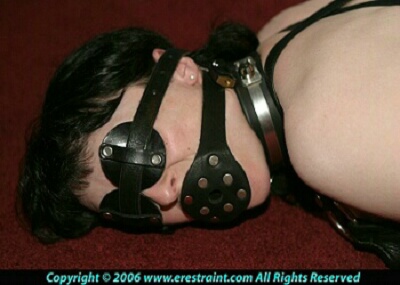 STGA - Oh? I've got to ask details.
Orchid - Like then time when Erika got the tongue clamp stuck on my tongue and I started to panic because I couldn't swallow.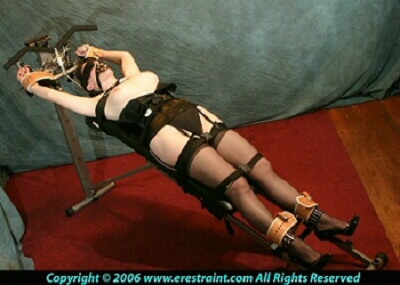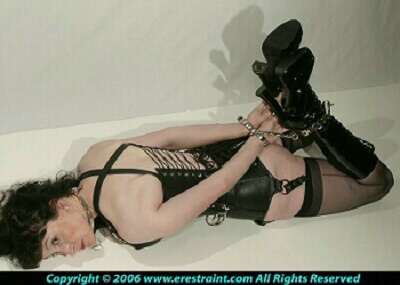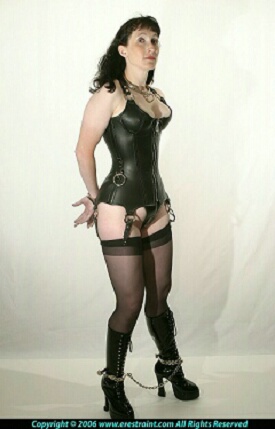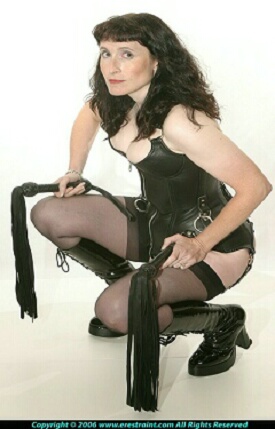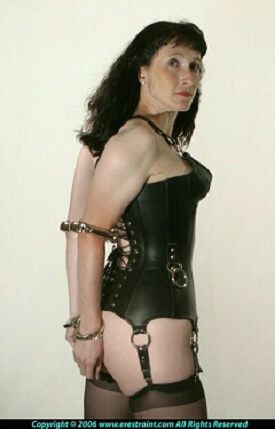 STGA - Not fun for you, although the mental image does have a certain slapstick comedy feel to it.
Orchid - Or the time the beam fell just seconds after I was taken down.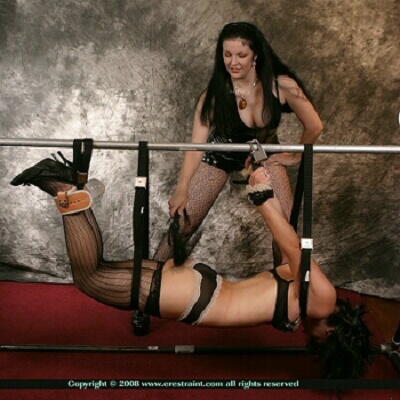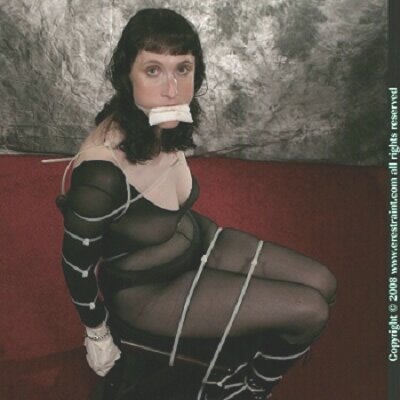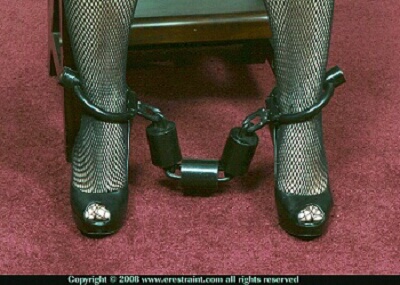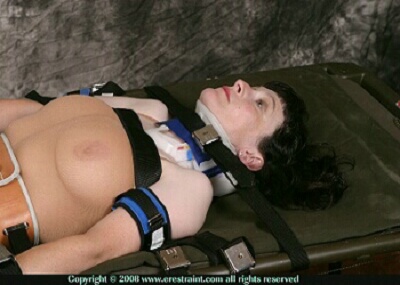 STGA -Ouch.
STGA - You mentioned being dissatisfied when you looked at other sites circa 1998 or so.
Orchid - Yes, I was.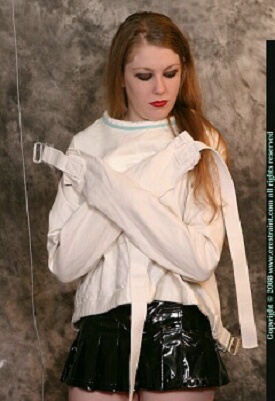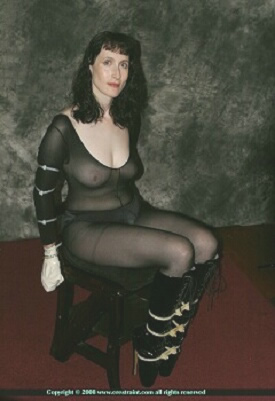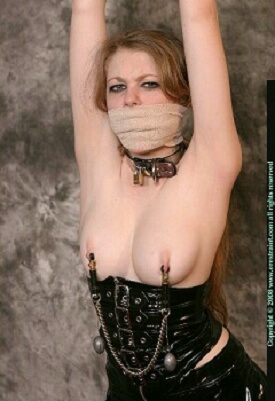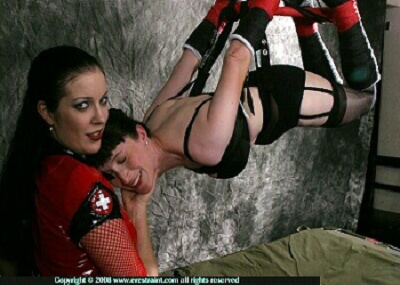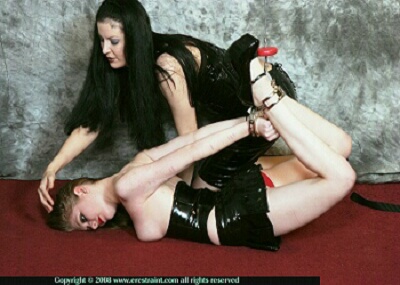 STGA - So what do you think of the current state of the online B&D/S&M Industry?
Orchid - I know that other sites are not necessarily trying to please the same crowd. Every site has its' own following. So, each to his own.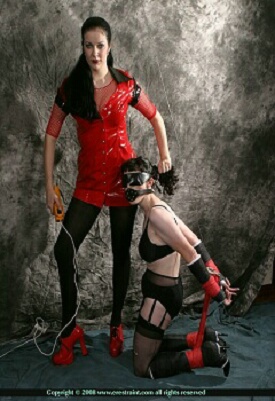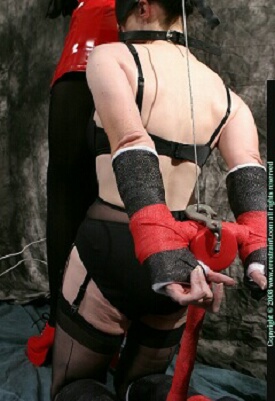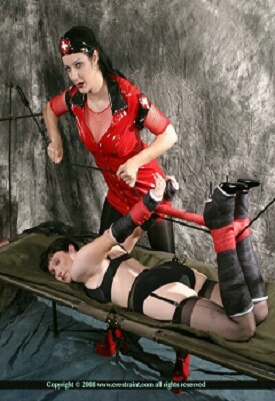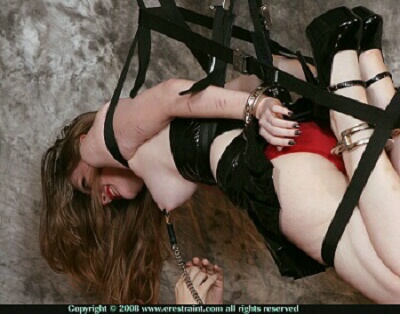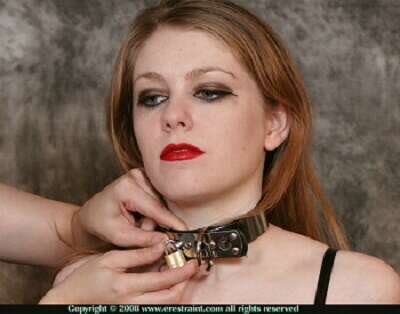 STGA - A very diplomatic answer indeed!
Orchid - Yes, I try to be diplomatic whenever possible! There is no use fighting amongst ourselves.
STGA - Final question: tell me a little about the person behind Orchid. Nothing you're uncomfortable sharing. And why the handle "Orchid", one of the most delicate of flowers?
Orchid - I really like orchids. I haven't always been successful in raising them, but I still think they are beautiful and you don't see them everywhere. I'm not sure that the person behind Orchid is as exciting as Orchid is.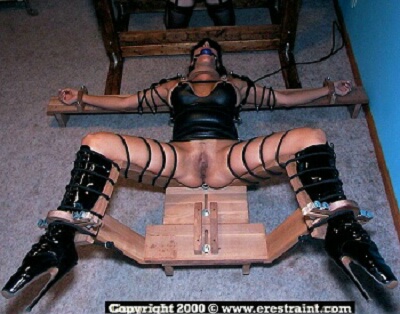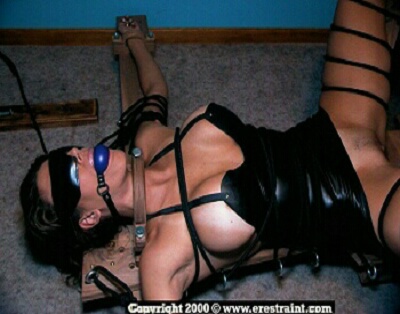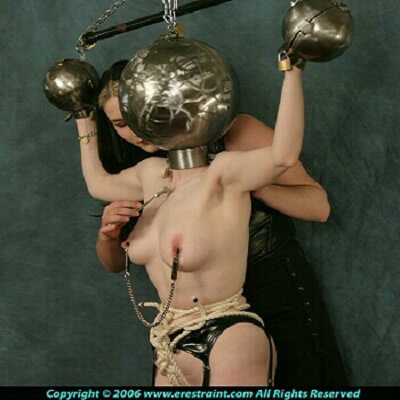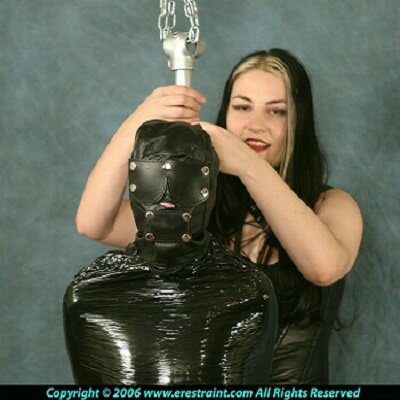 STGA - I suspect she's selling herself short there!
Orchid - Thanks for the kind comment.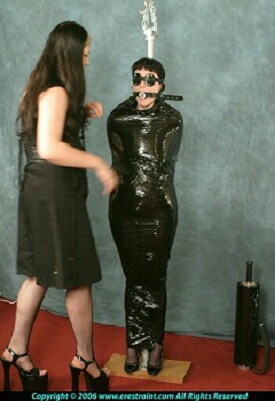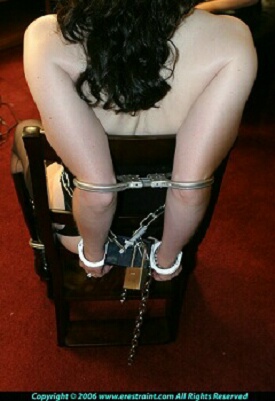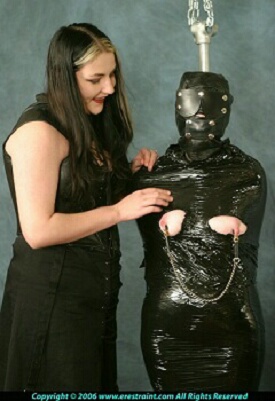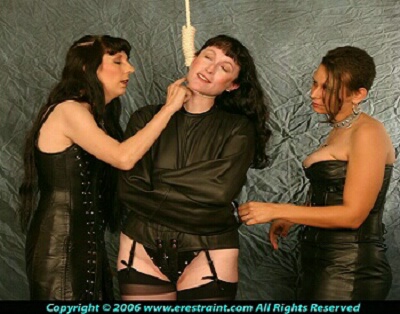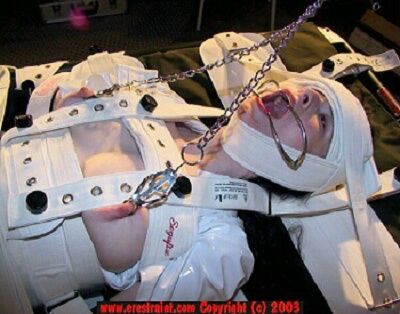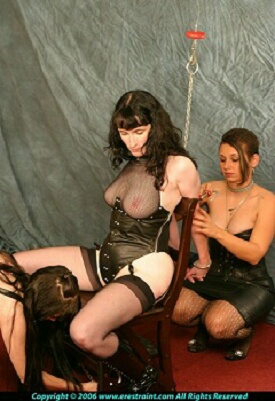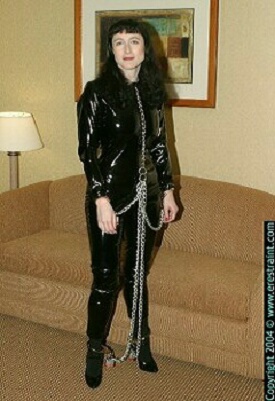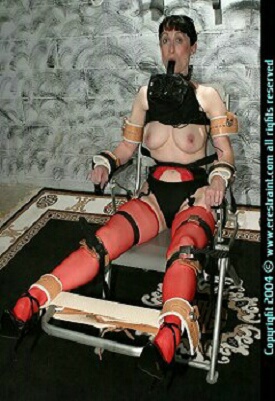 And that is where we ended the interview. Orchid and Victoria went off to have dinner together, while I was left to ponder how someone who has had the guts and perseverance to run a B&D/S&M web site for seven years could describe herself as anything less than absolutely exceptional.
******************************
- Some of STGA's Artwork -
The images below are a small sampling of STGA's art and the rest of his collection of drawings can be seen on the e-retraint web site.