Talk about a great birthday present!! Anna Rose came for a visit on the 12-13-14th of January, 2007, and the day after my birthday, we did a session with her in TC. Not all of the 'options' were employed for her first experience, but the next time, we'll do the full trip :-).
And so, without further blathering (other than explanations along the way), here's Anna Rose and her first encounter with The Creature.
She arrived on the afternoon of the 13th January and we were soon downstairs in the Whine Cellar, checking out TC and the work shop, then we decided she should also try on some of my steel gear. Naturally, I was more than happy to oblige such a pretty (and willing!) lady.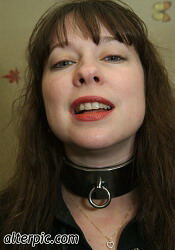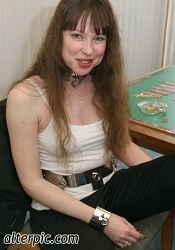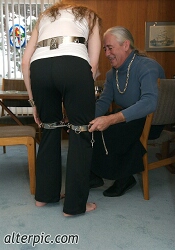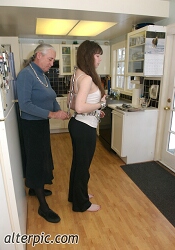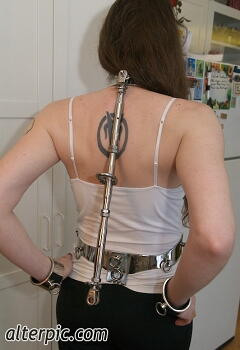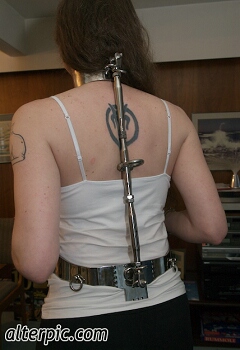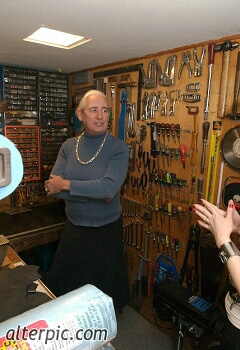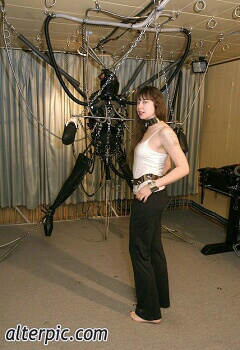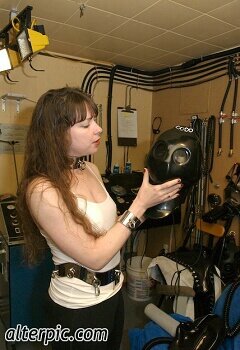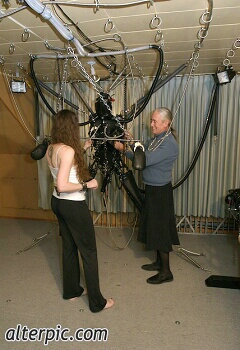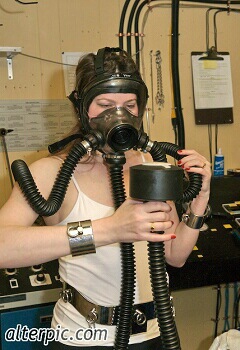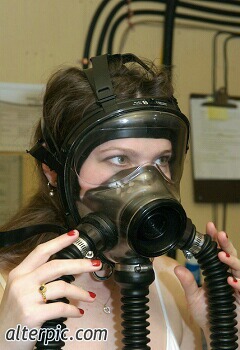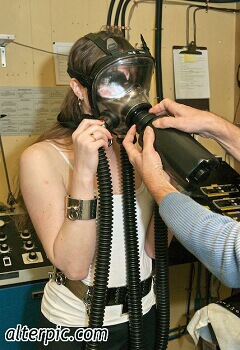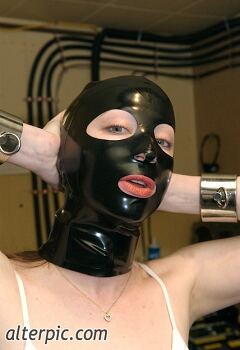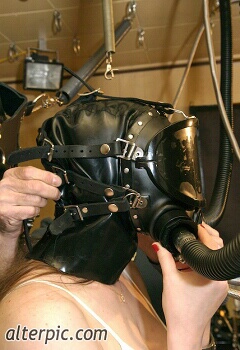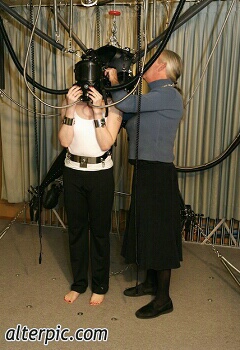 After a brief familiarization, we got settled in upstairs and really got to know one another over the balance of the afternoon and evening, with the view in mind that the next day was going to be a fun exploration for us all :-).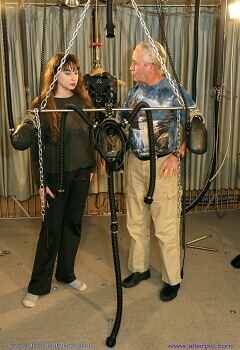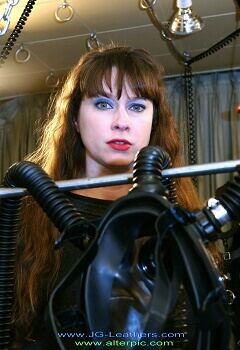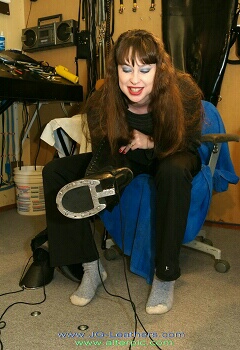 First, we revisited TC, then Anna Rose wanted to try out my hoofed, horse shoe-shod boots and so we did a little experimentation.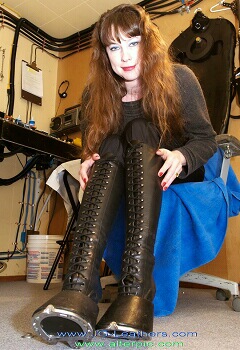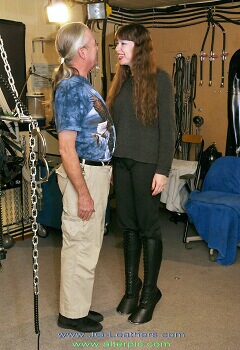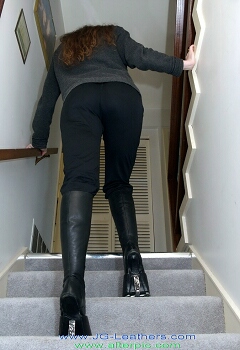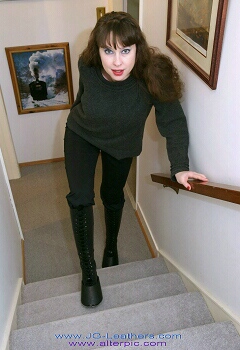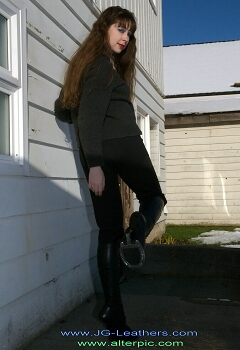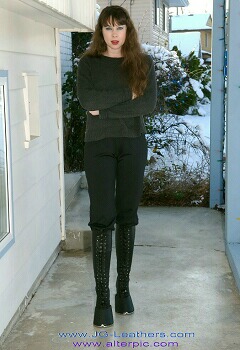 It took only a little practice before she was clip-clopping down the concrete walk, then prancing along as though she'd always worn horse shoes. However, TC was waiting, and so we were soon back in the Whine Cellar and engaged in the preparations, of which there are legion. First came the all-over coating of silicon oil; this used to enable an easy entry into the rubber cat suit.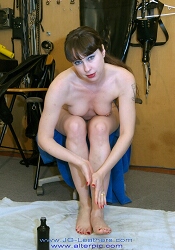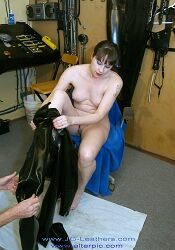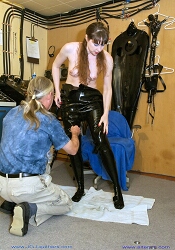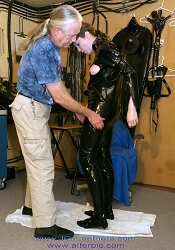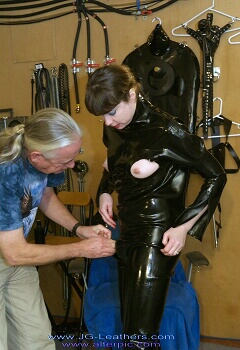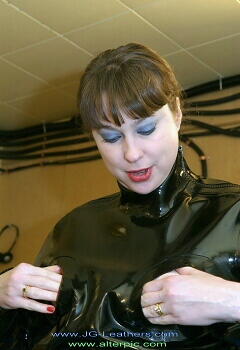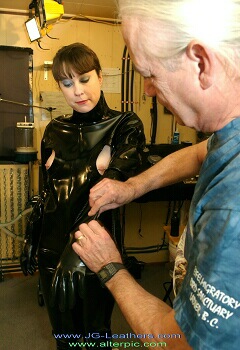 The process of rubber enclosure is very definitely a part of the the whole TC experience, for it adds to the feeling of being removed from the outer world and also acts to cushion the harness. Enclosure is the operative word, for every part of the head, limbs and body are completely covered.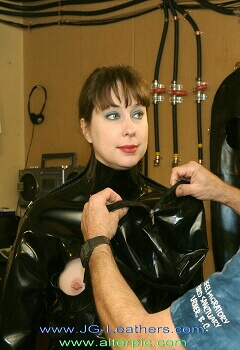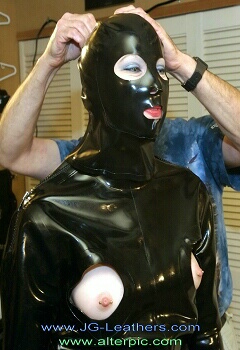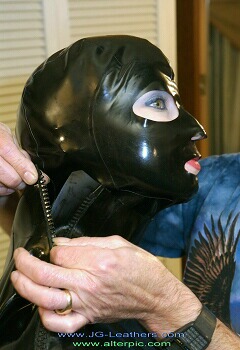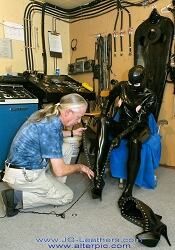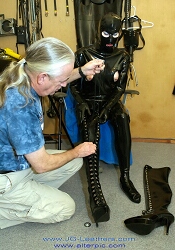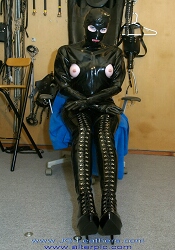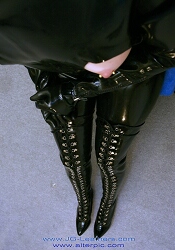 Next came the outer layer of coverings (rubber again) and ensuring it was all properly secured. The boots are mid-thigh, lace-up's, with a 1" platform, and a 4" heel rise. These take a while to lace, for they do not have 'speed lacing' hooks, and so the process is all a part of the journey and fun of 'preparation of the victim'.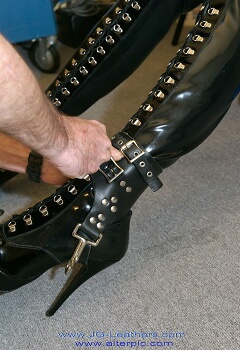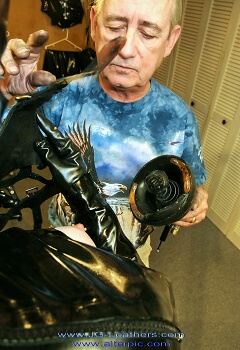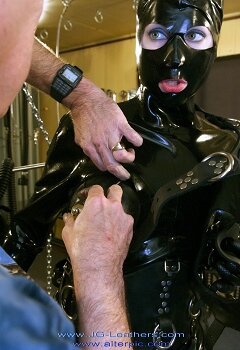 Especially made cuffs were then strapped around her ankles, then it was time to fit Anna Rose with the vacuum-electrical breast cups.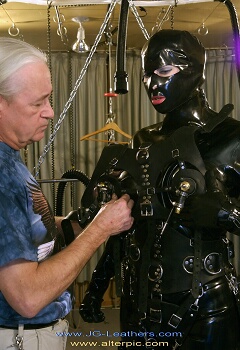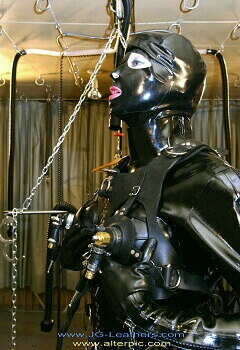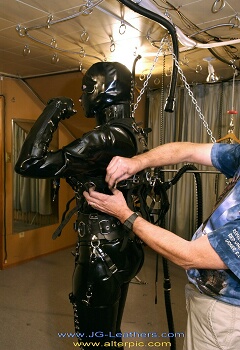 After these had been fitted, their securing over-harness and upper body restraint was added, then inter-connected to the Waist Cinch. It's a detailed process, but was fun for us both and she wriggled delightfully to get everything settled comfortably.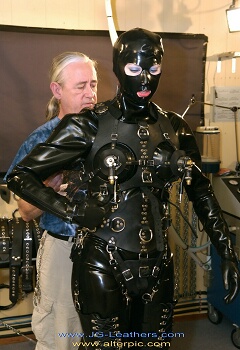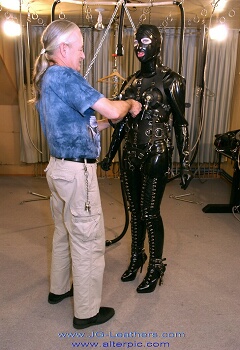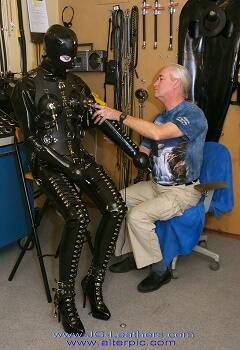 Once fastened into the TC Harness, it was time to add the next layers ... thigh corsets that went over the boot's tops, then the inflatable mitts over the the gloves. Next came the arm corsets; laced tightly so that the mitts could not be removed.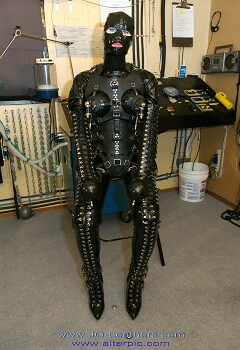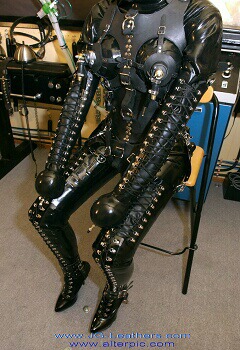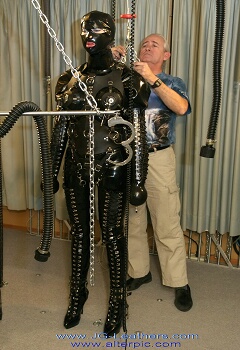 With the blow-up mitts and arm corsets on, Anna was powerless to remove any of her ensemble (just as it should be!) and from there, we moved to the area where she'd soon be suspended, then hooked up the hoist chains and cable. A system check was performed and a moment later Anna Rose dangled at the end of the cable, fully suspended. Wow!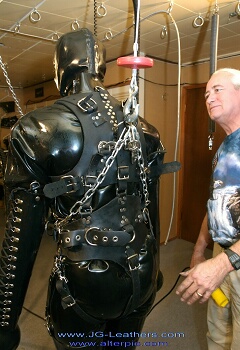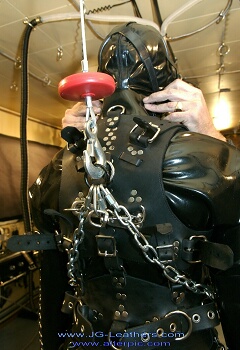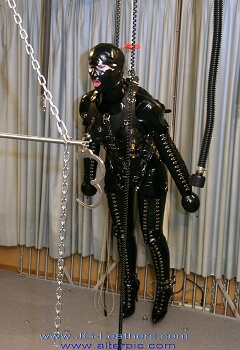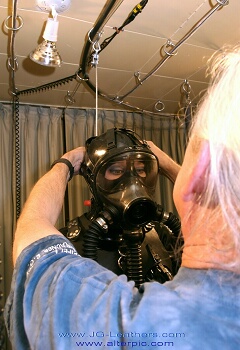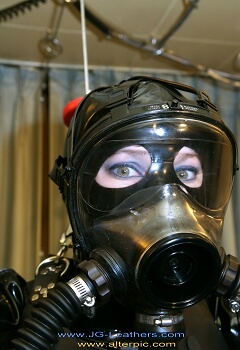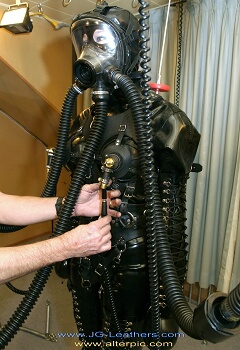 It was time for the final piece of enclosure gear, and for THIS time, I elected to use the air mask with a clear face plate, so I could keep an eye on her reactions. She was soon sealed and locked fully into the mask and thus became totally removed from the outer world.
As soon as this was done, I connected the various vacuum hoses and electrical connections, then removed her hands and arms from her control by locking them into the cuffs at the end of a metre-long separator bar. Now, there was NO way she could escape, nor could she even attempt to get her useless hands anywhere near the things that would soon tease and torment her.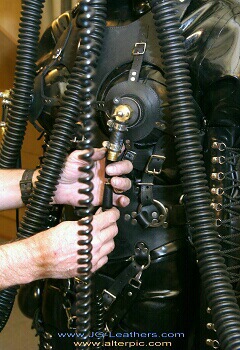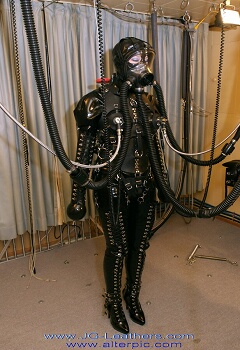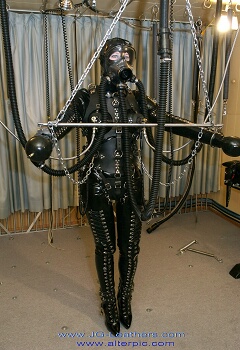 I'm sure she was more than a little nervouse to be so utterly at my mercy, but I watch ed her carefully while she attempoted to get used to the set-up.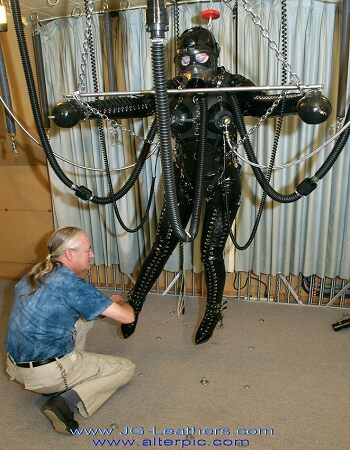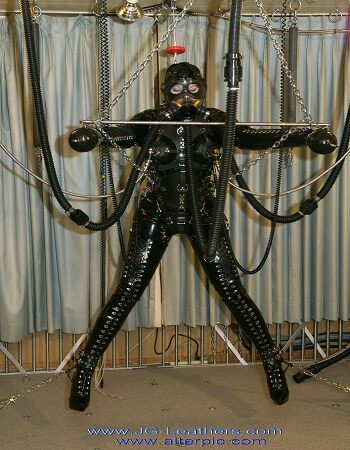 Of course, I couldn't have Anna Rose flailing her feet and legs, even though already tightly booted and corsetted, and so I soon had them drawn off to the sides and connected to the floor rings. Springs were used to allow her to fight against what was to come, but they ALWAYS win, and too, the wide-spread stance enhanced her feelings of vulnerability and helplessness.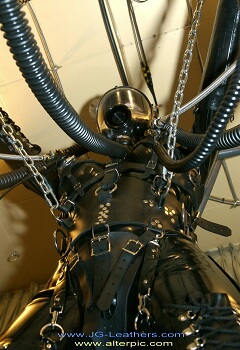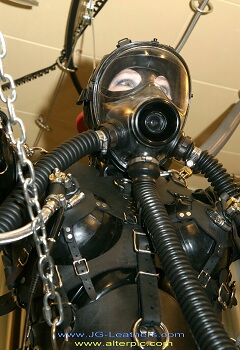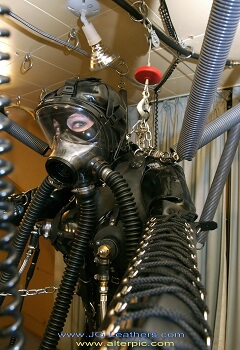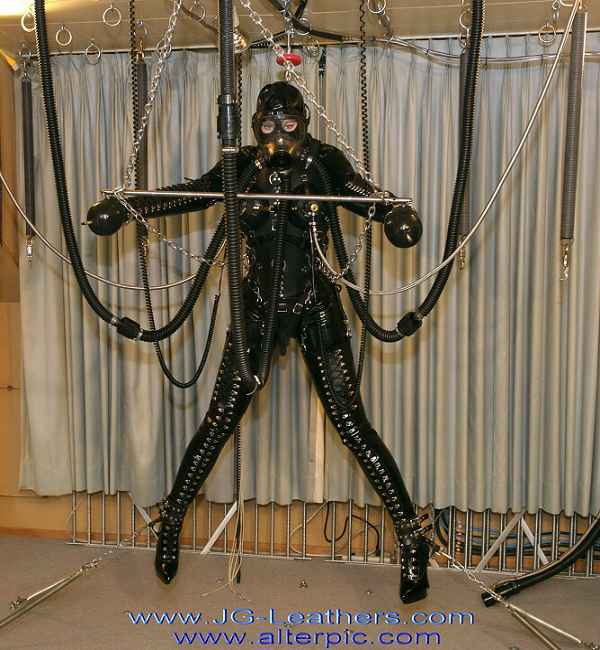 She was now fully prepared for what was to come, ahd had no way to stop or avoid it. Behind the plexiglas of her imprisoning mask, Anna's very expressive eyes were wide and wonderful to look at while she waited.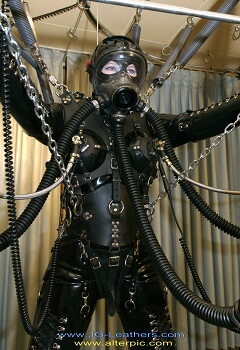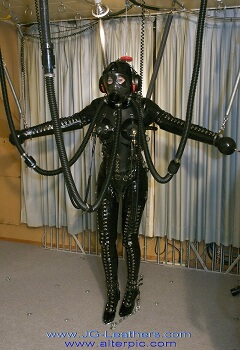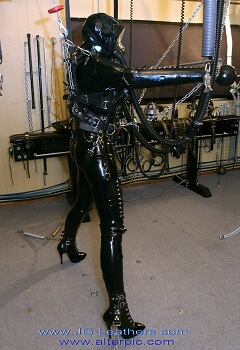 I started things off gently and at first Anna looked a little startled at the sensations emanating from her chest, but then soon began to writhe quite delightfully when I increased the intensity of the vacuum and e-stim.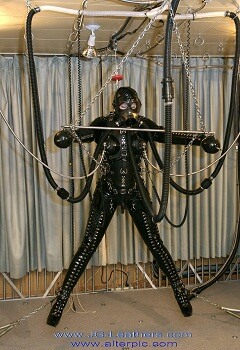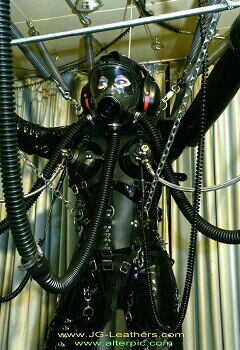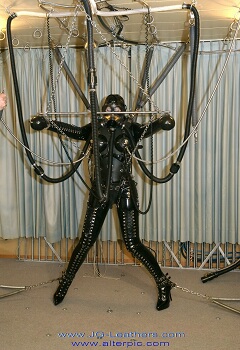 Matters progressed from there, but as this was her first experience with The Creature, I took it easy and only elicited some mild screaming :-). As mentioned, there were some options to TC that had not been used, but WILL be the next time she comes to call (September, 2007), and they'll add even more to her experience.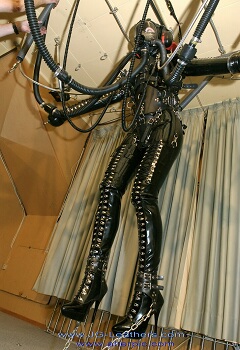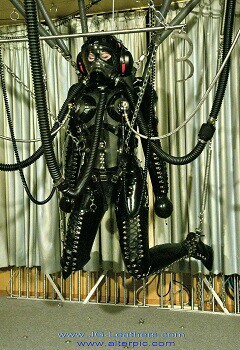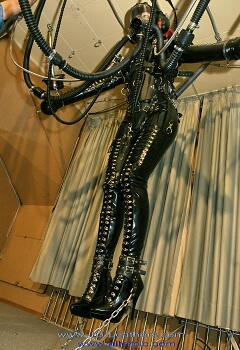 After a while, with her hands and arms spread and restrained in the 'vulnerability position' and some considerable struggling to escape what was being done, it was time to change. I allowed her arms to just hang freely, then released her legs from the floor springs, but positioned them in a bent knee manner so that she still just hung in place, yet incapable of escaping.
The e-stim and vacuum were backed off to lower, but still quite disturbing levels, then we turned off the lights and left her alone for a while to contemplate her fate. It should be noted that both of the ErosTek ET-312 e-stim units are programmable, and so could be set to automatically 'ramp up' at defined intervals and strengths of stimulation, but for this time, that option wasn't used.
Anna Rose COULD have been left as she was for a long time: completely alone, inescapably restrained, suspended, being forced to breathe by the ventilator and with the e-stim machines slowly, automatically, inexorably, increasing their levels of stimulation without pity or remorse.
This is a scary situation for anyone in TC, including me, still, but not something I do for a first time experience. There is a video surveillance system in place in the Whine Cellar and so even though physically abandoned, she could still be observed while it all happened.
Far too soon, it was time to get her out for the experience had obviously been a draining one. The process of extricating either myself or someone else from TC is quick and relatively easy, and soon, Anna Rose was inspecting herself, then was off to the shower. It had been a most entertaining time for us both and we're looking forward to a return engagement :-).