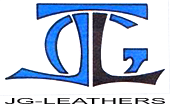 *****************************
JG-LEATHERS - ARTICLES
- PAGE THIRTY-FOUR -
- CAPTURED-TABOOS -
*****************************
- 13th February, 2007 -

- FOREWORD -
The Interview that follows was conducted by e-mail, between Juergen and Cordula of Captured-Taboos and JG-Leathers, during January, 2007.
Mark, of SeriousBondage.com sent me an image of Cordula wearing one of Juergen's creations at BoundCon, in Munich, in the Summer 2006 and I placed it on the site for it was one of the most striking pictures of head confinement I'd ever encountered (and I've seen as well as designed a lot of this type of restraint). I was totally impressed with the simplicity and sheer beauty of the creation, as I am sure most who see it are.
Juergen soon got in touch with me and things have moved forward as we've established a friendship, and thus, eventually, this interview/article.
It's pretty obvious that Juergen is a dedicated artist and artisan and functions in a variety of fields, as the pictures that go with this article will show. He's careful with his designs and imagery, and a perfectionist when it comes to form, function and appearance ... Hhhhmmm! Sounds a little like me I suppose, and thus we've certainly got a connection.
I hope you will find the following to be an informative look into the lives one of a couple of interesting and dedicated scene people in Germany.
Here's the interview.
Enjoy!
JG-Leathers
(30 January, 2007)
******************************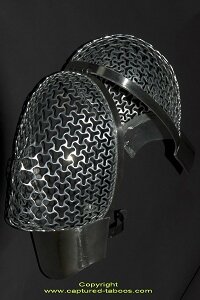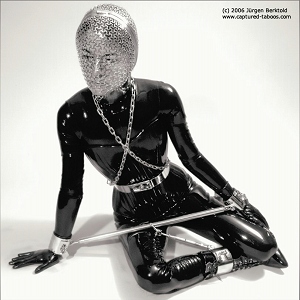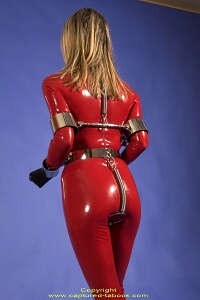 JG-L: Juergen and Cordula, although we've not yet met face to face, I'm certainly anticipating it. The Internet has allowed us all the opportunity to come together as on-line communities, but I'm sure that the readers of this site would like to know a little more about who you are, why and where you actually live and work. So! Where do you call home?
Cordula: I've lived in several German cities, 4 years in Canada and 6 months in Jamaica, but I have always been at home where I felt home – right now my home is Munich.
Juergen: Munich is home where I live with Cordula, and a little bit at my father's house where I was born and grew up.
JG-L: Where were you (each) born and raised and how old are you now?
Cordula: I was born and raised in a small town in Northern Germany (Lower Saxony). I am 45 years old.
Juergen: I was born and raised in a small town in Southern Bavaria (Germany), about 80 km southwest of Munich and I am 41 years old.
JG-L: Any brothers or sisters? Are your parents still alive?
Cordula: I have a younger and an older sister. My mother is deceased and my father and I do not have any relationship at all. Juergen's father has taken the place my own father should be.
Juergen: I don't have siblings, my mother is deceased, but my father is still alive and we visit him about once a month.
JG-L: Did you both have a happy childhood?
Cordula: Unfortunately, I did not have a happy childhood because my father always punished me for not being his expected son and my mother never protected me against his psychological attacks (i.e. you are so ugly - you will never find a man. I should have shot my sperm into a bush instead of into your mother). He left us for another woman when I was 16 and I never managed to get close to my mother afterwards.
Juergen: Not for me either. I had absolutely no chance to please my mother and everything I did was wrong in her sight. Even as a child I was quite stubborn in my way of life and I mostly did what I wanted. For example: model building, making pyrotechnics, or playing with electronics instead of riding a bike like all the other kids in our neighbourhood. Generally speaking, what the other children did was good, what I did was bad. My mother had severe psychological problems (not to say she was insane), that got worse from year to year. It was not a good life at home - either for me or for my father.
JG-L: Are they (siblings and/or parents) aware of your hobbies and the existence of the web site? If so, how do they feel about them and what you do?
Cordula: A couple of years ago we told my sisters and brothers-in-law about Juergen's interests and company. I don't know what they really think about this because we usually avoid deep (true) personal discussions in our family.
Juergen: I told my father about my interests and that I was planning to launch a business dealing with fetish and BDSM photography six months before Captured-Taboos went online. I was afraid that one of his friends or neighbours might discover what I was doing and therefore I wanted to be the one to tell him the news before others did. Well, my father is about 80 years old and has little understanding of kinky stuff, but he loves me enough to say that what I was doing is OK with him. Lately, I've stopped to show him new pictures, because his total reaction after having a quick look at them was to say 'nice'. But, a female cousin of mine is really interested in what we do!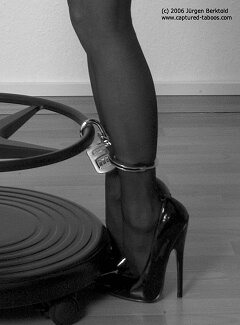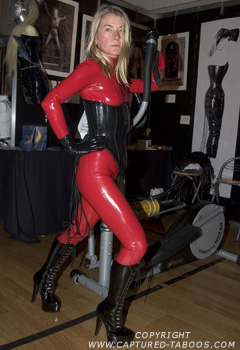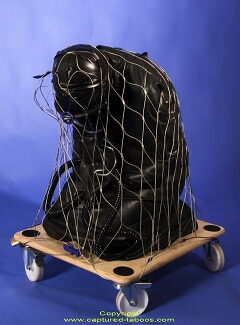 JG-L: I know there were for me and so must ask, were there any signs of your individual likings for kink during your childhood? Were you aware of the scene in a general sort of way?
Cordula: There were no signs. I grew into it while living with Juergen.
Juergen: Yes there were many signs. I think the bondage and fetish thing was in me early on. I'm not sure when it started exactly, but it was many years before adolescence. All kinds of belts and other useful things in my parent's wardrobe had a strange fascination and I began to play with them when I was alone at home. And, I noticed that it was fun to tie up our neighbour's cat (I absolutely love cats, so there had to be another reason for doing this :-)). I wasn't aware that there were so many other people like me and there was even a scene. To be honest, I thought I was surely the only person on Earth doing these strange things and that it might be a result of the personal circumstance of my life. Sometimes I thought that perhaps some genes handed on by my mother had led to some sort of malfunction.
JG-L: Did you play the usual sort of North American 'Cowboys and Indians' games, where young Indian women got tied up and hauled off for arousal and torment?
Cordula: To be honest, I cannot remember whether I did or not, but I tend more to think "not".
Juergen: I cannot remember whether it was 'Cowboys and Indians', but I sometimes played games with my friends that resulted in somebody getting tied up. There weren't any girls in my circle of friends, so I never got a chance to tie one up. As far as I can remember these games were not arousing (perhaps because it was never a girl that got tied up :-)), they were just games, like others.
JG-L: Many scene 'analysts' tell us that what we do for entertainment and play is the result of some sort of childhood 'trauma'. I disagree, but would ask what your opinions are?
Cordula: I don't know what to think. Perhaps yes, perhaps no ... but to be honest, after Juergen told me about his sexual interest, I asked him to see an analyst. At that point I was truly convinced that this interest must have its origin in his childhood. I always have to understand why things are the way they are, but the 'therapy' turned out to be completely useless. We've never discovered the reasons for them and Juergen is still not 'healed' (thank goodness!). In the meantime I don't care anymore and I guess I would miss it if it was no longer in my life.
Juergen: As Cordula already mentioned, I went to an analyst to see if he was able to get an answer to the question of whether my childhood was responsible for my preferences, not to get healed. The analyst expected cash at the beginning of each session, then I had to tell him something important and he usually almost fell asleep after a few minutes. He told me that this was a sign that all the things I told him were the wrong things! After many of these sessions where I talked and he got tired, I didn't get any answers or hints as to why I behave and like what I do and so I decided to stop. After that I found the answers to the question: (1) 'because' and (2) '42' (I'm a fan of 'DNA'!) Having these answers, there was no need for further concern about why I am what I am and why I enjoy what I do.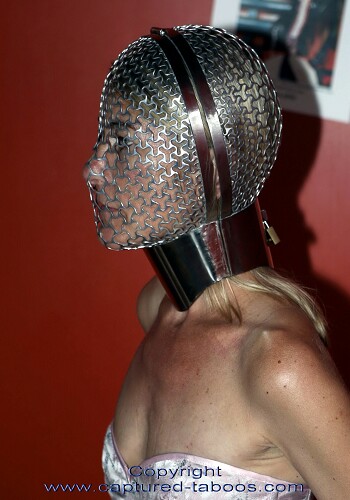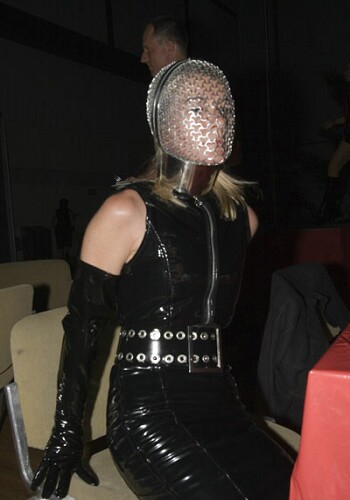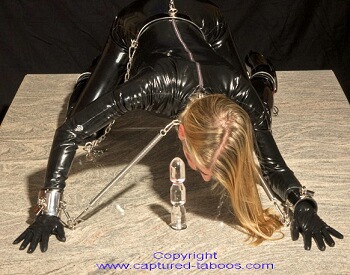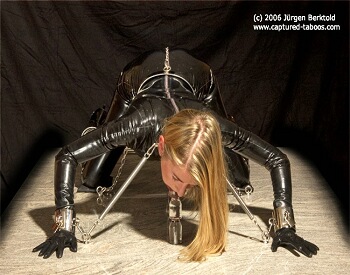 JG-L: What sort of education do you each have? I.e. area's of specialization, etc.
Cordula: High-school diploma, apprenticeship (industrial clerk) and survival training during my childhood (sorry, but I had to write that :-)).
Juergen: High-school diploma, then I studied electrical engineering for a few semesters, but that had too much theory for my liking, so I did an apprenticeship in computer programming and network administration.
JG-L: Did either of you do any time in the military, and if so, what branch and for how long?
Cordula: No.
Juergen: No, there was/is a compulsory military service in Germany, but I knew that spending time in uniform was not my thing. I do not have a problem with authority in general, but it is very important for me to at least be able to roughly understand the sense of the orders given to me. I assumed that I would be hardly able to understand any orders given in the military and so joined a civil defence agency instead.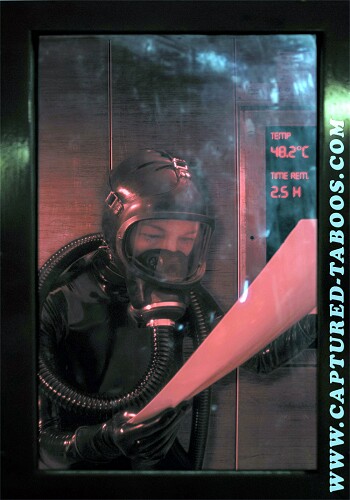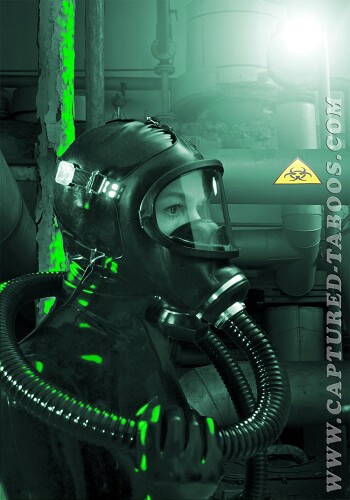 JG-L: How about involvement with law enforcement agencies?
Cordula: No.
Juergen: No.
JG-L: Do you have any sort of medical training, or have you been involved with any areas of health care?
Cordula: I worked for more than 15 years in the pharmaceutical industry and held positions as a market researcher, junior product manager and sales representative.
Juergen: No.
JG-L: If so, did any of the above contribute to your later scene interests? Can you explain why or why not, please?
Cordula: No (vanilla).
Juergen: N.A.
JG-L: What do you (both) do in the vanilla world?
Cordula: I have a little company dealing with graphic design and Power Point presentations.
Juergen: As "Captured-Taboos" brings in almost no money, I also work for Cordula's company, doing Power Point, computer and network maintenance, and some VBA programming. Formerly, I worked for many years in the IT business.
JG-L: How, where and when did you get each started in the scene?
Cordula: Until I met Juergen I did not even know about the rubber scene and after meeting him, I sort of grew into it.
Juergen: Due to a lack of girlfriends, I spent many years playing with self-bondage and any kind of kinky experiment, until I met Cordula. She was a vanilla, but I didn't know that expression at the time, and so for me she was just a normal person. We had many things in common, enough to continue our relationship and fell in love quickly, despite problems caused by my sexual preferences. It took us about seven years of marriage to find a common base to deal with my wishes in a way that is pleasurable for us both.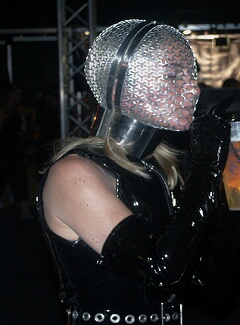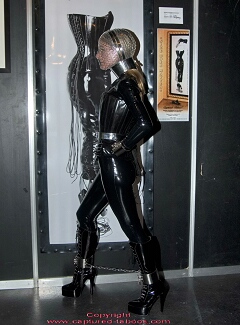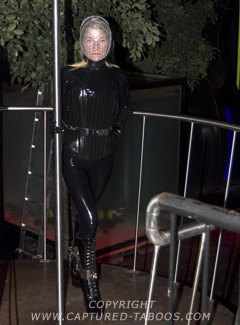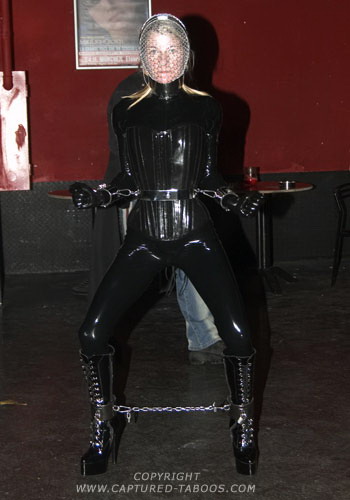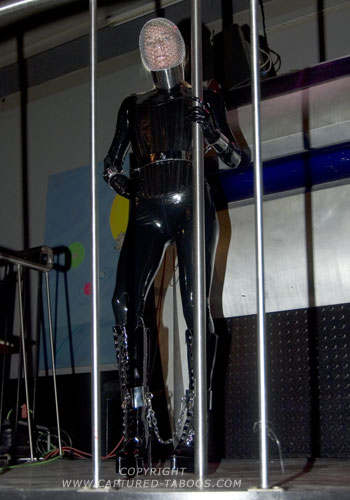 JG-L: Were there any seminal people, places, scenes, movies, etc., that really fired your interests?
Cordula: Most of all Juergen. Sexuality has become more interesting compared to my experiences with vanilla-sex. There was also the movie 'Tokyo Decadence', but only the first sequence (the way she has to pull down her slip again and again in front of the huge window. I found that sequence really sexy).
Juergen: Before the internet, mainly magazines like '<<O>>', 'Skin Two', etc. After discovering and buying my very first magazine, I abruptly became aware, that there was a huge number of kinky people (not just me, as I had thought when I was younger) and even a vibrant scene existed! What a feeling! Albert' the guy, who makes those incredible corsets, gave me the kick to try making my own and I saw 'Batman Returns'... incredible how fantastic a boring secretary is able to look like after she was thrown out of a window on the 30th floor.. Seriously, IMHO, that level of sexy outfit has been never reached again in a mainstream Hollywood movie. When I watched the movie the first time, I knew once more that - should I ever manage to find a matching partner - I would try everything (except things like throwing her out of a window, of course) to get her dressed like that! By the way, if anyone really knows exactly what material that cat suit was made, please let me know!
JG-L: Before the Internet did you just play privately, visit clubs, etc.?
Juergen: To date, we play just privately. Neither of us would feel comfortable knowing that other people were watching us play although we have fun showing our pictures and Cordula's gear and outfits at fairs. I'm a very visually focused person, with a distinct sense for aesthetics, and for sure if I wore some latex stuff it would not be an edifying appearance, at least for me. That is one reason why we do not visit clubs or parties, because there is normally a strict dress code required. Another reason is the "catwalk-behaviour" of some (but not all) people. It seems that their attendance has nothing to do with their own sexual interest, but more with showing off the newest and most expensive outfits. However, we don't want to insult anyone, but we have heard people talking while they looked for a new outfit for their next visit to the Kitty Cat Club.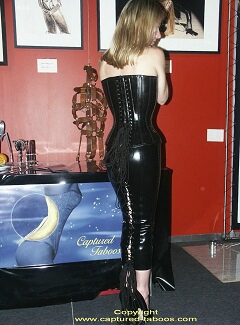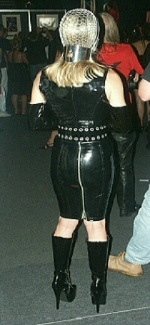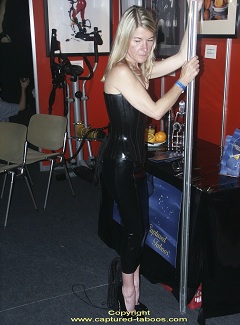 JG-L: Juergen, you make some incredibly inventive and very nicely finished toys and equipment. What drove you to create these things?
Juergen: I've been a dedicated hobbyist for my whole life. My hobbies changed from time to time, but it looks like I've been caught by creating kinky stuff since I've met Cordula. She's a very attractive lady and I think that latex and any kind of nicely finished restraint suits her very well. I've got a restless brain, in that there are some fuzzy (mainly kinky) ideas permanently lurking, and when one of them comes into focus I know that I have to realize it (at least I have to try). As well, I'm a perfectionist to a certain degree so that functionality and finishing must meet my vision in an ambitious but reasonable way. As soon as I've achieved that goal, I usually consider the project finished and rarely do later improvements on existing equipment. Usually another fuzzy idea has already come into the focus. Last but not least, playing with self-developed and self-made equipment and toys provides some extra fun! John, as you do, I want to encourage everyone to be creative themselves because the scene lives on creativity!
[JG: For an article about how Juergen constructed the head cage, go to: The Making of a Unique Head Cage, The "Ypsilon Mask]
JG-L: Do you know why placing Cordula in those incredible devices you make and the bondage situations, appeals to you to the extent that it does?
Juergen: It seems to be just my thing for sexual arousal and enjoyment.
JG-L: Did it take you time to accept that your ideas and likes were OK?
Juergen: Yes, it took me a lot of time and sometimes I'm still of two minds regarding my ideas and likes, but for the most part, I've fully accepted them and – to be honest – sometimes I'm quite proud of them!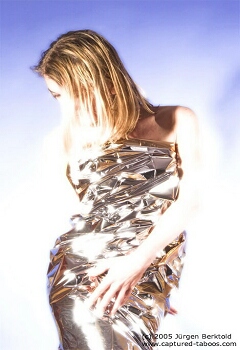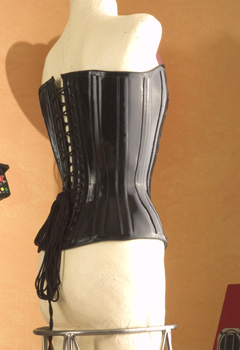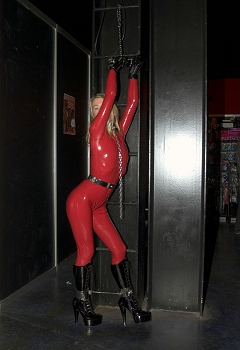 JG-L: With Cordula's (mostly?) willing assistance, you've lived out the fantasies of an uncountable number of guys (and maybe ladies too). Is it like being in a big candy store with a wad of cash?
Juergen: Yes, I'm a very lucky guy, for sure! When I started with Captured-Taboos I had serious concerns about getting overfed with all that sweet candy; potentially leading to reduced appetite for sweets. But, as we do not play too often and we do not take hundreds of pictures every day, I still have the same desire, arousal and fun in living out my fantasies. It is like being in a properly stocked candy store and having enough money to afford a well considered choice of candies that can be eaten at once, but also knowing that the store will not be open the next days or perhaps weeks.
JG-L: Juergen, obviously, you're a 'top', but do you ever want to try the other side of the equation? If so, how deeply did you explore that aspect?
Juergen: As already mentioned, I've practiced self bondage and autoerotic play. Sure, I acted from necessity, but I assume that having a matching partner being occasionally a 'bottom' would work for me as well. Anyway, if I had to make a final decision, I would be definitely a 'top'.
JG-L: OK. Cordula, how about your own desires to be a 'top', or are you just happy to experiment with the role you enjoy now? Can you explain in a little detail?
Cordula: I've never felt a desire to be the dominant partner. A few times we have tried switching roles, but it always ended in disappointment. I don't know why, but when it comes down to sexuality, I have a big problem with helpless men. First I become angry, then aggressive, and pretty soon I'm really fed up with the whole plot. I'm really sad that I am not able to do Juergen this little favour once in a while, but I don't know how to deal with my negative reactions.
JG-L: Juergen, other than the rush we each get from being in a position of total control of a willing (or perhaps unwilling) female as a session develops, are there other parts of a scene that you enjoy?
Juergen: I enjoy savouring the thrill of anticipation ... looking forward to a session. Cordula does not volunteer for my kind of play, but when a session has started, she does very well. Having a (too) willing partner would be little fun for me. Choosing the right outfit and having Cordula wear it for a scene is a lot of fun for me as well. Having control over her, knowing that she feels damned uncomfortable is a very big part of my fun.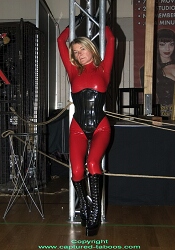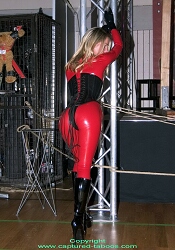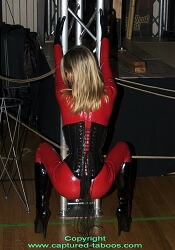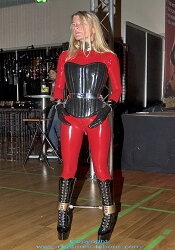 JG-L: Cordula, how do you feel about the situation? Any idea why?
Cordula: I cannot share his anticipation because I am the one who feels uncomfortable and has to 'suffer' for his sexual relief. I do not enjoy waiting for hours until he stops savouring his anticipation and it is time for "action". Honestly, I am happy when we are through with it and afterwards I can be pretty sure that I (we) will enjoy the rest of the day relaxing, watching movies or just hanging around. Most of all, my reward is a satisfied husband. It does not give me additional sexual pleasure wearing a corset, a latex suit, or being helplessly locked into any kind of restraints, but on the other hand, it does not have a negative impact on my own sexual feelings. Therefore, we think we've found the perfect way of dealing with his and my interests. Due to the fact that I don't have any ideas or preferences for this kind of play, being the bottom is the perfect role for me.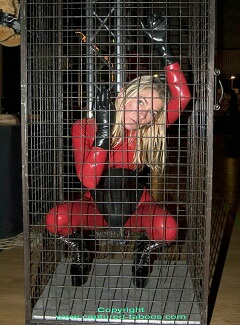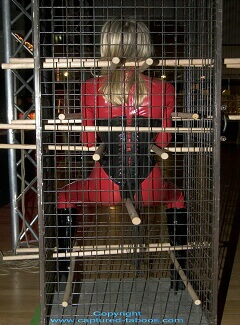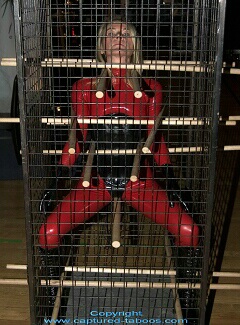 JG-L: Speaking for myself, I like to "watch the lights come on" in a play partner's eyes when I take her to "the undiscovered country" right there in her own mind. Do you (each?) find that something similar brings you pleasure also?
Juergen: I've never been a romantic person and my understanding of getting sexual enjoyment and satisfaction has very little in common with romantic dinners, etc. Yes, it brings me great pleasure when Cordula (sometimes) experiences the 'power of unromantic mechanical stimulation' while she is held in a condition of considerable discomfort.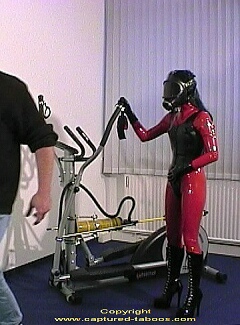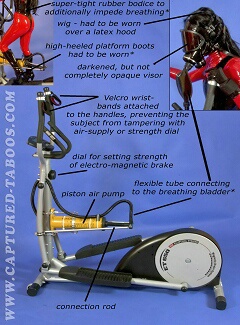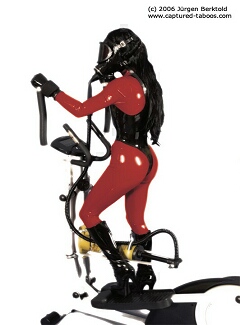 The device pictured above is another of Juergen's truly creative inventions. With Cordula fully connected to the machine, she MUST exercise/walk to get air pumped into her fully sealed mask. Stop exercising and the air stops! Truly diabolical and a man after my own heart without a doubt. THIS is predicament bondage at its best.
To see a 3.7 mb video clip (please be patient with the down load) of the above device in action, click here.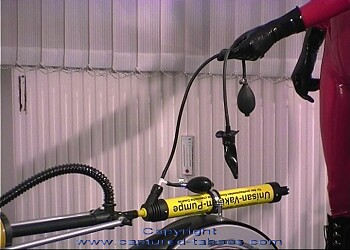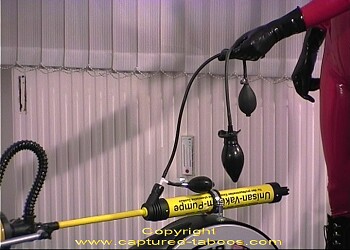 JG-L: What about 'progression' or, if you prefer, 'process and ceremonial'. It's been my experience that a these are important to a successful play session. Do you feel that this adds to the fun?
Juergen: Mainly, I have a quite clear imagination about the process/steps of a session, in advance. If so, I try to roughly 'keep the plan'. My experience is, that adding progression to an existing concept can result in some added fun, but it possibly result in a break of the session as well. Other play sessions do not have a concrete concept at all, just letting out the silly spirit of the moment, and that can be great fun as well.
Cordula: I do not really have my own concepts and would never volunteer to add progression to Juergen's concepts because they are already strenuous enough for me. The only thing I want to do in those situations is to follow his orders and "obey". Therefore it is very important to me that Juergen gives me clear directions. The worst thing that can happen is when he asks me during a session: "And … what do you want to do next?" That would just ruin the complete situation – I don't want to reflect on those things, and I don't want to take on responsibility for them occurring.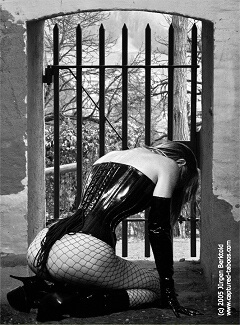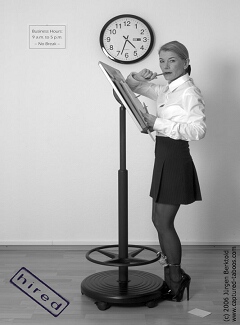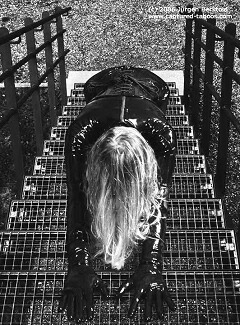 JG-L: Do you have other areas of interest within the scene?
Cordula: Over the years I have discovered that I love to show myself in latex clothes on fairs. Perhaps some kind of exhibitionism (and so my father was not right: I feel pretty good looking). I also like to wear latex hoods because they sort of "take the edges off". Somebody compared it to the sensation of diving. Sometimes I like to watch well-made porn movies (which are really rare). A few years ago we wrote a first draft for a movie, but we neither have the location nor the money to follow through with this project. That being said, we show some scenes in our pictures and we recently started to make short video clips, bringing some of our pictures alive.
Juergen: Besides bondage scenarios, I've got a distinct fetish for all kinds of tight, restricting and uncomfortable clothing. Therefore, I love women wearing corsets and latex cat suits, but tight clothes made of other materials like leather or PVC works very well for me also. I very much enjoy women wearing tight jeans for instance. Generally I'm open minded and interested in many varieties of the scene, and I'm interested in getting in touch with people who are interesting, dedicated, creative and intelligent. It would give me a great pleasure to exchange ideas, experiences, etc. on a spiritual basis, but I absolutely cannot deal with things like scat play, pedophilia, real torture, or severe body modifications/mutilations etc.
JG-L: How about vanilla hobbies like golf, travel, etc.?
Cordula: I love to read and to watch good movies. Sometimes I just love to do nothing and enjoy the peace and quietness of our flat because I work very hard and long hours.
Juergen: Watching good movies, as well. Travelling, preferably to warm, sunny countries with a low chance of rain (Egypt is very good, for us), if time and money permit. Unfortunately it's hard to fulfil both criteria if you're self-employed.
JG-L: You appear to have a real liking for metal restraints, as do I. Any idea why?
Juergen: Yes, I like metal restraints very much. Like for you, stainless steel is my favourite ... a great material. It is very robust, durable, and you can achieve a variety of great finishing e.g. polished, brushed or ground. As well, metal restraints are unforgiving for they neither stretch, compress, bend nor tear and I also like the sound when they clash together. Their appearance is a great contrast to a fragile woman wearing soft, tight latex clothes.
Cordula: I just find them gorgeous, that's all :-).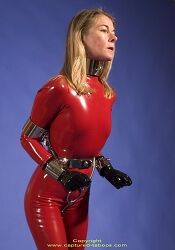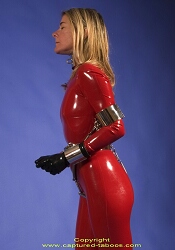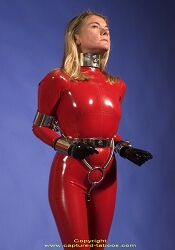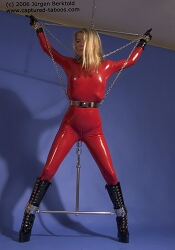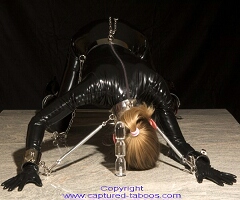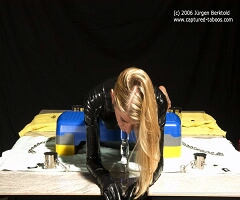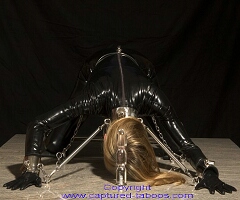 JG-L: Do you have a workshop and build all of the equipment yourself, or do you give someone a general idea and have it made?
Juergen: Unfortunately, I do not have a workshop. Parts of the equipment we have are off the shelf and a few parts are made to measure by builders, but I've made many of the parts myself. I really enjoy building gear, but I'm limited to the things I can create and handle in our apartment. Sometimes our kitchen looks like a workshop for days, and as you can imagine, Cordula is not very amused about that!
Cordula: It is not only the untidiness, but every evening when I come home, I see his progress, and I know that I will soon have to try out his newest experiment. Sometimes I get really nervous about that, almost comparable to stage-fright.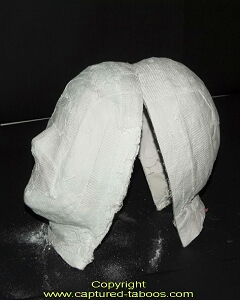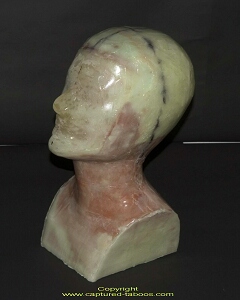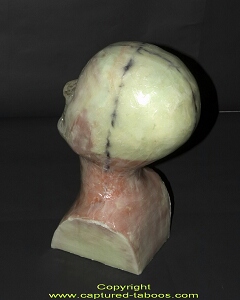 JG-L: Which piece was the most difficult to engineer and build? Has it evolved into other things since it was built?
Juergen: I'm not sure, because different pieces had different challenges. Perhaps the head cage was the most difficult piece. At least it took me the most time, but tailoring the latex-corsets the way I did was quite difficult as well.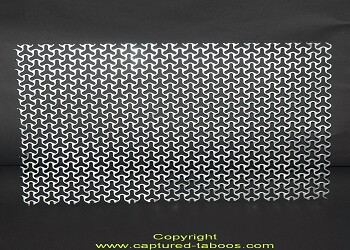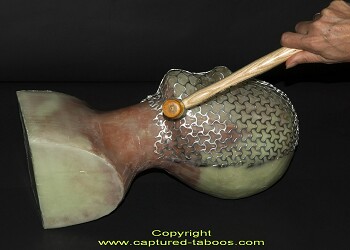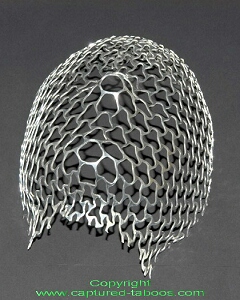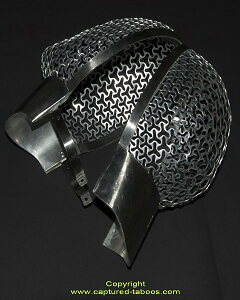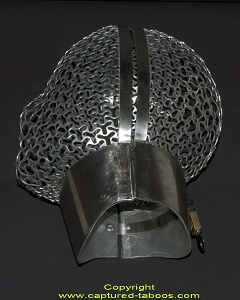 [For a more detailed explanation, please go here.]
JG-L: Who are some builders that you respect and would recommend to have equipment made?
Juergen: John, when I have a look at your incredible collection of high-end gear, I can hardly add builders who are not already listed and recommended on your web site!
JG-L: Which piece of gear gave you the most enjoyment; i.e. your favourite piece, or the one that you are most excited or impressed by? Is it still used?
Juergen: Perhaps that self-made leather harness. I call it the "Geschirrchen". At the very beginning it was just a waist belt with two attached wrist-cuffs and was one of the first pieces I made for Cordula. Initially, my preference for fetish and bondage stuff caused a lot of trouble between Cordula and I during the first years of our marriage, but as time passed, the problems became less and less and the "Geschirrchen" started to grow.
Step by step I added more and more belts until I was satisfied with its appearance and functionality. It is stored in the oldest piece of furniture we've got, my old child's toy box! Thirty-five years ago I used it to store my toys, but nowadays I use it to store adult toys. Perfect! The harness is still in use as you can see on lots of our pictures, but it needs some reconditioning, as most of the rivet's padding fell off over the years.
Cordula: This so called cute Geschirrchen is really a mean little thing! It is so restrictive and tight and I can feel the rivets pressing through the clothes into my skin. For years I begged him to repair the padding but he never did and so I sometimes get the feeling that he loves the thought that these mean little rivets add even more inconvenience when I have to wear it.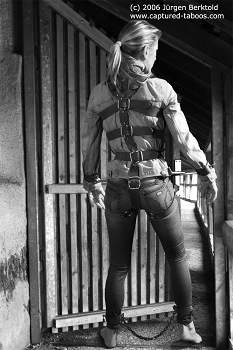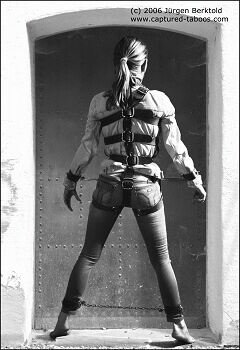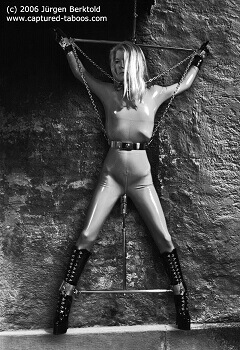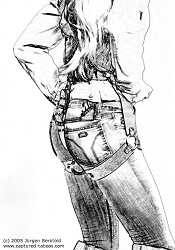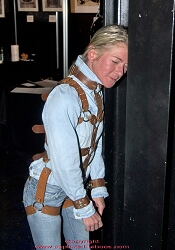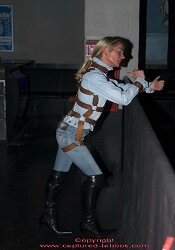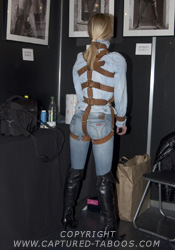 JG-L: What's your philosophy on B&D/S&M and the emotional relationship between partners in a scene context?
Juergen: Our relationship is built on love, respect and tolerance. Right from the start we matched almost perfectly; but when it came down to sex we could not find a common ground ("vanilla meets pervert"). It took us many years of discussions, tears and some pretty heavy arguments, before we managed to find the perfect way that suits us both. To make a long story short; our sex life is absolutely dominated by the kinky style. In our play, we have both found the roles which are most suitable for us as individuals, and certainly for us as a couple, but that's just the sexual aspect. These roles barely affect the other aspects of our relationship. There is no dominant/submissive part in other areas, because we both do housekeeping and cooking; we both earn money, and we decide together how to spend our leisure time (unless it is time again for a session!).
Something that started as a constant threat for our relationship has changed into enrichment for us both. We tend to feel that the BDSM area, regardless of just one or both partners preferring the kinky style, is not an important factor for a successful, fulfilling relationship, so long as there is at least a 'common denominator' for it. Speaking for ourselves; love, respect, tolerance and empathy are the most important factors for a relationship's success. We feel absolutely no urge to extend the principles or roles of our BDSM play into other aspects of our relationship. Nevertheless, without a continued, solid, common ground in our kinky play, our relationship would be sorely affected, perhaps it would even break up.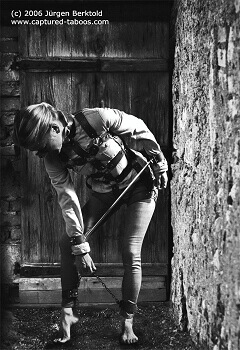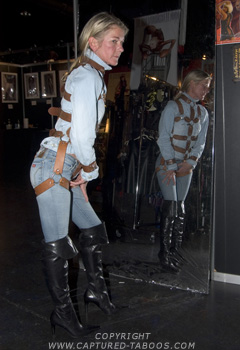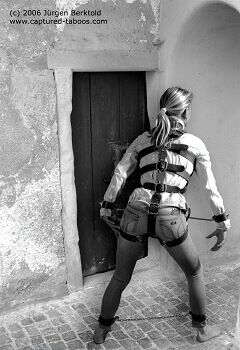 JG-L: The very intensity of B&D/S&M scenes appears to touch on something primeval in the human mind, for both the male and the female. You've obviously tapped into that aspect of our supposedly civilized, but thinly-veneered human nature. Any comments on that view?
Juergen: I would acknowledge that to be true. For me, the (pure) core of B&D/S&M play probably comes quite close to the primeval style of life. In earlier times life was hard and cruel and I imagine that few people had time and sense for things like romance and polite manners. People were more involved in surviving and dealing with dangerous, strenuous or terrifying situations and they also had to find how to handle superior or inferior individuals in a much more profound way than we do in modern life.
Cordula: Sorry, but I think this is a cliché: "Oh, it is not my fault that I feel the way I do! It's because we are all still primates deep down inside, covered with a thin layer of civilization." I don't think that it is that easy, but I don't feel the urge to deal with this question in more detail.
JG-L: Do you have any observations on the reasons why people have an interest in really serious and strenuous situations? Is it a part of the primal, male human condition?
Juergen: They probably need to compensate for their (usually) safe, comfortable and therefore perhaps bit boring daily life. No risk, no fun?
Cordula: I think some people might find that their lives are too cushy and so perhaps they need to deal with sort of dangerous situations, in order to feel alive ... to get in touch with their inner core, literally speaking. But I guess that not everybody with a boring, cushy live will take such measures. I think it is a matter of personality and predisposition.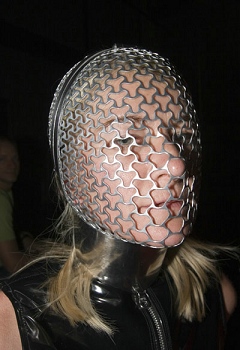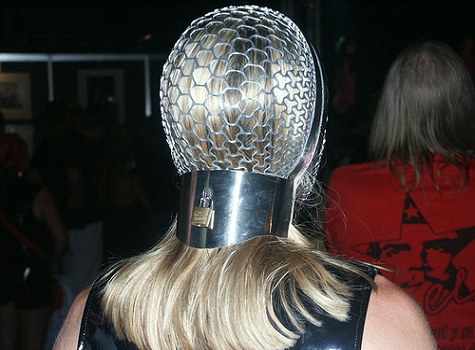 JG-L: Is it just the male that has the interest, or did you find a lot of women with that same mind-set also?
Juergen: To be honest, we do not know enough people to be able to give a statistical significant answer, but we would tend to think mainly male. At fairs, for instance, about 90% of the single visitors are male. It is really rare to see a single woman at our display.
JG-L: We've all heard the expression "Deadlier than the Male." Do you feel that women can be more sexually cruel than men? If so, or not, any idea why?
Juergen: Yes, I would agree to that. Here are my thoughts regarding this (probably bullshit, but you've asked!). Simply spoken, Mother Nature wasn't very fair in splitting sexual roles between the male and female in the way she did. Other than men, women have to deal much more with some unpleasant side effects of their sexuality. Women are regularly reminded at menstruation that sexuality is not just enjoyment, but pain as well. Cordula is one of these unlucky women who really suffers and endures pain during these days. Then, there is pregnancy and bringing a child into the world and that means discomfort and pain as well, but at least on this point Mother Nature was merciful by altering the pregnant woman's brain in a way that she considers the situation as the greatest, most beautiful experience ever. Unfortunately that brain modification is irreversible, resulting in real strange behaviour of formerly pregnant women;-)).
So, women are much closer to the cruel, painful aspect of sexuality than men, and I feel that therefore they might be more sexually cruel because they are acquainted with the relation between sex and pain and perhaps they take a bit revenge on the men as well.
There might be a social aspect as well. For ages, many aspects of women's sexuality were dictated by the male, starting with determining their fashion and appearance (not in a very comfortable way at all times), ending up with incredible cruel things like infibulations (certainly invented by males but surprisingly, carried out by females) and women had and have to suffer and feel pain for sexual reasons because of men's liking. Furthermore, even in our mainly emancipated community, women still have to work harder and be more than perfect to be accepted. It seems that women have learned to answer expectations (regardless whether those are contrary to female's convictions or not) in a most ambitious and perfect way.
Cordula: Well, Juergen forgot to mention that women suffer from "penis envy". Here's my theory: because women do not have their own penis, they try to cut off any that comes into their sight. Therefore they are known to be sexually more cruel than men. I am just kidding! I truly believe that women are deadlier than male when it comes down to protecting a child, but I don't think that women are sexually more cruel than men.
JG-L: Do you use e-stim very often, either in photo-shoots or other occasions?
Juergen: To date, we do not use e-stim in our play at all. We tried an 'E-play' device at a fair a few years ago, with the electrodes just attached to the wrist. We weren't sure whether we would enjoy that sensation more on other parts of our bodies and just to try the device was too expensive for us.
JG-L: That particular experience can be quite unbelievable in its intensity. How far would you take Cordula if she was hooked up in an e-stim situation?
Juergen: Theoretically, as far as she likes for her fun, then just far enough that it isn't pleasant for her any more, but not yet painful, for my fun. I'm not really sadistic inclined and I do not enjoy inflicting real pain on other people, especially not on Cordula! I'm just a little bit mean, that's all.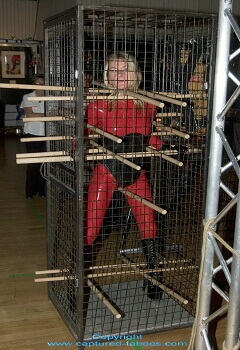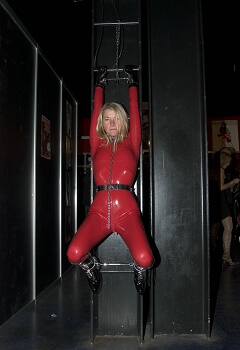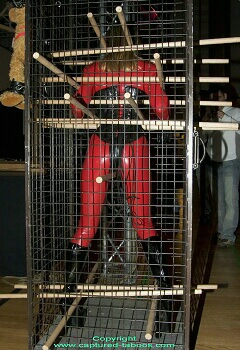 JG-L: Are you on the lookout for other artists (and you most assuredly are an artist) who can inspire you?
Juergen: Definitely I'm interested in other artist's work, and therefore I'm on the looking out for others that can give me ideas. I've found really good ones as well as bad ones, but it's a tightrope walk between being inspired and being tempted to copy other's ideas. Usually, I try to come up with my own ideas, but of course these are certainly not unique and of course are unconsciously influenced by scenes and pictures I've seen in the past.
JG-L: Which equipment and/or situations does Cordula truly hate? Why?
Juergen: Well, Cordula truly hates butt plugs. This cute little hole is a definite taboo! Nevertheless, I'll continue asking her at least once a day if there is a chance or a possibility to get just a very small one placed for a try. Mouth filling gags are an issue as well. We rarely use them, as Cordula gets very anxious if she has to wear one, but I've found some alternatives to keep her mouth closed and to impede speaking! Breath Control is not one of her preferred things as well, and she is a bit scared of any kinds of mechanical devices larger than a dildo. So, having to exercise on the 'AMD' is quite a challenge for her (but she endures it very bravely!). Cordula isn't very amused about her hair sticking to a silicon oil covered latex suit, as well, but she has to bear that :-).
JG-L: Which situations appeal the most to you? Why?
Juergen: Having an attractive, unwilling and a little bit bitchy lady wearing some very uncomfortable, tight clothing, then locking her in any kind of bondage gear, rendering her (in a good looking way), helpless, suffering and immobile until I decide to release her. Why? 'Because!' or perhaps '42'.
Cordula: It might sound strange, but the most appealing moment is to look into Juergen's eyes and see him so happy, satisfied and content after a session.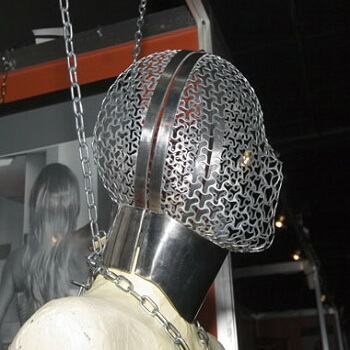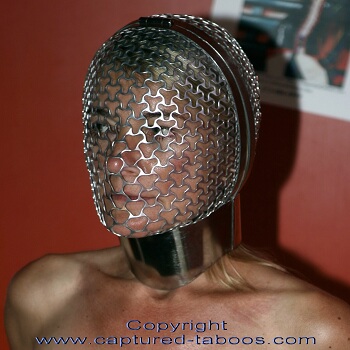 JG-L: I like suspension scenes, as is certainly obvious from my own site. Have you and Cordula ever considered trying something like that?
Juergen: To date we haven't tried something like that, mainly because there is not very much space in our flat and we have to find a compromise between the appearance of our living-room in the kinky and the vanilla world. But for any reason, that self made lamp in our living-room consists of a two metre long, forty-two millimetre in diameter, stainless steel tube attached to the ceiling using three heavy duty screw anchors. No doubt sometime it will come into my mind, why I've build the lamp that way and then, we'll see ;-).
Cordula: I know my own limitations and have a clear understanding of what I am willing to do. Within this range I'll try everything and suspension scenes are definitely within the range. But before we consider trying anything like that, we have to make absolutely sure that the anchors for the lamp won't fail. Whatever we do, security is one of our most important issues.
JG-L: As a designer and creator myself, and I've had it happen ... have you had any truly spectacular failures? What was the most humorous or wacky experience you've had with gear and Cordula? Was she amused as well, after all was said and done?
Juergen: Well, my scenes and bondage situations are not as complex as yours, but sometimes there have been failures. Once, we were really lucky because that situation could have easily resulted in Cordula getting a neck fracture. She was really furious because she felt that I was more "penis driven" than paying attention to her safety. At that time I did not have much experience in playing with a partner that way.
To date, the perhaps funniest situation happened to me – by accident - testing a real torture device. It was yellow, triangle-shaped, about ten cm long and incredibly sticky and lurked deviously for months in a flower pot; supposed to catch these mean little flies that live in the soil. One day - Cordula was just in very moderate restraints – we were playing on the carpet, and while in action we accidentally moved too close to the flower pot and my hair got stuck to that ultimate torture device. You have to know that Mother Nature gave me 'Krusty the Clown' like hair (not in colour but in shape) and so it looked completely stupid and Cordula had a hard time separating me from this torture instrument.
Cordula: He always hated those little yellow things, and so they took revenge. One more thing: one day Juergen tried to build a latex hood for me, but the outcome was questionable. It was perfect for Halloween or for a job in a haunted house, and luckily it had no openings for my eyes so that I didn't have to see myself wearing it.
JG-L: Juergen, I know you've got a lot of gear, but what piece(s) do you not have, and would like to?
Juergen: Well, the list of stuff I do not have but I would like to is almost endless. One of the next pieces for Cordula might be a properly fitting latex hood, perhaps made by 'Rubber's Finest', if we can afford it. I don't think I will attempt to make another of my own. There are very concrete plans for some new, fancy self-made bondage stuff, as well! I hope to finish the projects by May, 2007 because we would love to show our new toys at the BoundCon IV in Munich.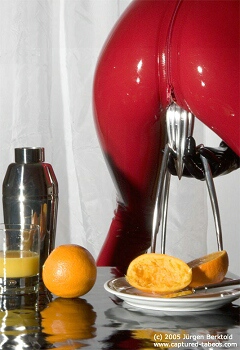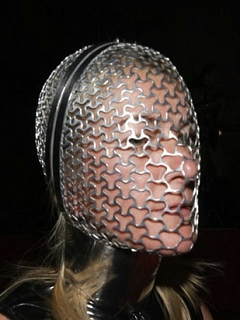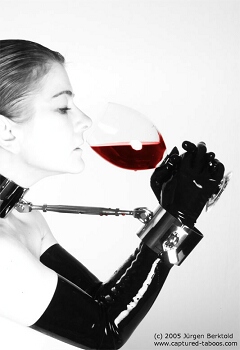 JG-L: Do you have any words of wisdom for people who are interested in truly strong and serious bondage? What advice can you give those who want to try your bondage ideas?
Juergen: Besides becoming familiar with and obeying the general rules of B&D/S&M play, there are a few recommendations resulting from my experience: Arrange a play session only as complex as it has to be so that it'll work for you. Do not be tempted to overload a session, because you'll likely lose the focus, resulting in being very busy with getting all the stuff working, instead of focusing on your sexual arousal/enjoyment.
VERY important if you're playing with a person you REALLY love. I believe that all kinky people have their own 'brain-movies' and from my point of view, the contents of these brain-movies are often the ultimate exaggeration of all the things and situations that give you sexual enjoyment. When you are planning a real-life session, you might be tempted to get as close to its brain-movie version as possible, but at this point you might find that the feeling of love towards your partner is rather counter-productive than helpful. Many times I've planned the plot of a session, assuming that I would be able to suppress my feelings for Cordula for its duration, thinking that this was a good way to shift reality a bit closer towards the brain movie side. It never ever worked. After a few minutes I always got a bad conscience, and so began to either reduce the duration or the intensity of the scene, which finally led to disappointment. You have to face the power of love!
JG-L: Juergen, I recognize you as strictly a 'top', whereas I'm a switch (but certainly not a bottom) and enjoy both sides of the coin. Do you think players should get a personal knowledge of both roles, or just understand that empathy is probably the most important word and ingredient in any scene and role?
Juergen: I'm a very curious person and I always try to get a sense of the things I'm demanding from Cordula. I try to test or simulate situations or gear on myself, but one has to be aware that people are different and many things you considering OK for yourself, might be felt very differently by your partner. For example, I've tested mouth filling gags as well as butt plugs and considered them to be OK, but for Cordula they didn't work at all. So, whether you have personal knowledge or not, empathy is very important!
Cordula: For me, trust is the key. It is not so important that Juergen has tried or simulated the situation or gear and actually, I think these tests are just an excuse for having fun on his own! :-)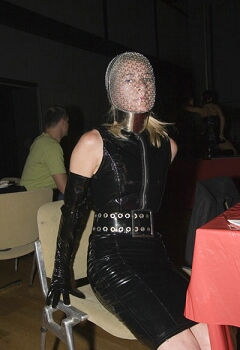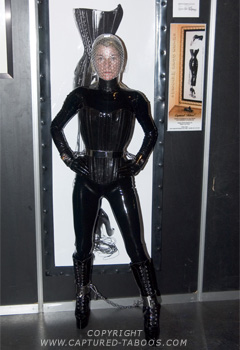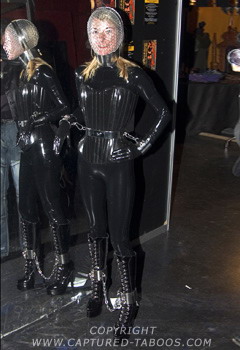 JG-L: Do you think women enjoy B&D and S&M, particularly your style, as much as men do, watching them in it? Any ideas as to why or why not?
Juergen: My style of B&D and S&M is a very 'clean', aesthetic one. I am always trying, independent of having a photo session or just playing privately for fun, to achieve an optically attractive scene, and I always try to make Cordula look and want her to feel as beautiful as possible. Perhaps that appeals more to women, but certainly for many males, that concept might be too clean; too stylish and not enough authenticity or a real life feel. At fairs, we have experienced a couple of times, that some of our pictures had more appeal to the female part of a couple than to the male.

JG-L: Juergen and Cordula, thanks very much for the interview! We all wish you the very best and continued success!
Juergen: John, thank you very much for your interest in us, in what we do and for giving us the opportunity to become a bit better known in the kinky community. We're looking forward to meeting you personally and hope there will be an opportunity soon. In the meantime we wish you the very best!
Many thanks to Richard who gave us the hint that you were interested in getting in touch with us. Without him, we would perhaps never have made contact and we would deeply regret that.
To all readers of this article: If you've any questions, comments or suggestions about or for us, our work and our web site, please do not hesitate to contact us (info@captured-taboos.com), for your feedback is most welcome! We hope you've enjoyed the interview/article and the pictures!
- END -