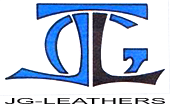 *****************************
JG-LEATHERS - ARTICLES
- PAGE SIXTEEN -
MY TRIP TO GERMANY, THE UK AND PARIS - PART ONE
*****************************
- 22 December, 2005 -
This is the first of a two part article on my trip to Germany, the UK and France. It was a huge success in all respects and despite the exhaustion after the fact, I had a wonderful time reconnecting with old friends and making new ones.
I started off from Vancouver on the 23rd of November, hopping over the mountains to Calgary to see my friends there, and I stayed with Steffy the Rubber Doll overnight. For a change, the weather in Calgary was quite mild. The pix below were taken during Pupett's visit back in September.
- 23rd November, 2005 -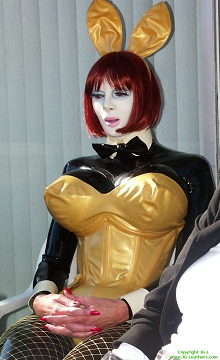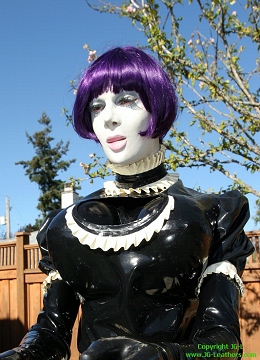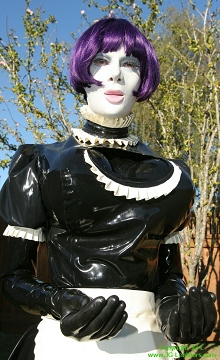 The next day, 24th November, it was back onto a larger silver bird and off to Frankfurt; about a 10 hour flight that ended with me arriving there at 11:15 on the 25th November. I cleared Customs and Immigration without hassles and was met by Corinna and Frank; my hosts in Frankfurt. It was colder than Calgary and there'd been a slight snowfall overnight, as can be seen by the picture below.
*****************************
- 25th November, 2005 -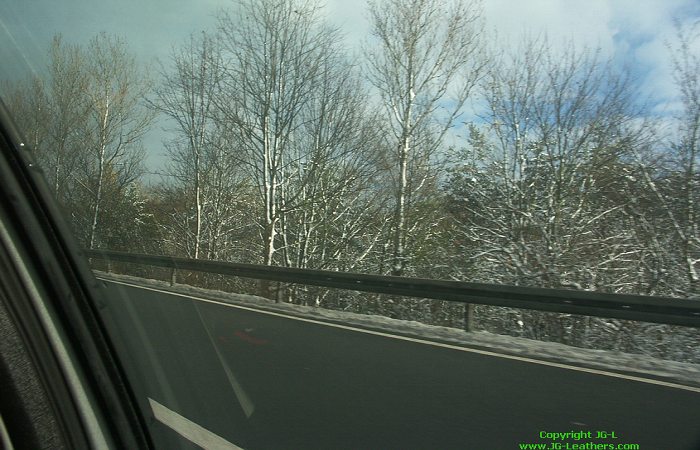 We enjoyed a great home made pizza, and my friend Absolutist had stayed in town to say hello. It was wonderful to see him again and of course I prodded him about continuing his story "An Unorthodox Life". Jet lag soon smacked me upside the head and I fell into bed with happiness that the damned thing was not moving and there wasn't a background rumble of engine and flight noises.
*****************************
- 26th November, 2005 -
The next day I was off to Stuttgart on the train, having spent extra money on a First Class seat. As matters turned out, I had the compartment AND the entire first class carriage to myself.
Everything you've read about German trains is true. They're clean, efficient, on time, smooth, and fast. I was impressed and would recommend a train trip while in Germany to anyone.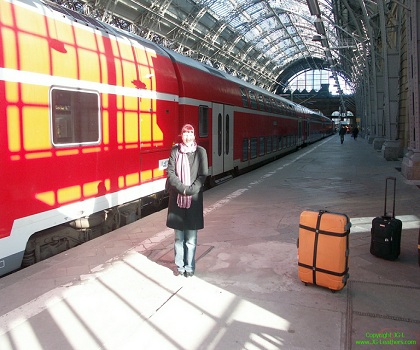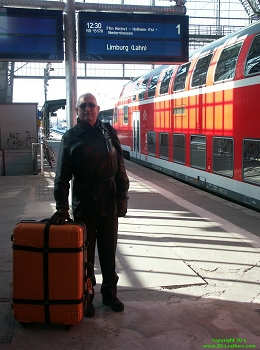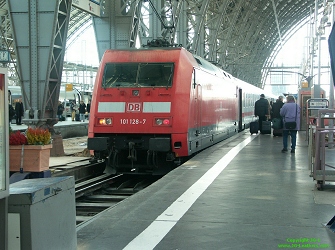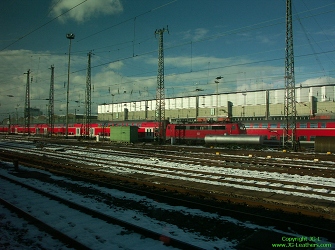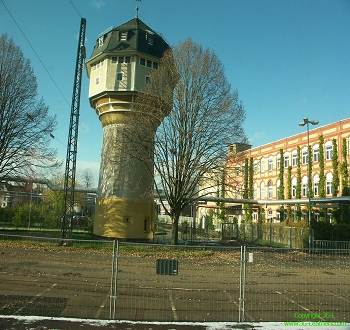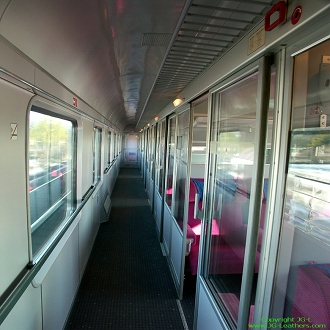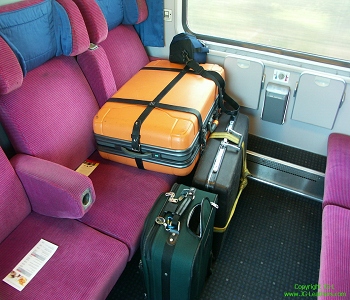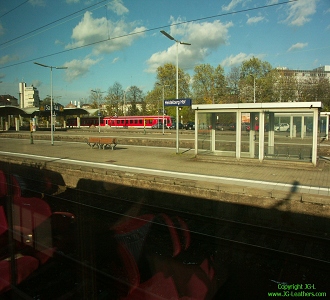 Matthias met me at the station and we were soon off down the highway to Aalen, about an hour's drive to the north east of Stuttgart.
Being somewhat wicked, I was allowed little rest (but time for a beer!), and so after getting the suitcases loaded into their home, I re-packed everything into a slightly smaller container, then an hour and a half later, we were off down the highway to Munich, a two hour drive.
We arrived at the Kitty Cat Club around 7:30 pm and recieved a very warm welcome from Steve, the owner, and his lovely wife. We socialized with the growing crowd for an hour or two, then it was time for me to get changed into my favourite costume, The Creature. On the right below is Pupett's best friend, Lady Phyllis (soon to join the German Army), and in the middle I'm relaxing in the bar area. Mistress Steffi enjoyed a quiet cigarette while I got ready.
I'm very much obliged to point out that all of the following pictures were taken by various photographers present at the Kitty Cat Club that night and were freely given to me for use on this site. They also retain copyright, over and above my own use of the images, and I wish to thank them all collectively for being so kind.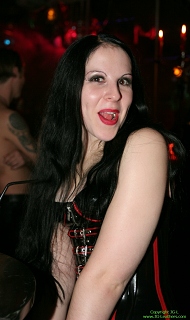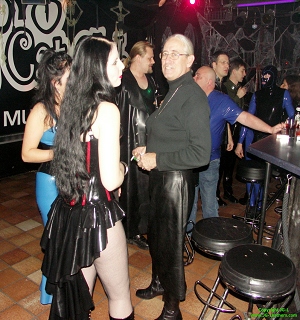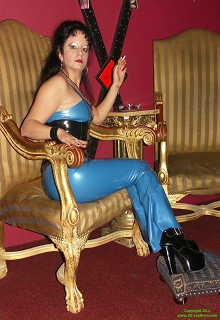 As you can imagine, The Creature is a time consuming, detailed costume to get into, and Steve very kindly provided me with a quiet area to get dressed. About an hour and a half after I started the process, I was fully ensconced in the costume, then made my 'grand entrance' on a leash held by Mistress Steffi, who remained in control at all times, ensuring I didn't stray off and get into situations I shouldn't have.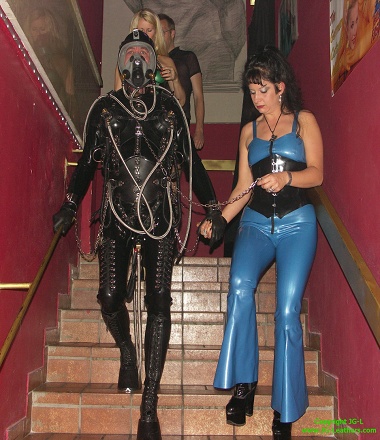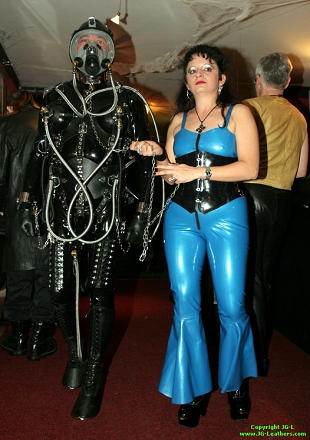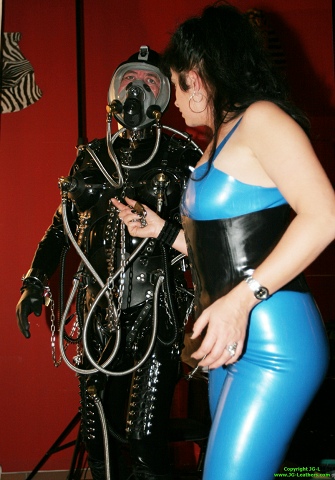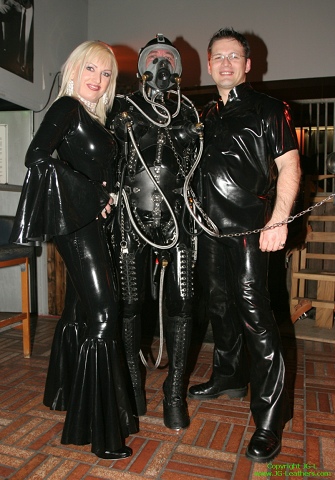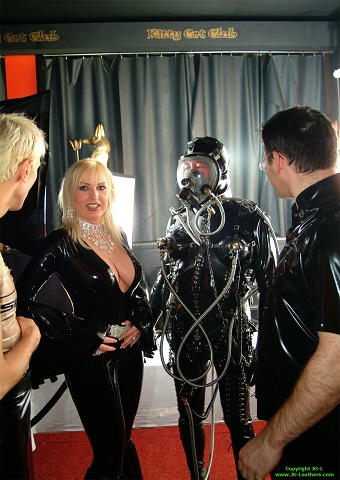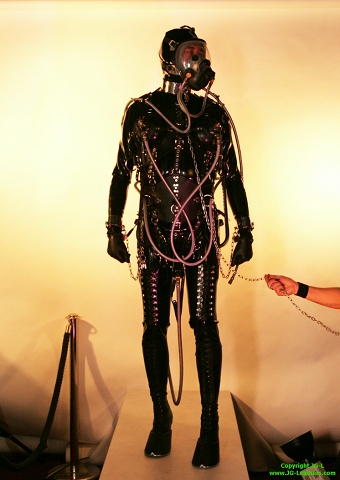 I suppose it's obvious that I enjoy the stares of shock and/or fascination that TC attracts, and this time was no different, but too, I wanted to see all of the beautiful costumes of the other folks in attendance, and there was an incredible variety. Certainly, I've 'been around the block' a few times, and seen a lot of different outfits, but I continue to be amazed at the creativity that people have when indulging in our hobby and life style.
Naturally, people respond to TC in different manners and I was asked to pose for a series of pictures, and so being a ham (or large pork roast in the view of some), I happily agreed. Some very skilled photographers were soon doing all sorts of interesting things and below are samples of their work.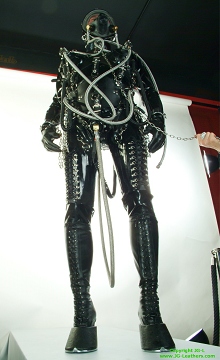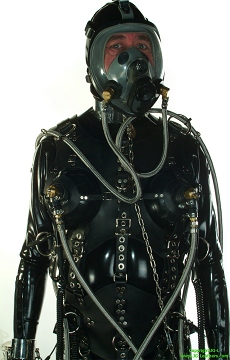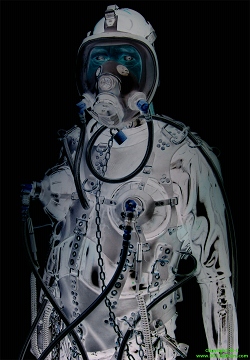 As always at parties like this, there was a lot of laughter and different kinds of fun happening, with Pupett and Matthias were amongst the happy revelers. The lady can only be described as a beauty; both physically and in her attitude towards life. Matthias is a dedicated craftsman and artist, and if you haven't yet visited their web site, I recommend it MOST highly. It'll be money well spent, should you elect to purchase a membership.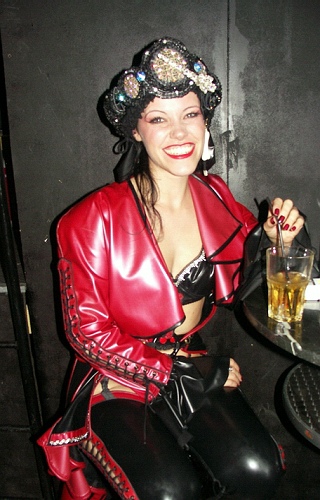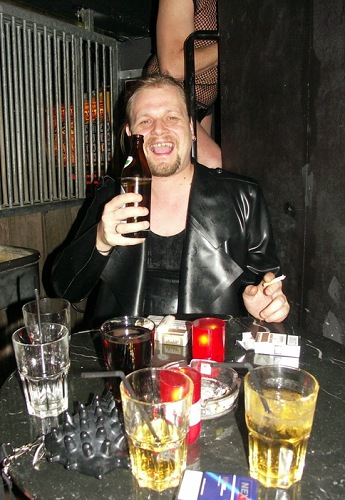 A new toy had recently been added to the already large number available at Kitty Cat; this being a vertical vacuum bed frame, and naturally, Pupett, being the adventurous soul she is, couldn't wait to give it a try. A full picture spread will probably appear on her web site in the near future.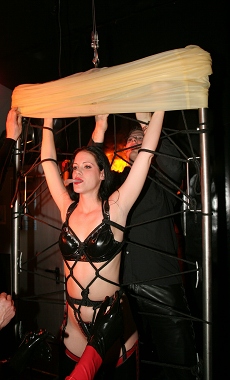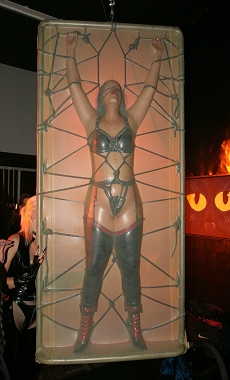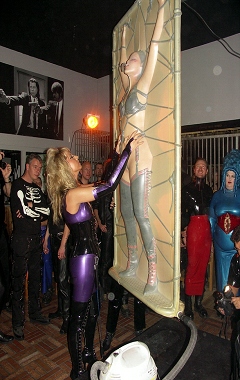 During the course of the evening, Thomas Hammerl of Marquis Magazine and I sat down for an interview in a quieter area of the Club, and we took a few pictures along the way. The interview will be appearing in the next issue of Marquis
That wasn't the end of the picture taking though! I was soon invited into the 'Medical Room' where we had a few more laughs with the obstetrics chair. Pupett and Mistress Steffi got into the act, then Steve decided to join us.
*****************************
- 27th November, 2005 -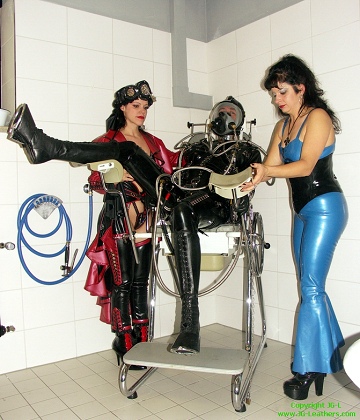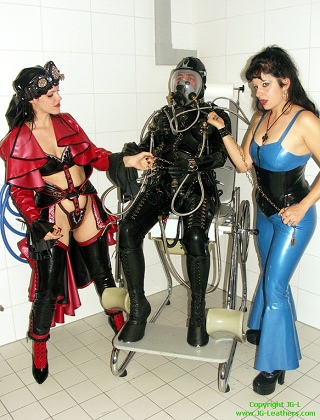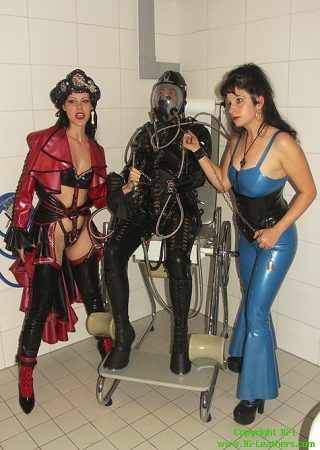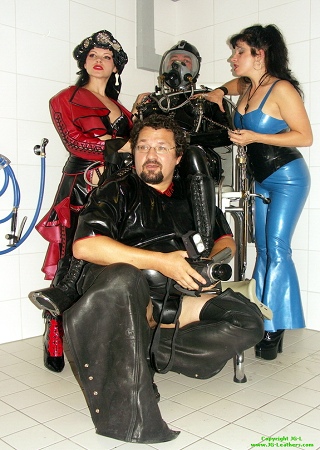 We managed to look suitably impressed with one another's evil intentions, and I was quite happy to just sit there and let all the stuff happen around me. What more can one ask than to be surrounded and pampered by beautiful women?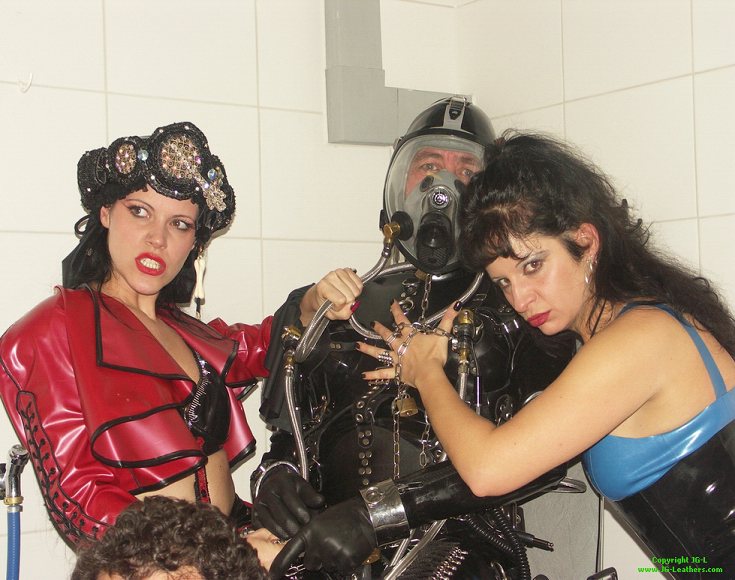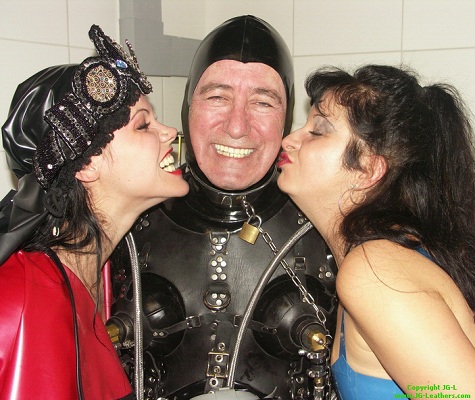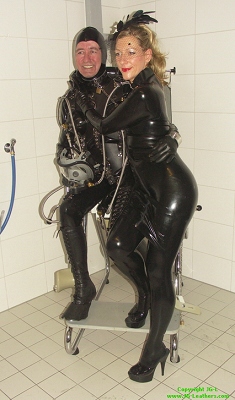 We all need a little encouragement along the way and so, as can be seen by the idiot grin on my face, I enjoyed myself a lot with all the attention:-). However, the above being said, there was a lady I wanted to meet ... Lacie of the phenomenal corsetted figure. and we finally had a chance to get together, even though only briefly.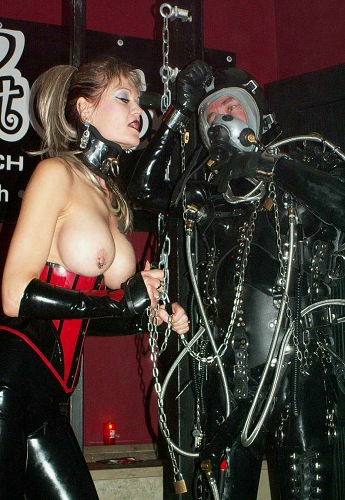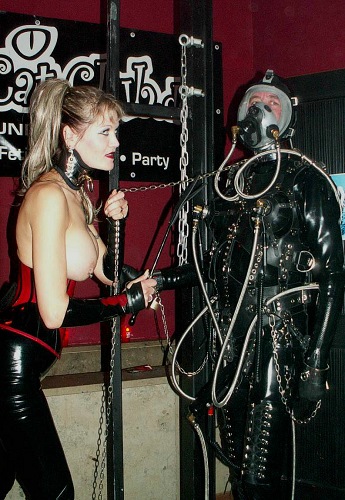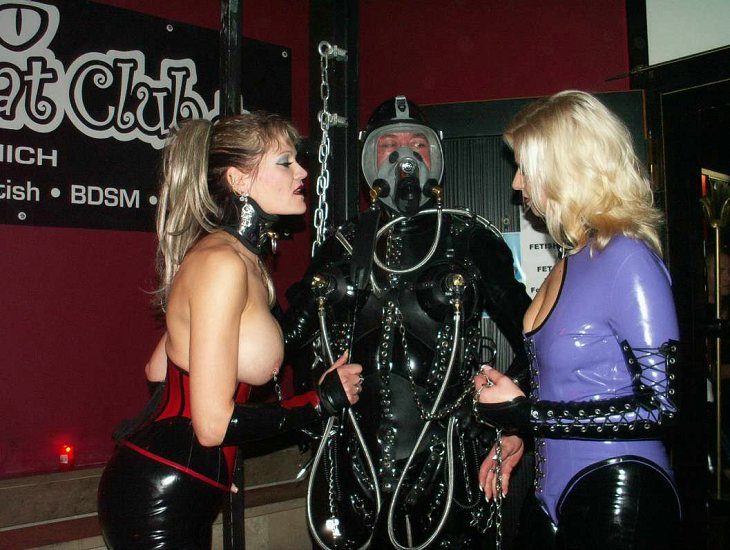 By about 05:00 in the morning, I was pretty well fried, having been in TC since 10 pm the previous evening and so I extricated myself from it then showed up at the bar for a couple of badly needed beers and cigarettes. Calls of nature in TC are an involved and difficult process, and smoking can be onerous, even without the gas mask.
We finally closed the club down at about 06:45 am on the 27th and were all exhausted to the point of idiocy. It had been a truly wonderful party, thanks to all of my friends, both old and new, taking care of me. The level of friendliness of all the attendees was incredible and I have to thank Steve, his wife and all of the super staff at the Kitty Cat Club for making my time there so much fun.
Steffen, the creator of the E-Play, a, remote controlled e-stim machine, lives close to the Kitty Cat Club and very kindly allowed an exhausted collection of kinksters to bed down at his place for a few hours before we got back on the autobahn for the 2 hour drive home to Aalen.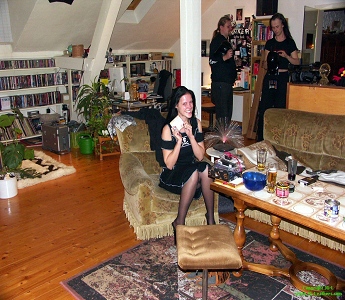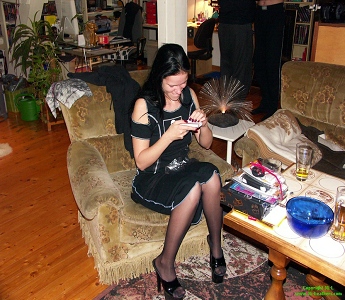 Matthias and Puppet have a wonderful and very friendly home. It's the loft area of a large building and they've personalized it beautifully to make it their very own space ... a welcoming place to live and work. I was very glad to have the quiet time with them when we finally arrived, and began decompressing after a pretty strenuous couple of days.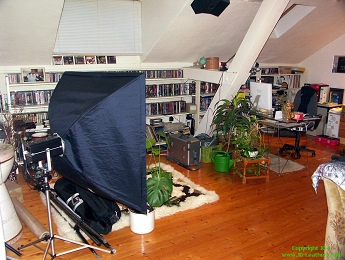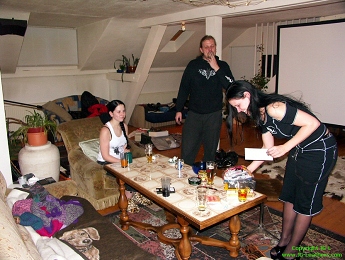 Their home is airy and open-concept and so allows a lot of freedom. I loved it. If you write to Pupett, you can see, in the left picture, upper right corner, where she replies to you and does all of the wonderfully creative things she does on the computer. Our lives however, were only quiet for a short time, before the next day arrived, Pupett's birthday, and the party that came with it.
*****************************
- 28th November, 2005 -
I seldom get invited to birthday parties for folks younger than I, and so it was a distinct pleasure to meet all of the friends that came for her party. This being said, I wasn't entirely alone in my age group, for Joerg, a friend I'd met a couple of years previously in Kehl at Zoom-Bizarre, drove two and a half hours from Frankfurt just to say hell and to reconnect. I truly appreciated him coming, if for no other reason than to have someone with the same tastes and frames of reference.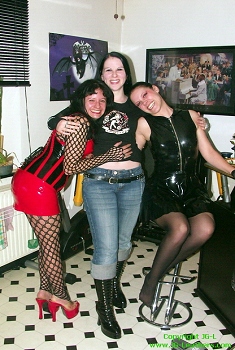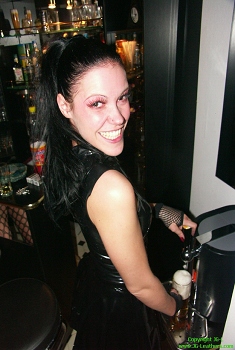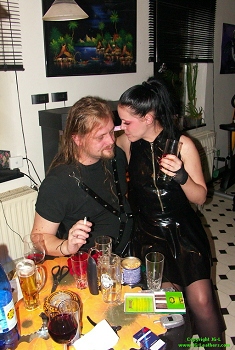 Matthias told me that he'd purchased something special in honour of my visit and to make me feel right at home, and of course I was curious. As it turned out, he'd bought a beer keg machine, and in the middle picture above, Pupett is filling a glass for me. What more can a wandering kink ask? :-)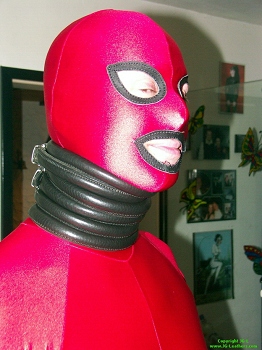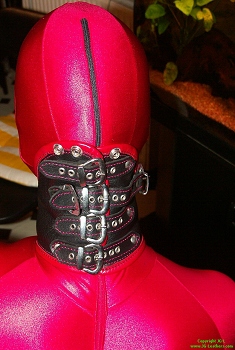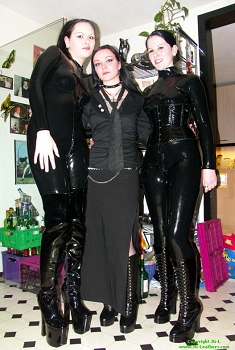 Joerg was soon dressed in his Zoom-Bizarre, Spandex body suit and a specially designed posture collar called 'The Giraffe', then I got to meet some of Pupett's Goth friends. Nice folks for sure, and I didn't let the predominantly black clothing and different make-up scare me off.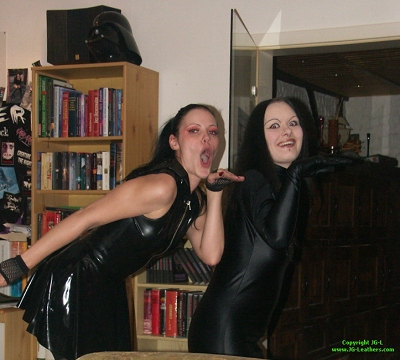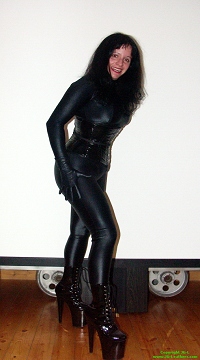 Above ... things began to get a little silly sometime around 3:00 am, then it was time for another drunken photo-shoot by me of Mistress Steffi. She's a nicely evil lady who can hold my leash anytime she wants to:-). Around 4:30 we all called it a day and hit our respective beds. It had been another great party.
*****************************
- 29th November, 2005 -
Eventually, the next afternoon, we all surfaced and climbed back into the car to head off to Kehl, about a two and a half hour drive. Kehl is just across the Rhine from Strasbourg, France, and we were going there to see my very good friends, Thomas, Gabbi and their dog, Sammi. We arrived at about 7:30 pm, and immediately began yet another, but MUCH smaller and more intimate party. It had been a couple of years since I've seen Thomas and Gabbi and it was a great reunion.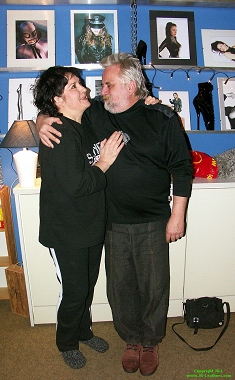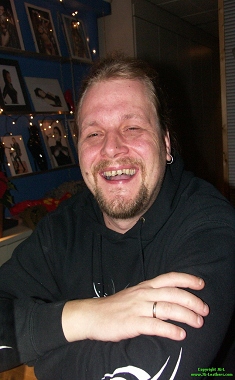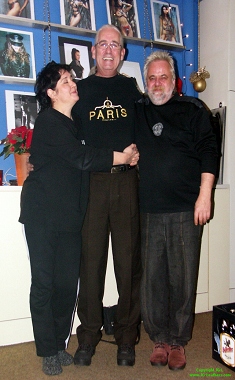 Somewhere around 2:30 am we closed off the night and staggered down the road to our accommodations a couple of blocks away. The sleep of the just (or terminally silly) came quickly and we were out for the count.
*****************************
- 30th November, 2005 -
I woke up earlier than everyone else and so after inhaling a couple of cups of coffee, decided to go and do a little exploring despite the chill of the day. I'd never had a chance to explore downtown Kehl and so it was interesting to just go out and mix with the local folks, then after that, head back to see Thomas and Gabbi again.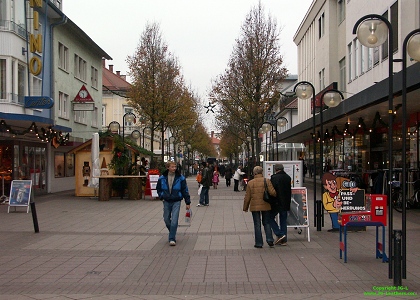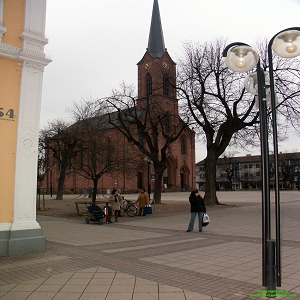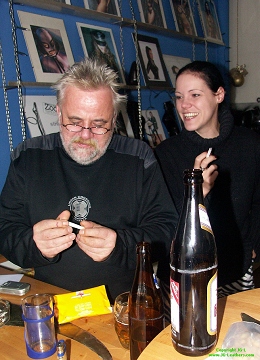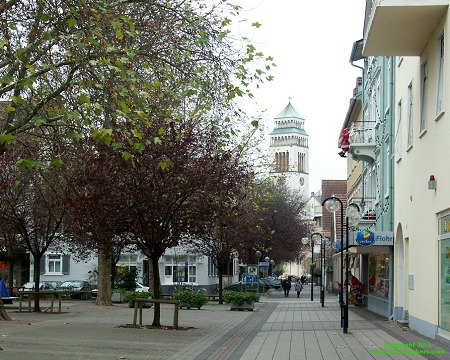 We stayed in Kehl until about 3 pm, then began the drive back to Aalen, having to pass directly through the centre of Stuttgart at rush hour. THAT is not something I recommend to anyone, for it is unending traffic gridlock, and took an hour and a half to move about 3 km. Eventually we got clear and stopped at Kuntzman (rubber manufacturers for many years) where I bought a pair of low heeled shoes, some full length rubber gloves, and a really nice full rubber skirt (yeah, I know, I'm weirtd, but what the hell). When we got closer, we stopped for an excellent Thai dinner at a little town (Schwabisch Gmund) just west of Aalen, finally returning to Pupett and Matthias' place around 10 pm. It had been another long day.
I repacked the suitcases and decided to send the large orange one to Paris by courier company, and Matthias gaciously made all of the arrangments. To carry it to Manchester then back to Paris was going to be extremely costly and really, there wasn't much point. I'm very grateful to Matthias for making all of the arrangements.
*****************************
- 1st December, 2005 -
The next day, it was off for the final two hour drive, to the Munich Airport. It was fairly mild, but extremely foggy all the way, so I took only a couple of pictures. Once we arrived, I checked in, got my seat, then said good-bye to Matthias and Pupett, two extremely nice people that I count as close friends.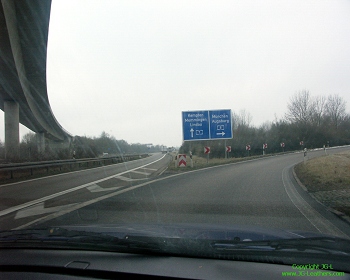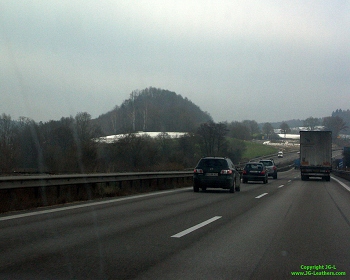 And so, that's the end of this First Part of my trip Article. The second will be up-loaded sometime soon.
*****************************
JG-LEATHERS ARTICLES ARCHIVE PAGE IS HERE
- HOME PAGE -