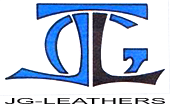 *******************************
JG-LEATHERS -ARTICLES
- PAGE THIRTEEN -
ADVENTURES WITH PUPETT & MATTHIAS: Part Five
******************************
- 28th Sept. - 05Oct., 2005 -
On the morning of the 28th September, we loaded the van and were soon heading east out of San Francisco, up the I-80 towards Sacramento and further adventures at Travis' place. It's a short drive though some interesting country, and within two hours we'd arrived. It took a while to get settled, but the kink marathon soon began. Travis has an amazing assortment of toys, but takes special pleasure in the MAXCITA straight jackets and body bags, collected during the past couple of years.
Pupett had never tried anything like these and so we soon were embarked on a familiarization course, much to both her and our delight. I think her smiles say it all.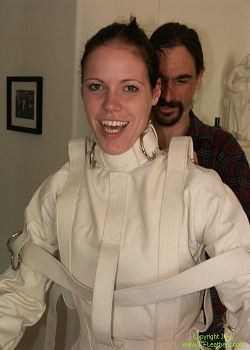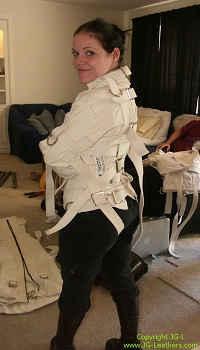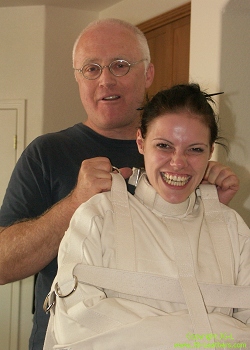 Of course matters didn't stop there! Travis soon opened up the play room and THIS is what a home dungeon should be, in my view! The room is virtually nonexistent to any but the most observant visitor,and even then, you'd never know it existed. Once inside, it's something to behold. He's spent a small fortune to frame the entire inside of the room with a specialized, extruded aluminium frame of exceedingly wide versatility (80/20). Literally anything can be created from this system, and she has shown no lack of imagination.
Pupett was soon cocooned in the canvas body bag, then soon after, hung up for a short nap, then after the initial experimentation, we decided to relax outside with a few drinks, and just enjoy the hot weather and sunshine.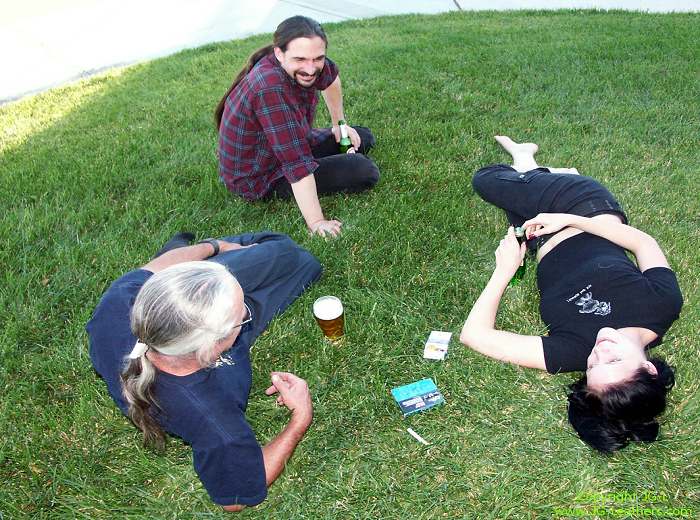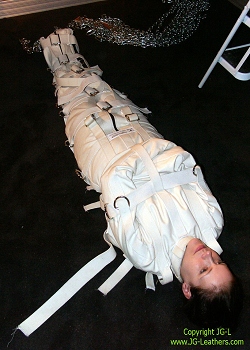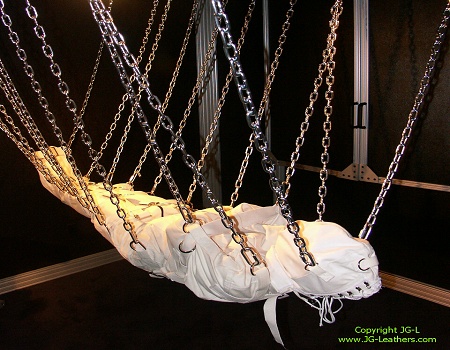 Things got considerably sillier from then on and although lots of pix were taken, my own exertions over the days past came home to roost, and I faded off to sleep while Pupett, Mark, Travis, and Matthias continued into the wee hours of the next morning. Apparently, Pupett ended up in other even more interesting scenes, but you'll have to visit her web site to discover just what transpired.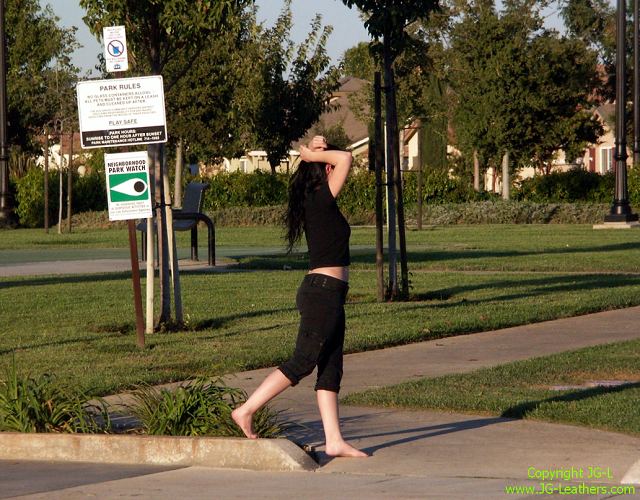 The weather in Sacramento was outstanding ... hot, dry and clear skies. Pupett went for a walk, then came inside to check out the ventilator Travis has, employing it for play with his coffins and other toys.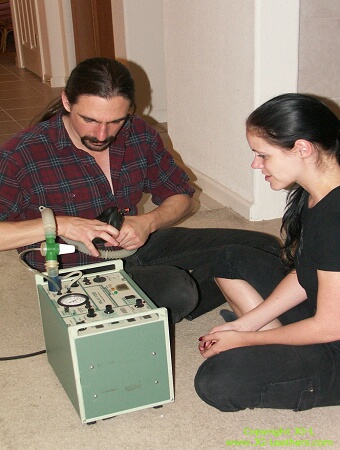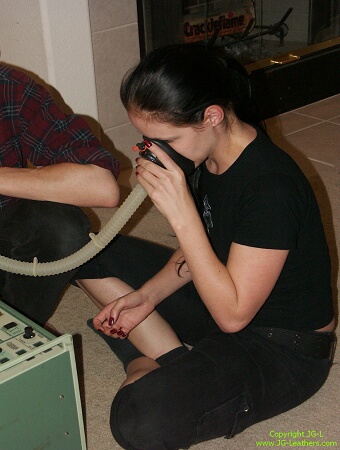 *******************************
- 29th Sept., 2005 -
Being a fan of steam locomotives, and in Sacramento with some free time available, I HAD to go to the railroad museum, and happily, Matthias, Pupett and Mark found it to be of interest also. First came a break out on the lawn again, then it was off to Old Sacramento and the museum, Pupett being properly attired, of course!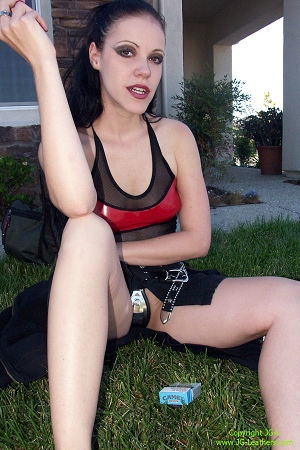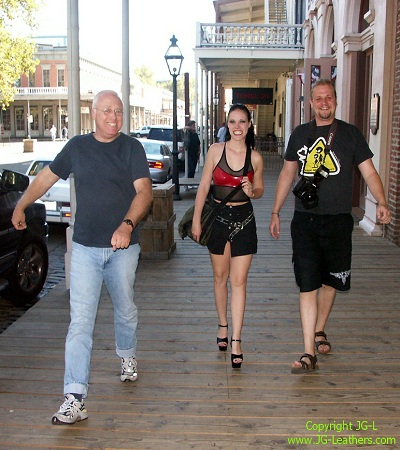 The wooden sidewalks proved a bit of a challenge for Pupett, what with wearing the high heeled shoes, but she navigated them successfully and we were soon inside the barn-like museum.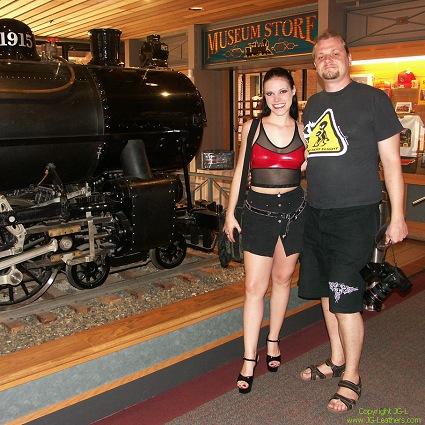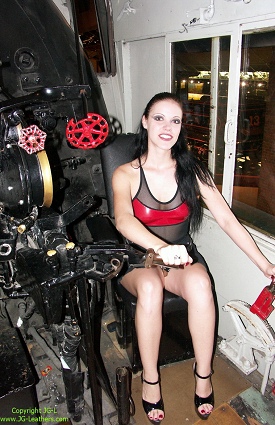 Here they are in the entrance foyer, then above, Pupett in the engineer's seat of the huge, cab-forward locomotive. The locomotives at the museum are massive, as can be seen with the pictures of Pupett beside them and although this imagery isn't kink oriented, it gives some idea that we have other interests than strictly scene ones.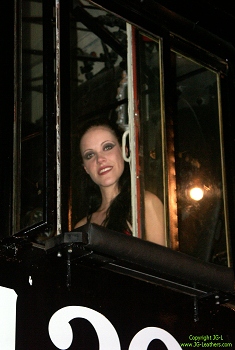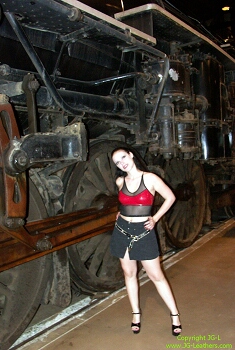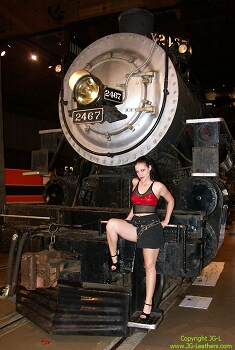 It was a fun excursion and we returned to a restaurant near Mistress P's place and enjoyed a great Italian dinner. Some other silliness followed with more imagery being taken, then it was time to pack the van once more, and early the next morning we headed back up Interstate 5, arriving at the House Of Gord a little after midnight.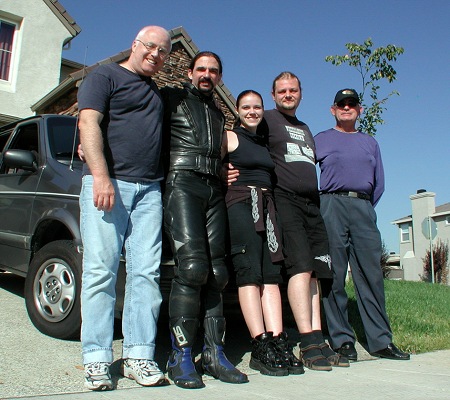 The motley crew just before we departed northward along the I-5, Mark back to San Francisco, and Travis to San Jose. What a great time and a great bunch of super friendly hosts. Thanks so much to them all.
*******************************
- 30th Sept., 2005 -
The next day was one for rest and relaxation with Gord and my friends from Germany getting to know one another a little better. Later that evening, we all sat around and gorged ourselves, then watched the latest Gord DVD, Room 237. The below images are used with the permission of Gord, for those of you who are interested.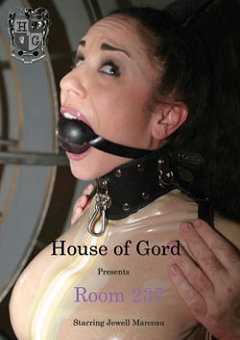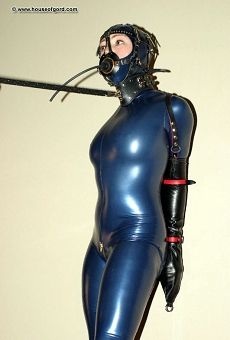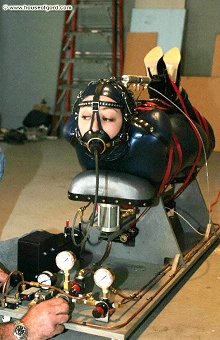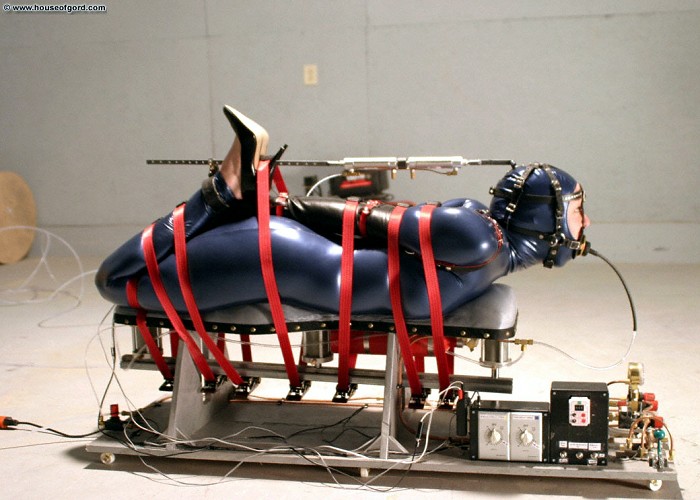 "Three succulent women check into Room 237, but they never check out! These unfortunate damsels happen to meet the specifications of three slave collectors who know exactly what they want. Watch as these spirited women are transformed into perfect sex slaves suiting each collector's specific diabolical desires, then packaged for transport and shipped to their new owners."
The video has some incredible Gord machinery and bondage situations in it, yet has a light hearted tone that makes it a lot of fun. Pupett said that she wanted Gord's autograph and being the ass man he is, he insisted on giving her a most personal note. She was, of course soon in her chastity belt and even further fun happened, as can be seen below.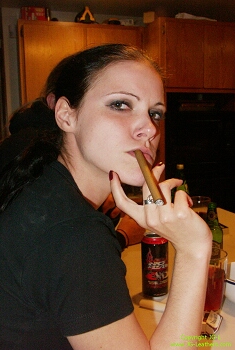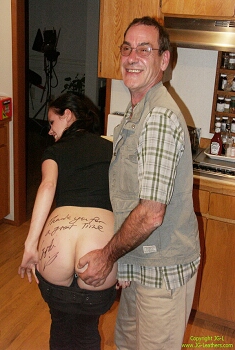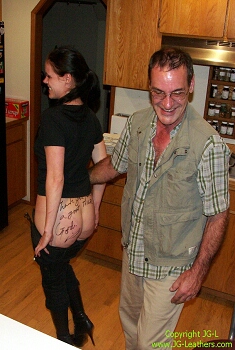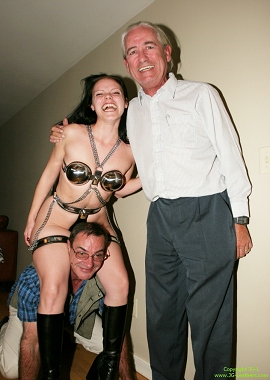 The next day we got back on the freeway, and four hours later returned to Canada, the three of us pretty well fried by an exceedingly busy and fun ten days on the road. From then until they returned to Germany, we all slept late each day and caught up with the real world.
*******************************
- 5th Oct., 2005 -
As with all good things (and the visit by Pupett and Matthias was most assuredly a good thing!), they come to an end. On the 05th Of October, we sadly took them to YVR and saw them off after one last cigarette (Ein fur die strassengraben - the extent of my German language skills and means, quite literally: 'One for the ditch.').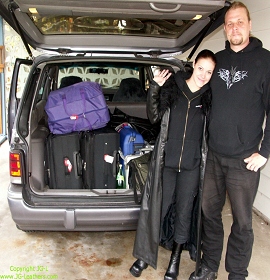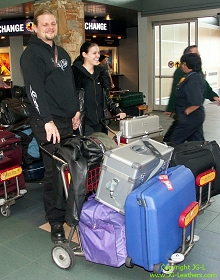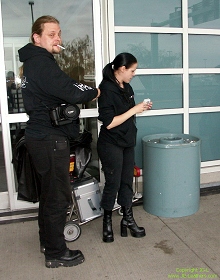 It had been a hell of a visit! My wife and I, and all of my friends enjoyed the company of both Matthias and Pupett immensely. They're nice folks in the truest sense of the word, and it was a real pleasure to show them what to my mind are the nicest parts of the northwestern part of the continent.
And so folks there you have it, a brief synopsis of the 21 day saga. Please check the Pupett web site and that of Gord for more detailed photo and video sequences. You'll not be disappointed.