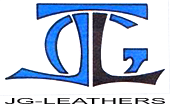 *******************************
JG-LEATHERS - ARTICLES
- PAGE ELEVEN -
ADVENTURES WITH PUPETT & MATTHIAS: Part Three
******************************
24th-27th Sept., 2005
From the morning of the 25nd September onward, events continued at a hectic pace. We got some minimal rest and recovery in after the long trip (Matthias and I split the driving) and when we finally surfaced at mid-morning, plans were already afoot for the next mad fling. We spent the afternoon getting supplies in (for me - beer, chocolate and peanuts), then it was time to get dressed for the event at The Citadel, and off we went.
- 24th Sept. -
Pictures were not permitted at the party, but after the event we stood around on the sidewalk and had a few taken. Gord and Petra made quite the couple and Pupett and I provided a contrast to them. Both ladies are very beautiful and attracted a ton of attention, whereas I, on the other hand, appeared only as the non-local weirdo :-).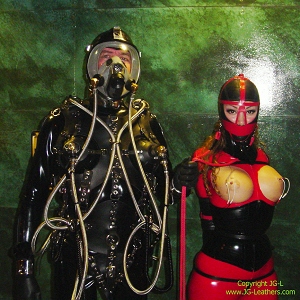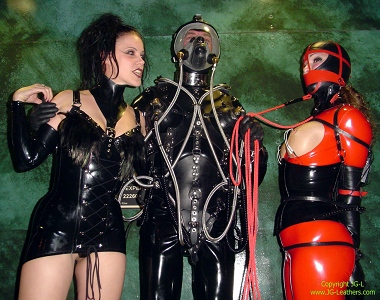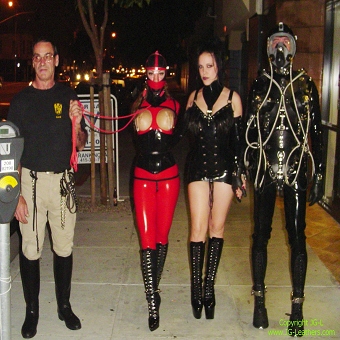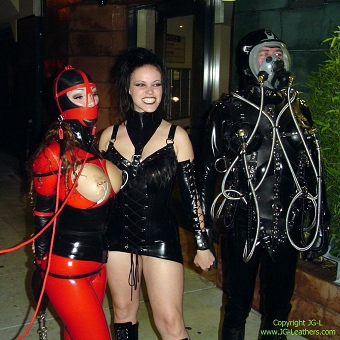 It was a lot of fun at the party, but by one o'clock in the morning, we were pretty well done for the day and so all piled into Mark's small car and off we went to his place.
*******************************
- 25th Sept., 2005-
FOLSOM STREET FAIRE DAY
The next daylight came far too soon, but we got right back at it around 10:30, getting ready to head downtown to the Faire. Mark's home turned from a civilized environment to one that was awash in kink clothing, partially-clad and some naked bodies and interested on-lookers.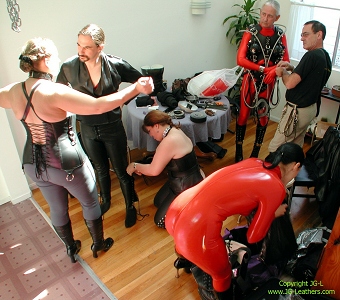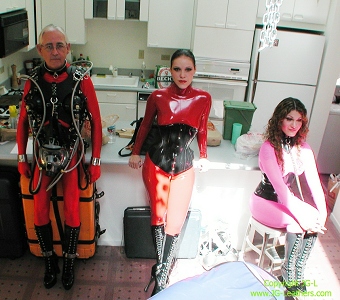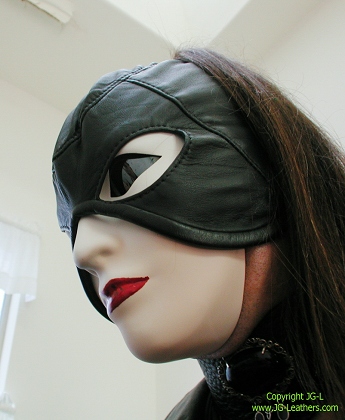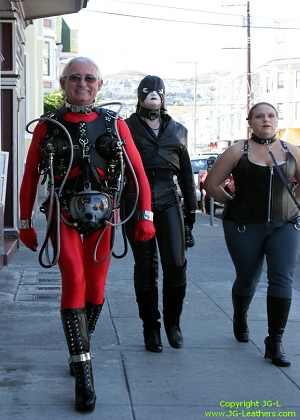 Mistress P was ready and what an incredible sight she was, then off we traipsed down 24th Street to the Muni streetcar stop at Church Street. We had to wait for the next train to show up and surprisingly little reaction took place, but hey, it IS San Francisco, and it WAS Folsom Street Faire Day.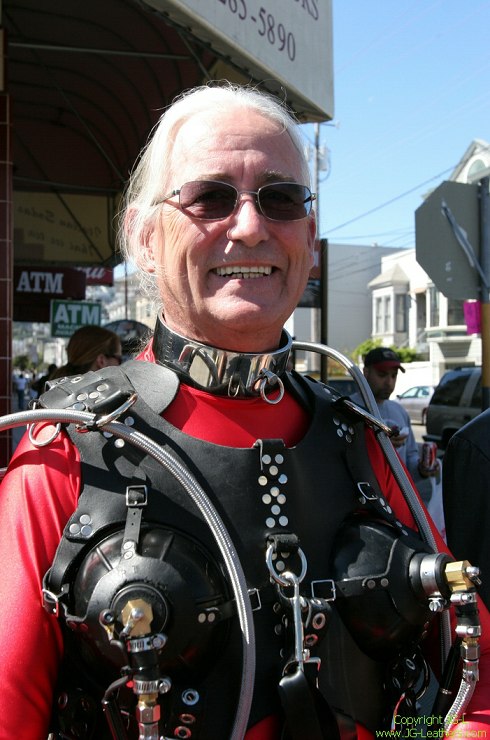 Your happy and slightly bent narrator waiting for the traffic light and showing off my Axsmar collar, to say nothing of the costume that attracted a lot of interest.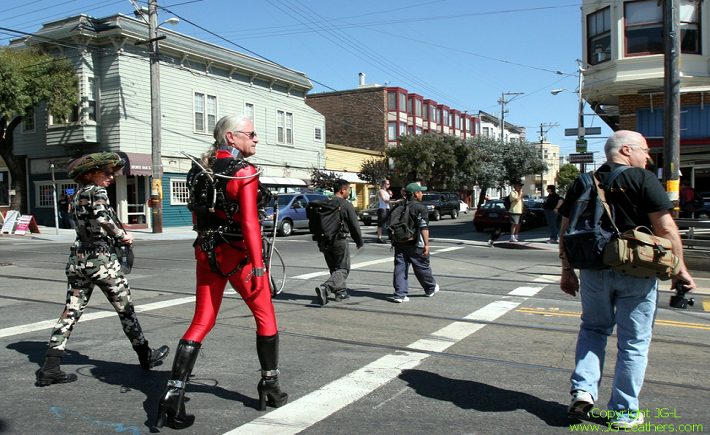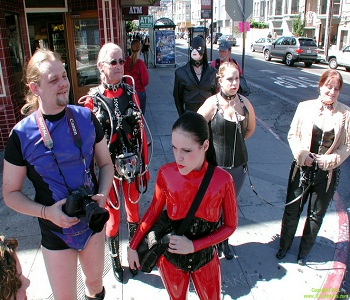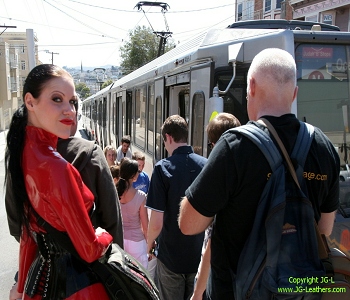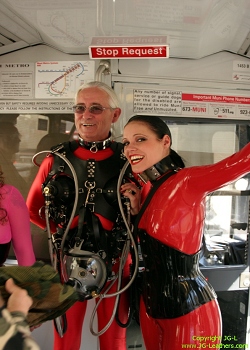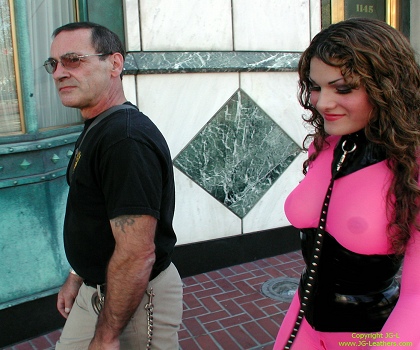 From there, once arriving at the Faire proper, we split up and went our separate ways, generally causing somewhat of a stir as we moved down the street.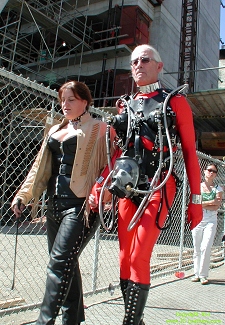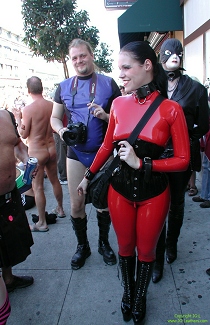 Pupett found a sunglasses place and had a lot of fun trying out the various styles; captivating all of the on-lookers, then she found an interesting gag arrangement and just HAD to try it. We met one of the many Sisters Of Perpetual Indulgence along the way and got a few images there too as well as a lot of laughs.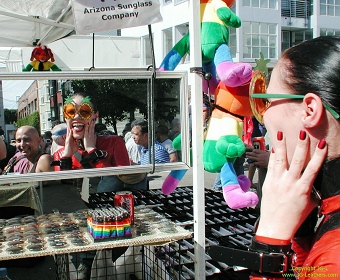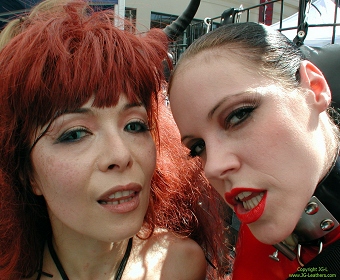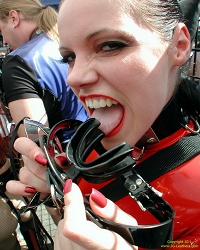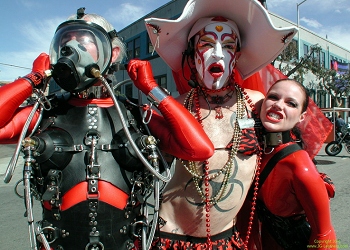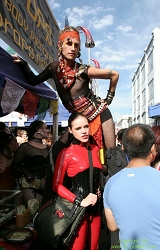 Next came the first stop at the new MR S/Madame S store and this place is incredible! Richard Hunter and Tchukon his son have created a truly high end environment with a lot of class, and I have no hesitation in saying that it is one of the finest S&M/B&D toy stores in the world. The staff are all experienced and friendly and will do their damnedest to assist you with your purchases, or if you wish, leave you to browse in peace and dreams of sugar plums to come.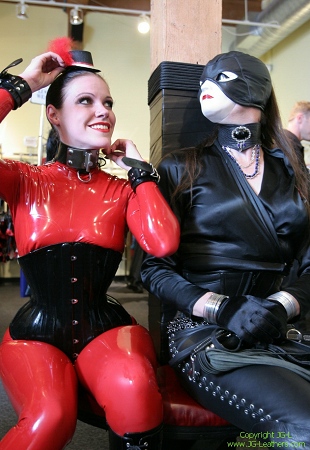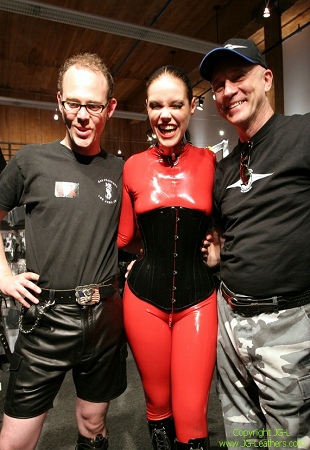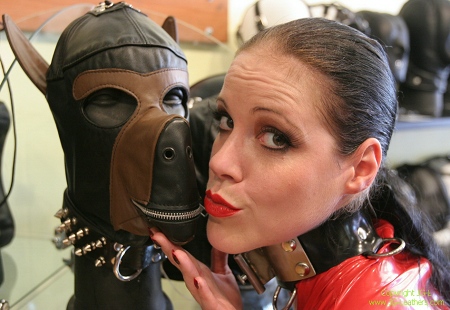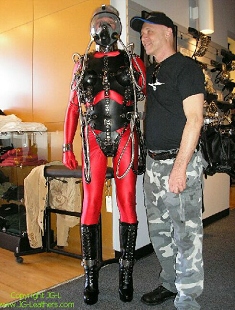 Pupett and Mistress P took a short break from all of the walking, then she had some pictures taken with Richard and Tchukon. The Dog helmet was something not to be missed either and so a few pix were taken here as well. Someone was kind enough to take a picture of Richard and I after I'd gone out for another stroll down Folsom Street, both to see and be seen, but I returned to the friendly environment of the Mr S store after an hour. My ankles had started to give out and while sitting there, a number of folks approached and asked to have pix taken. I got to meet some really beautiful women and interesting people and that can only be a positive thing. Thanks Richard for allowing me to rest in your beautiful store.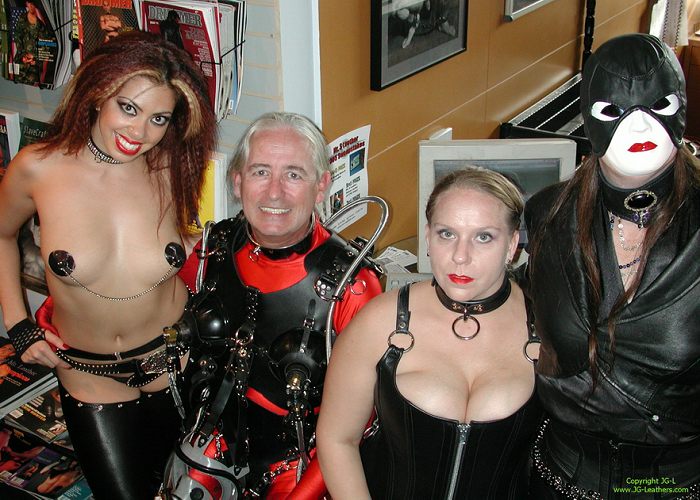 Gord and Petra reappeared after thoroughly checking out the action on the street and we had a couple of pix taken (the first of us together in many years), and then I spotted the bondage bed and suspension frame and just HAD to try it.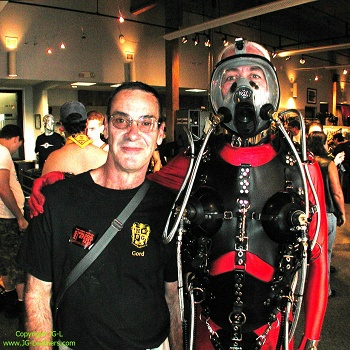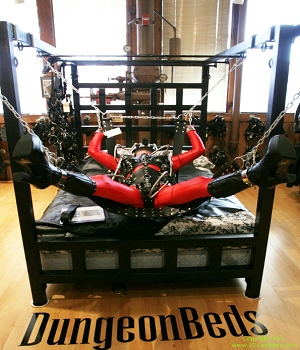 Many of you have 'been there and done that' but it is far too seldom that I get a chance to play in my own creations and so I made the most of it, having asked Matthias to snap pix. Quite a sensation and mental trip to be in this fix, and know there's no escape ... but that's what it's all about, for me :-).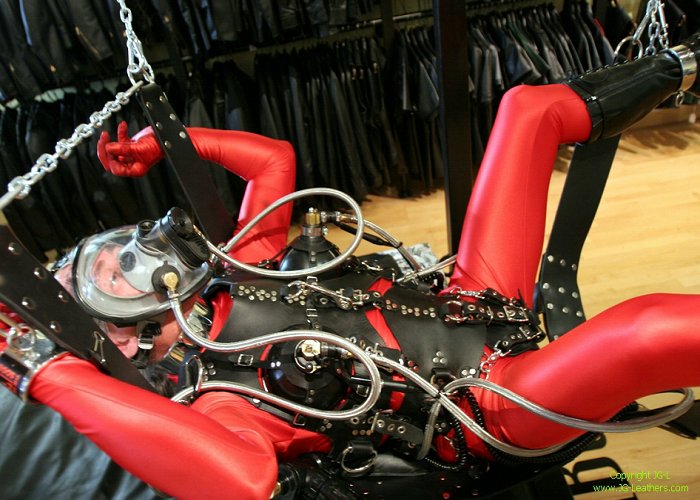 After all was said and done, we headed back to Mark's place to refresh ourselves and get ready for the apres event party. It got late and crazy far too soon and we all finally called it a day sometime around 02:30 the next morning. It'd been quite weekend!