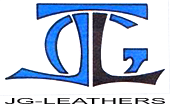 *******************************
JG-LEATHERS - ARTICLES
- PAGE NINE -
ADVENTURES WITH PUPETT & MATTHIAS: Part One
*******************************
16-21 Sept., 2005
Well, here we go again :-)! I wanted Pupett and Matthias to be properly entertained while here, and was up to speed on that score, having promised to keep them hopping quite briskly during their stay in the Great White North, and that the same thing would most certainly happen with the assorted, wonderful kink friends I have in the USA.
- 16th Sept. -
Our first photo-shoot was a blast, for Pupett was definitely very interested in trying out The Creature, and so I set it up and we were soon deep into the preparations and dressing process.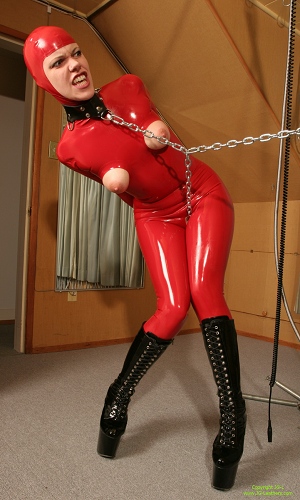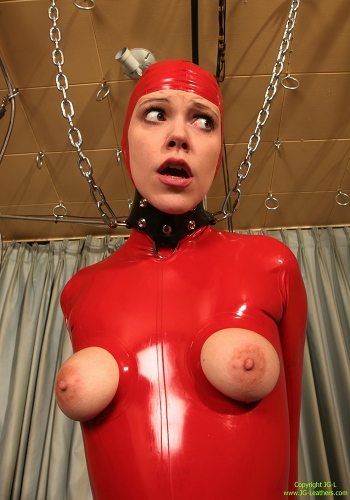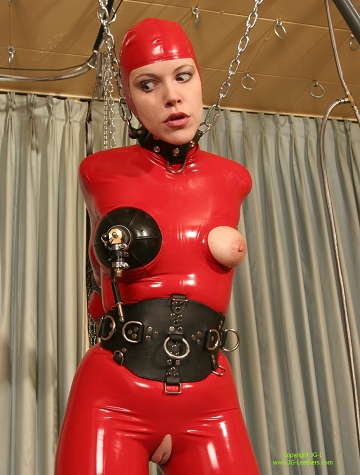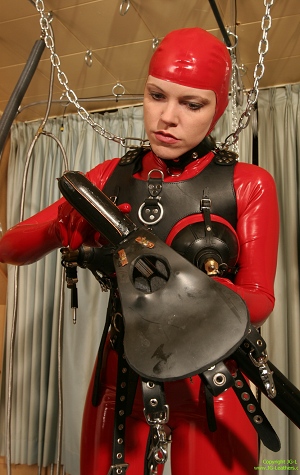 Then came the fun part! Pupett told me later that she was actually quite worried about what might happen, but was determined to see it through, and besides, secured as she was, there wasn't much chance of avoidance ... precisely as it's supposed to be :-)!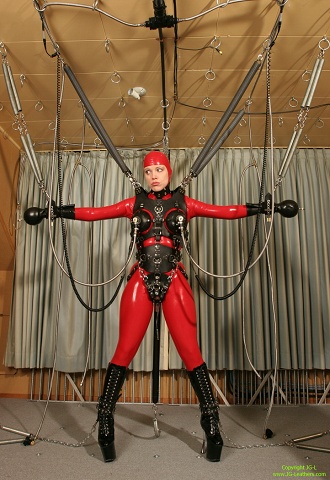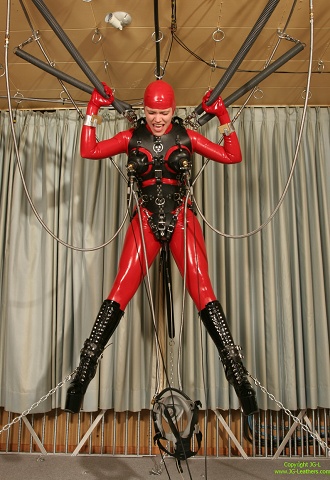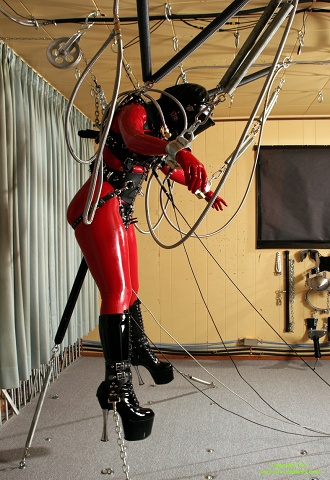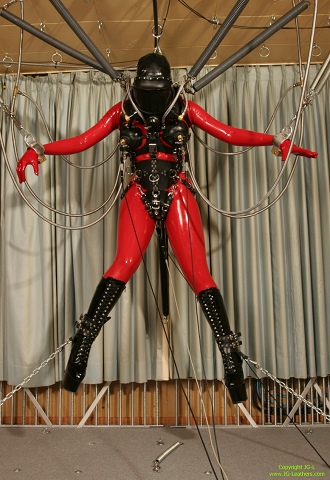 Wearing the full, helmeted gas mask is a time limited situation for the most part, and if left on for too long, can drive the wearer into a frenzy just to get out of it. The full sense of helplessness comes when the wearer, or if you prefer, the prisoner of TC is suspended and unable to get their legs or arms close to their body in automatic protective gestures. With the blinded gas mask and full helmet, plus the ear plugs stopping most sound, it's pretty damned scary, but she was a trouper and hung in there (uh ... sorry about the pun), suffering a few of the evil attentions of TC.
We put on her bondage mitts for the additional sensation of helplessness, then switched back to the Zoom-Bizarre heavy cuffs and away we went again. Obviously from her expressions, things were happening!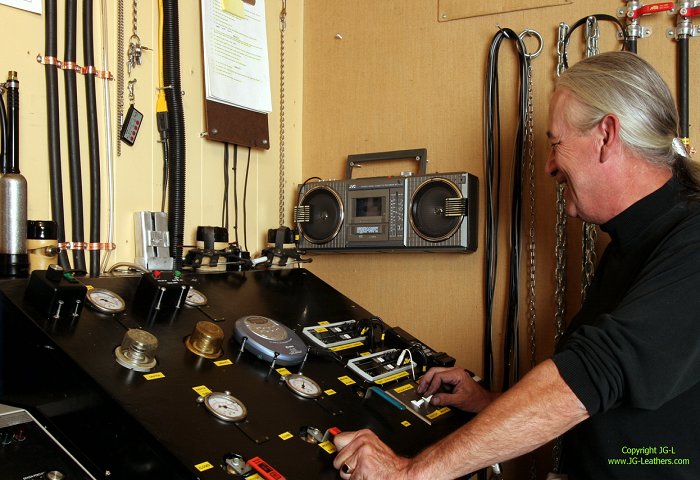 This being Pupett's first experience, I took things easy while I diddled with the controls, but after about an hour and a half she was toasted a nice golden brown and so Matthias and I helped her out of the gear. After she resurfaced, Pupett had a shower and a nap - pretty much SOP (Standard Operating Procedure) after a ride, then we did some silly stuff until early the next morning with lots of laughs and not a few beers consumed.
For the full sets of photo-series of this play session, with some video to follow, check out the Pupett web site.
******************************
- 17th Sept. -
The party on the 17th was a small one, but a lot of fun. We'd invited some of my local kink friends and with the weather cooperating fully we had a great afternoon and evening.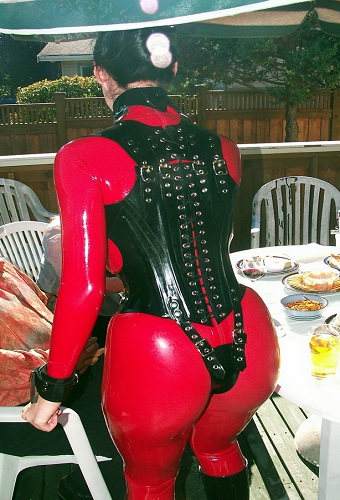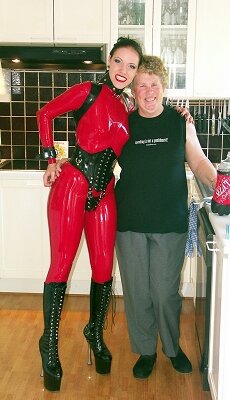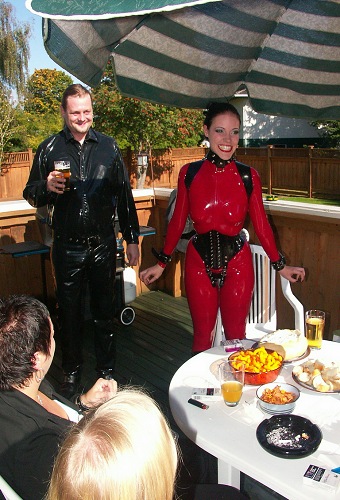 As always, Pupett dressed in truly interesting fashion and was her usual beautiful and effervescent self. Everyone who met the lady was entranced by her brilliant smile and happy personality.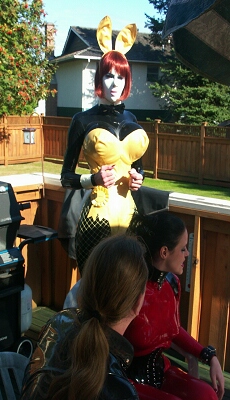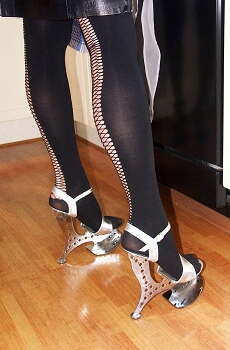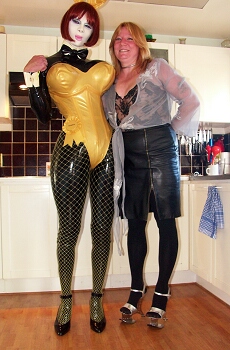 Steffy The Rubber Doll had driven over from Calgary to meet her and the rest of the happy crew, and of course, dressed properly for the occasion. My good friend Annie came4 with the neatest shoes, and the party began to really take off.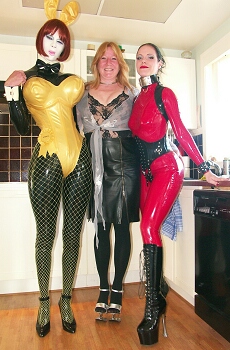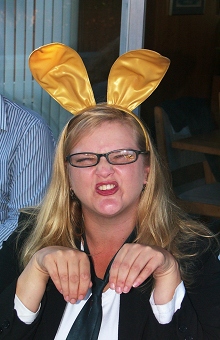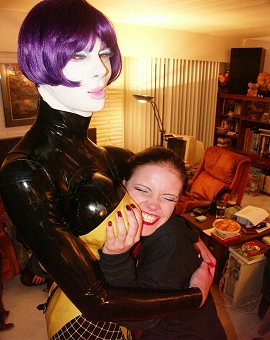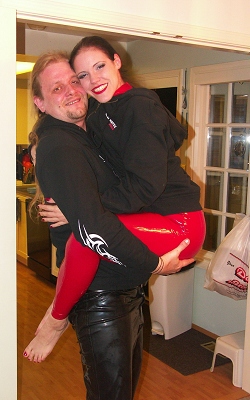 As evening closed in, we moved inside, and Annie, being the wonderfully wacky person she is was soon wearing a bit and bridle, learning the fine art of being a Horse Woman.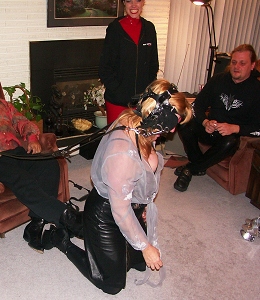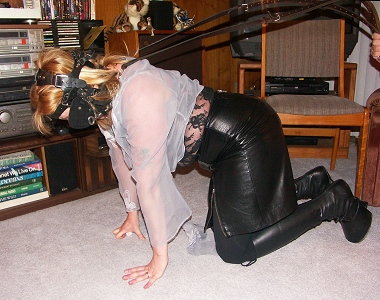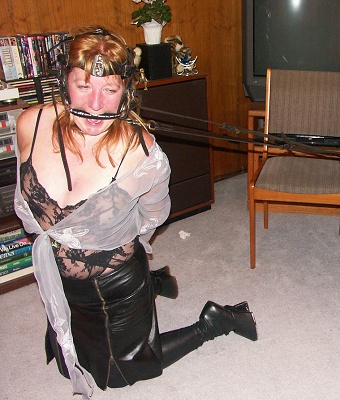 ********************************
- 18th Sept. -
The party on the 17th was a small one, but a lot of fun, and the next day was spent doing mostly vanilla stuff. A friend had come along in his MG Midget and took Pupett out for a ride, then after that, it was time for me to make some cigarettes and Pupett gave me a hand. Next, we decided to see if she could wear MY pony hoof boots, as hers had been left in Germany. Definitely successful!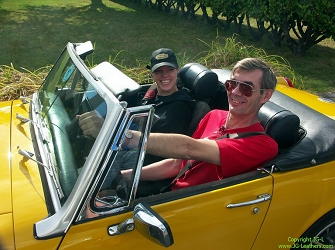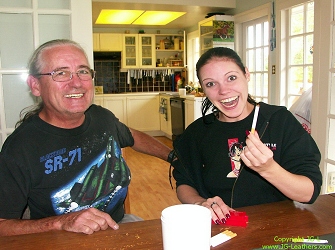 A quick trip to the beach on Boundary Bay then the local kid's playground gave a few funny shots and definitely were not kinky, except to the local vanilla inhabitants, who thought that adults playing on kid's toys was a tad bent. Little did they know!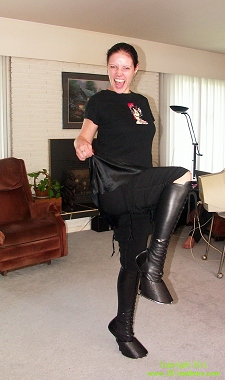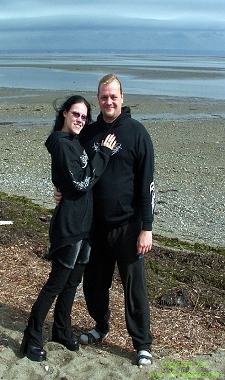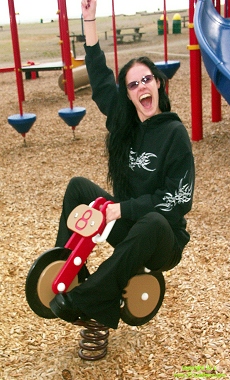 I collect different types of hats and Pupett had to try one on - a real, British, Bobby's helmet. Charley Chaplin would have been pleased, I'm sure. This lady can wear ANYTHING and look absolutely fabulous.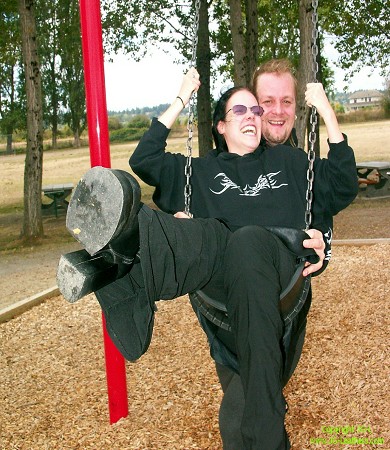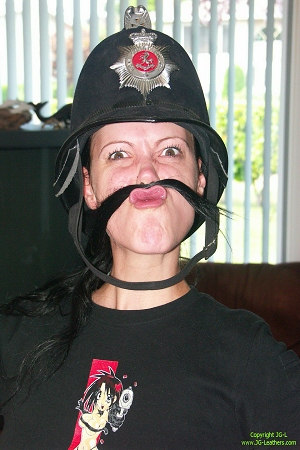 *******************************
- 19th Sept. -
However! All is not fun and games here at the Prince of Wails residence! Even for the guests!! And so, Pupett was put to work mowing the lawn, guided around the paddock by Steffy the Rubber Doll. We shot a ton of pix on this set-up over a two day period, as well as what seemed like miles of video tape, but what a blast! The neighbours seemed to enjoy it as much as we did :-).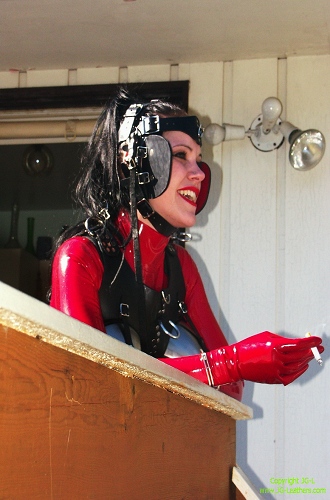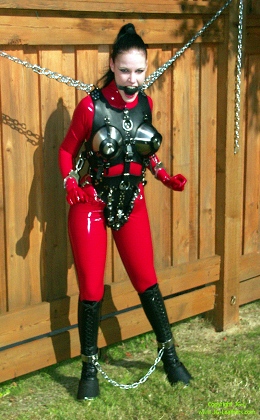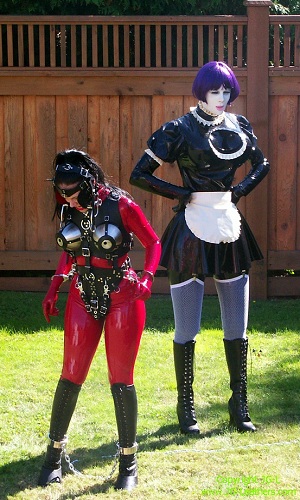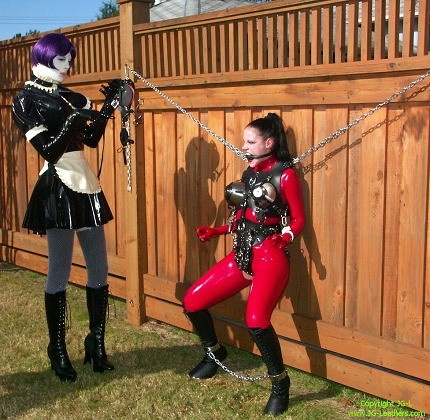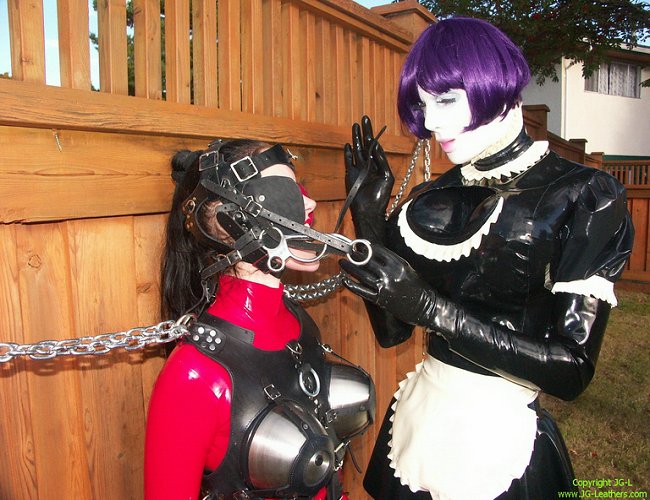 A smoke break seemed like a good idea, then it was right back at it. Steffy kept Pupett busy and had a blast ensuring that a proper tension was maintained on the traces, but her steering was a little off the mark.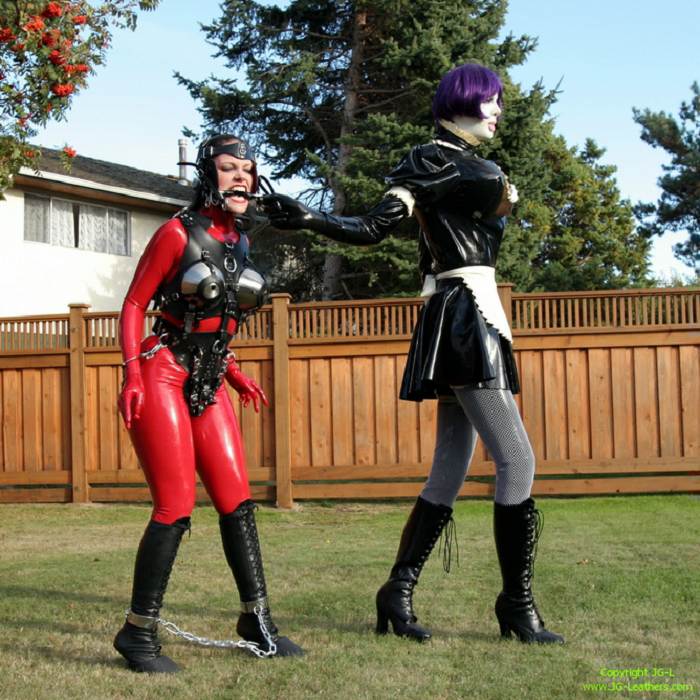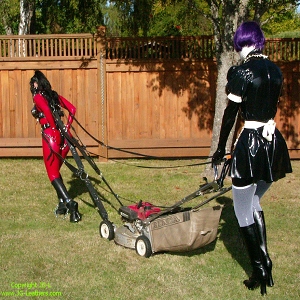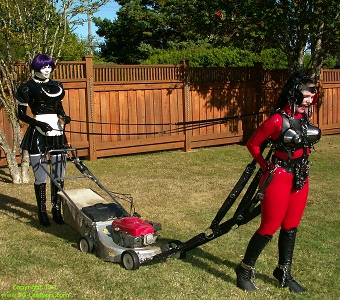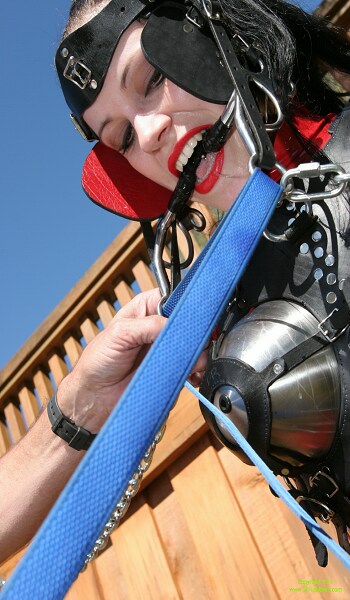 Eventually the job got done, but there'd been some resistance from our Horse Woman and so a little training seemed to be in order. Naturally, Steffy called for the assistance of 'Jay', the ranch ram rod from the old Pony Girls At The Ranch videos of 20 years ago, and the gray haired Aulde Pharte showed up, complete with the same black hat, cowboy boots, sun glasses and rein set. :-)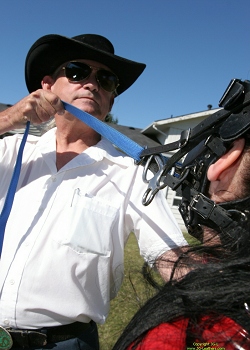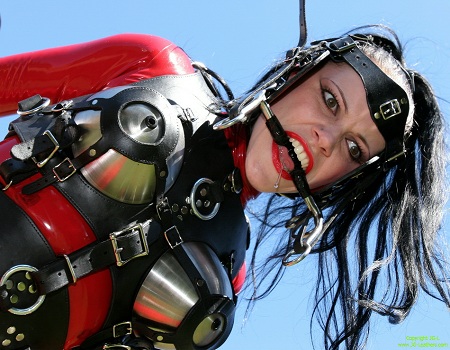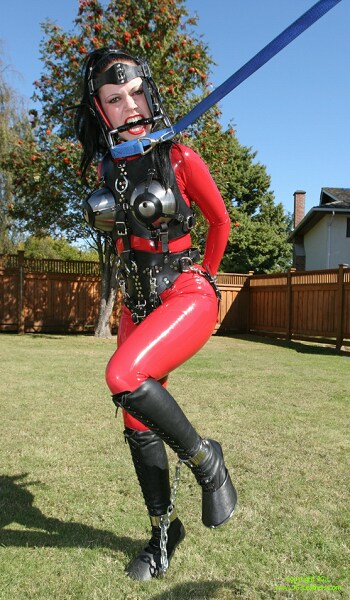 Despite the control that can exerted with a lunge rein, Pupett was a feisty Horse Woman and always demanded firm control, with an occasional touch of the quirt to keep her paying attention as to who was REALLY the boss.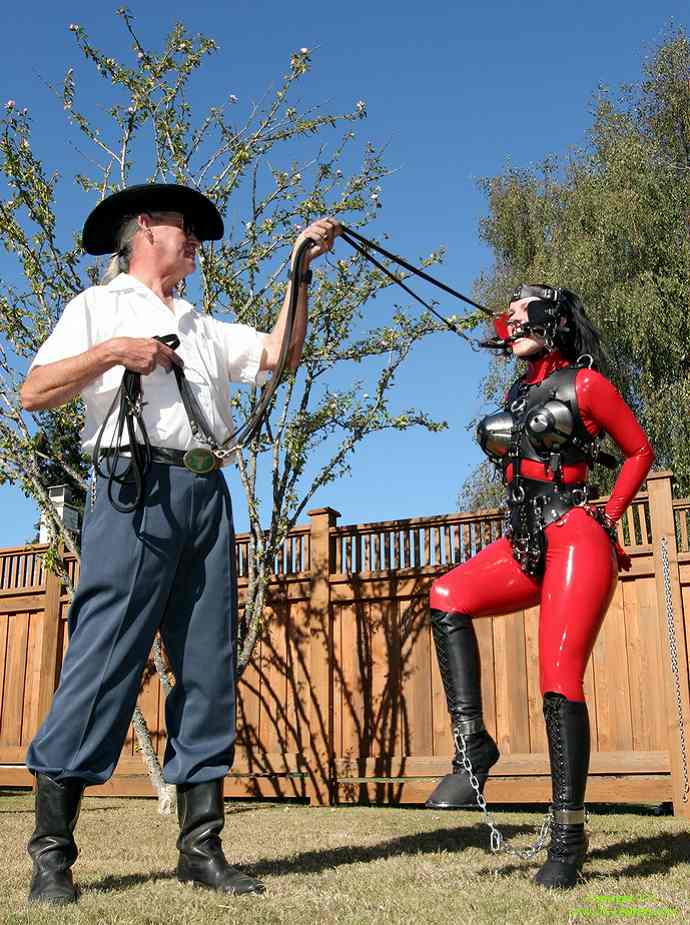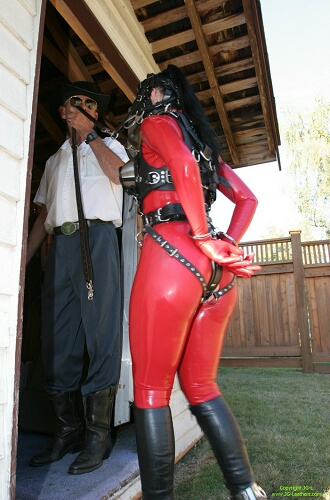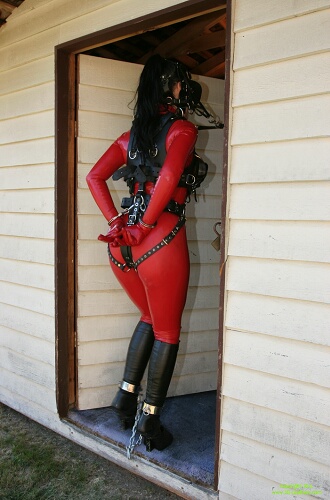 I eventually managed to reduce her resistance to the command of the reins, and so it was time to put her in the small stable for a night of rest and solitary contemplation, and besides, I needed a beer or two after the exercise.
******************************
- 21st Sept. -
The next day was spent packing the trusty steed, then going down across the border to The House of Gord to visit that crazy, inimitable man himself. Basically, it was a travel and familiarization day and turned out to be a lot of fun for us all, despite the expected bureaucratic idiocy at the border. We managed to squeeze in a preliminary photo session, but for the most part, just sat around and got to enjoy each other's company.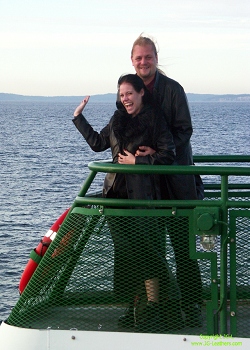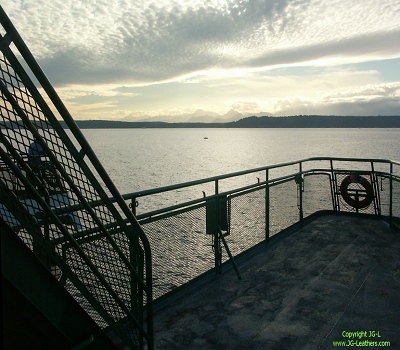 The above images were taken on the ferry from Edmonds to Kingston, WA and although it was a tad windy on the 25 minute passage, it was a pleasant trip and we were soon at the House Of Gord.
The next update in this section will continue, with the trip down to and back from San Francisco, and all of the assorted frolics along the way, so stay tuned!
Remember folks, the full series of images will appear on the Pupett site. Yes, it IS a pay one, but along with the full series there will also be some wonderful video clips of all the stuff you've seen above, and all the things that you'll soon see here. House of Gord will also have some interesting stuff to come, so check out that one also.