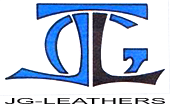 ********************************
JG-LEATHERS - ARTICLES
- PAGE FOUR -
GORD CREATES AN INCREDIBLE DEVICE
*******************************
- 28th August, 2005 -
Gord and I have been friends for many years and respect each other's respective inventive idiocy and although my repertoire is essentially limited to The Creature and its assorted permutations, he has continued to explore even more strange (and THAT is saying something!) areas of erotic and exotic bondage machinery. He's an evilly inventive genius when it comes to conceiving and actually building the stuff, and to my mind is the world's premiere inventor in this regard, bar none.
With his beautiful models (Petra is a sweet, intelligent, curious, beautiful, and highly responsive lady) he can show the true genius of his creations. Below are some pix from his brief visit in July.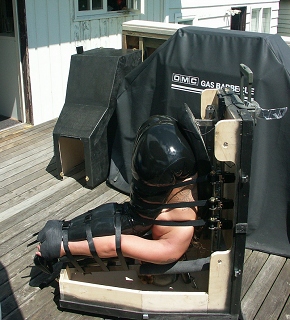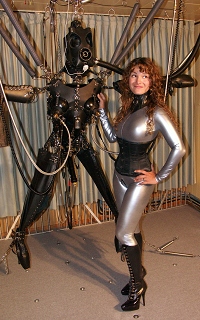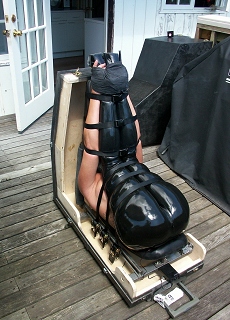 Gord's latest flight of fancy and mechanical mayhem for Petra has been to create an incredible device he's called 'The Bitch Bender' and this device is mind-bogglingly wonderful to both look at and contemplate the effect it's having on its occupant.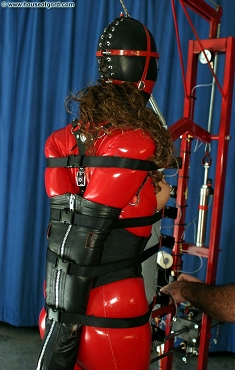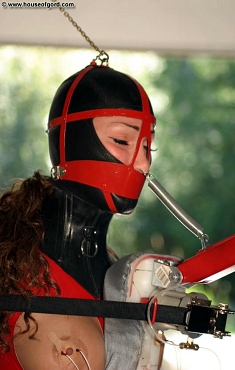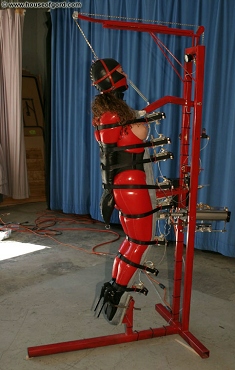 Where he gets these wild ideas from I have no idea, and many folks thought that he'd have sucked his well of inventions dry many years ago. However, being the person he is, Gord has striven to exceed even his own wildest dreams of mechanized bondage and my hat is definitely off to him!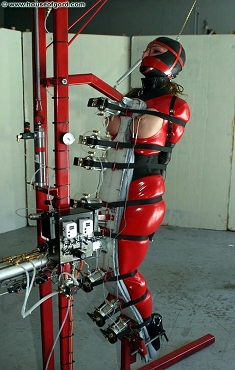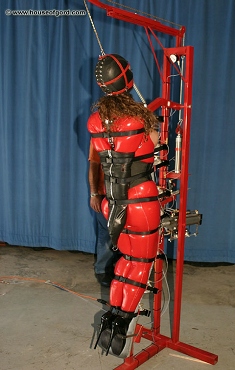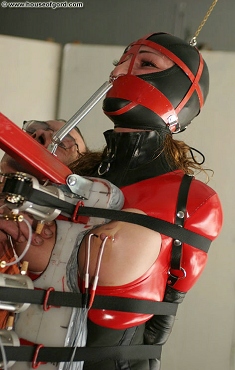 If you'd like to see the full panoply of Gord's exotic bondage machinery and inventions, all combined with beautiful models and excellent scene set-ups, I recommend most highly that you become a subscriber to his site: www.houseofgord.com. You won't be disappointed and your money will definitely be well spent.